— Richard Cronin's books about local history are available on Amazon and at the Winter Garden History Museum.
Are you stumped about what to get someone for Christmas? If they like local lore, maybe one of Richard Cronin's books will satisfy their curiosity about the history of Central Florida and West Orange County.
Cronin, formerly of Orange and Seminole counties and now living in Sarasota, is the author of several published books, and another — a novel based on historical facts — is coming out in early 2015. Autographed copies of his books are for sale through the Winter Garden Heritage Foundation at its downtown Heritage Museum, railroad museum and soon-to-open History Research and Education Center. Prices range from $17.95 to $26.95.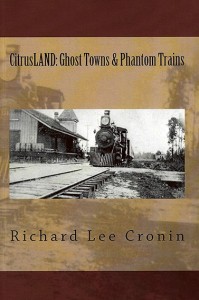 "The Winter Garden Heritage Foundation has been one of my most enthusiastic supporters," Cronin said. "In addition to selling all four of my current books, they have invited me in the past to be a guest speaker at Central Florida Railroad Society's meeting. We share a fascination with Central Florida history."
Two of the books have a direct connection to West Orange County.  "CitrusLAND: Curse of Florida's Paradise," his first book, tells how the earliest settlers found their way to Central Florida and includes information about Oakland's Speer family and Isaphoenia C. Speer, one of Cronin's favorite Central Florida founders. The book deals mostly with the pre-Civil War time period, he said.
"Of my four books, this is written more like a history text, and so while many have said they loved it, readers less interested in history at times find it more like a school text book," Cronin said.
"CitrusLAND: Ghost Towns & Phantom Trains" takes place during a train ride from Sanford to Oakland and features Clarcona, Crown Point, Winter Garden and Oakland, among other towns. It is a novel based on historical facts about people, towns and events, Cronin said.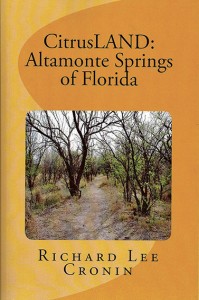 "CitrusLAND: Altamonte Springs of Florida" tells how Hoosier Springs, Palm Springs, Altamont, Shepherd Springs, and Altamonte all struggled as early towns and eventually became one city called Altamonte Springs.
"First Road to Orlando" is the story of how the roughly 30-mile route from Fort Mellon to Fort Gatlin evolved into the Mellonville-to-Orlando Road — and how this path lost out as the alignment of the first railroad when Sanford moved the route further west.
On Jan. 3, Cronin will begin a series on William Lovell, who began his involvement in Central Florida at Fort Reid, near Sanford, then moved into Orlando when it was merely four acres in size. He later moved into Apopka.
"A lot of Central Florida founders can be associated with multiple locations, which is why I call my stories CitrusLAND. It's not about modern-day Orange, Seminole, Osceola, Volusia, Lake or Sumter counties; local history crosses all of these lines. 'Citrus' was one of two constants that defined how Central Florida began; 'land' development is the other constant."
His father was a city editor and writer at an Ohio newspaper, and Cronin had wanted to write a book for years. About a dozen years ago, he came up with the idea of writing a fictional story involving early pioneers living on Lake Adelaide, in Altamonte Springs.
"At the time, I lived by that lake but knew little about the history of the region," he said. "The name seemed enchanting, a romance of some sort, but as I soon learned, when it came to knowing anything of the lake's origin, I wasn't alone. A plaque at Altamonte Springs intrigued me — it said the origin of the city dates to a group of New Englanders who changed the name of a railroad stop that was existing on the South Florida Railroad line.
"The first thought that went through my mind was, 'No, apparently the existing railroad depot was the origin.' The first station was Snowville, or Snow's Station, the sign read."
Because he wanted his story to be based on historical accuracy, he continued his research and learned a man named James Edgar Snow once owned land in the Altamonte Springs Mall area, land that reached eastward to the lake. His wife's name: Adelaide.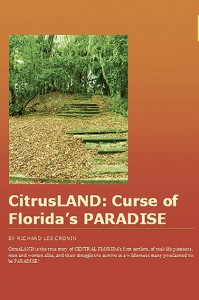 So, his book evolved from fiction to history.
"The more I dug into 19th-century Central Florida, the more fascinating facts I uncovered," Cronin said.
In doing research, the writer looks at family histories, census data, county records, military records, General Land Office records and existing old histories.
"When I recite a local legend or pre-published story I note that, and I'll tell if I have been able to verify the story or not," Cronin said. "Many, many legends are not true."
Cronin is currently talking with a Sanford historian, so a book about the former Mellonville could be in the works.
For more information, visit croninbooks.com. His books can also be purchased at amazon.com, and Amazon Prime members can read the books for free. Cronin said he gave several area libraries copies of his books, as well.
Contact Amy Quesinberry Rhode at [email protected].