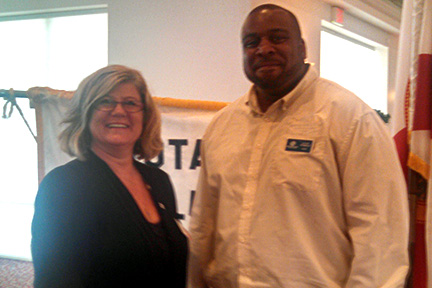 + Rotary helps Boys & Girls Clubs
New Rotary Club President Sheri Loiacono, left, welcomes Julius Franklin as the guest speaker at the recent Rotary Club of Winter Garden weekly lunch meeting. Franklin, who represents the Boys & Girls Clubs of Central Florida, thanked Rotary members for their recent donation of $10,000 to the West Orange branch. It's located at the West Orange Recreation Center, 309 W. Crown Point Road, Winter Garden. To learn more, visit bgccf.org.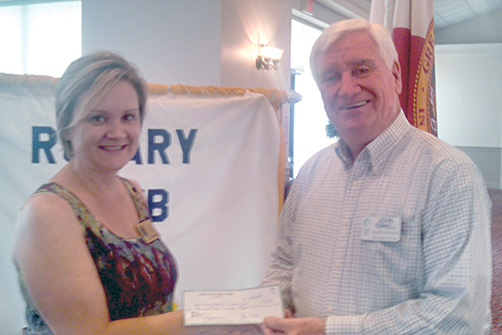 + Rotary assists Scholarship Foundation
Previous Rotary Club President Lisa Bennett, left, presents a $7,500 check to John Terrell as a donation from the Rotary Club of Winter Garden to the West Orange Scholarship Foundation. The foundation, which has existed for more than 50 years, fosters and encourages higher education of West Orange High School graduates by providing scholarships to deserving students. Terrell is the president of the foundation and one of its original scholarship recipients.
+ See a $2 children's film
The Garden Theatre is showing a family-friendly flick, "The Croods," sponsored by the city of Winter Garden, at 10 a.m. Tuesday, July 15. Tickets are $2 general admission, which includes a Snack Pack of popcorn and juice.
+ Learn basics of veggie gardening
The UF/IFAS Extension Service is offering a class on vegetable gardening from 6-7:30 p.m. Thursday, July 17. It takes place at the Jessie Brock Community Center, 310 N. Dillard St., Winter Garden.
Learn the basics of Florida vegetable gardening, including soil preparation, adjusting soil pH, fertilizing, irrigation, pests and diseases. The class is free, but participants must register online at ocmgs.eventbrite.com. For information, call (407) 254-9200.
+ Bluegrass concert series at Garden Theatre
The Garden Theatre is offering a bluegrass concert series featuring local acts and nationally touring groups. Scheduled to perform are The Gatorbone Band (8 p.m., July 12) and the Sweeney Family Band (8 p.m., Aug. 2 and 2 p.m., Aug. 3).
Tickets are $15 to $25 and can be purchased at gardentheatre.org/concerts or at the box office at (407) 877-4736.
The theater is at 160 W. Plant St., Winter Garden.
+ Students receive scholastic awards
Members of the American Legion Hugh T. Gregory Post 63 presented the American Legion School Award to Dillard Street Elementary students Payton Winslow and Ethan Lugo on June 2.
This medal represents the highest honor awarded to American youth by the America Legion. It is given to students who demonstrated the exemplary standards of courage, honor, leadership, patriotism and scholarship among their peers.
+ See Winter Garden at Work
Florida Film Academy is presenting "Winter Garden at Work," the next Art in Public Places at Winter Garden City Hall, now through Aug. 15.
This new photographic exploration celebrates the men and woman who keep Winter Garden running as they go behind the scenes and reveal fun facts and information on what it takes to keep the city in top condition.
+ Christmas in July at Faith Family
More than 20 vendors and crafters will set up at Faith Family Community Church's Christmas in July festival. It will run from 10 a.m. to 2 p.m. Saturday, July 19, at the church, 305 Beulah Road, Winter Garden. Vendors will be selling home décor, jewelry, handmade crafts, skincare items and custom gifts.
+ Summertime at SoBo
The Winter Garden Art Association, 127 S. Boyd St., offers "Sizzlin Summer at SoBo 2014" — themed art experiences and exploration for children in kindergarten through fifth grades. Mediums include watercolor, acrylic, sketching and three-dimensional art.
For more information, visit wgart.org.