By Tony Judnich
A seven-member committee will be asked to suggest possible ways of honoring fallen Windermere Police Officer Robert German.
The 31-year-old German, who served as an officer in the town for more than five years, was shot and killed March 22 in the line of duty.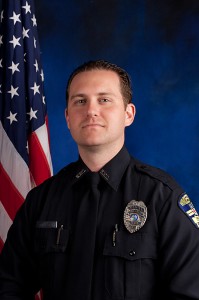 At its July 8 meeting, the Windermere Town Council supported Mayor Gary Bruhn's suggestion to form the committee. Honoring German could take the form of a memorial and/or having a street or park named after him, Bruhn said.
Each of the five council members will designate a resident to serve on the committee, which also will consist of Police Chief David Ogden and Town Manager Robert Smith. Bruhn instructed the council members to give the names of their appointees to Smith as soon as possible so the committee can hold its first meeting. The committee will be asked to share its ideas at the Sept. 9 council meeting.
After further discussion, Council Member Molly Rose wondered how much a memorial would cost.
"It could be a substantial amount of money," Council Member John Armstrong said.
The committee could rank proposals for a memorial and consider fundraising methods, Council Member Jim O'Brien suggested.
In other business, the council:
• Approved paying $137,483 to Littleton, Mass.-based Middlesex Corp. for milling and resurfacing improvements to a half-mile section of North Main Street. The project will extend north from Park Avenue to just south of Gotha Road. The council also earmarked up to $3,000 to help pay for the installation of sturdy, right-of-way delineation fencing along the length of the project.
• Approved paying $5,150 to Pasadena-Calif.-based Cogent Fingerprint Systems, for a new Police Department fingerprinting system. The price tag includes the cost of a four-year extended warranty.
Ogden said that, according to the manufacturer — Cross Match Technologies, of Palm Beach Gardens — the current fingerprinting machine is no longer serviceable and cannot be upgraded.
"The fingerprinting machine is used both for internal and external running of fingerprints and was a professional service that our agency offered to citizens and our residents," Ogden said in a June 23 letter to Smith. "When the system was operational, approximately five to 10 citizens per week used our service [at a charge of $20 per person]. This is a service that I would like to continue to provide and I feel it is a professional service valued by our residents."
• Adopted new rules pertaining to unsolicited advertising materials. In short, it is now unlawful to distribute such materials at a residence in Windermere unless: the distribution is based upon an affirmative request or consent of the person occupying the residence; or the distribution is made through the use of the United States mail service; or the distributer has a procedure through which residents can opt out of receiving the ads. Violators of the rules could be fined $300 — or an amount determined by the council —per violation.