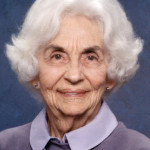 MARY BESS DORSEY GIRVIN, 95, passed away on June 2nd, 2014, in Winter Garden, Florida.
A long-time resident of Winter Garden, she is remembered fondly for her appreciation of the area and the role she played within it.
Mary Bess was born on May 18, 1919, in Port Arthur, Jefferson County, Texas. She was the youngest of four children. After graduating high school, she went on to study at Lamar Technology School in Beaumont, Texas, and graduated with an AA. She later continued her studies at the University of Texas in Austin, where she received her BA in journalism. Mary Bess wed John Woodside Girvin III in Port Arthur, Texas.
After marrying, career interests took the couple from Port Arthur to Winter Garden, where they established a permanent residence. The couple had four sons, John Woodside IV, Ralph Dorsey, Douglas Rawls and James Steven. Mary Bess enjoyed being a mother to her young sons. As they grew older, she returned to graduate school and received a Masters of Arts in Education from Rollins College in Winter Park. She began her teaching career with the kindergarten located at the First Methodist Church. She went on to teach the third grade at Tildenville Elementary.
Her love of English and literature led her to Maynard Evans High School in Orlando. She remained an English teacher at the school until her retirement in 1986 and considered her time spent there years of great personal reward. Among her achievements was the creation of a high school vocabulary program for the Orange County School District. During her teaching years, she had a policy of tough love in which she exercised discipline and expected nothing but the best from her students. Her caring attitude for her students resulted in a deep admiration and respect for their teacher. She did not slow down after her retirement and kept herself busy doing the things she loved.
Mary Bess enjoyed gardening, and could easily grow a variety of plants and flowers. Friends and neighbors appreciated her expertise and often benefited from it. She was a member of the Garden Club of Winter Garden for many years. It has been said that you can judge a garden from the love and care it is given and all anyone had to do was take a look at her yard to know that statement is true.
As an Episcopalian, Mary Bess was one of the founding members and an ongoing supporter of the Church of the Messiah of Winter Garden.
She was preceded in death by her parents, her siblings and their spouses Bob Dorsey (wife Angelina), Leon "Huck" Dorsey (wife Beverly) and Ellen Dorsey Thompson (husband Leif). Her husband, John Woodside, passed away in 1986. Her son, John Woodside IV, of Tallahassee passed in 2013, leaving his wife Sharon and two daughters, Marie and Ellen, who live in Tallahassee and Chicago, respectively.
She is survived by her remaining three sons and their families: Ralph (wife Sandra, son Charles and daughter Caroline and her husband Sean and their sons Jameson and Liam), Douglas and Steve. In addition, Christy Verzi and Donna Cioce who were devoted to her and assisted Douglas and Steven in loving care of her.
Funeral arrangements are being made with Collison Family Funeral Home of Winter Park. The funeral service will be held at the Church of the Messiah on Saturday, June 21, at 11am with interment to follow. Memorial contributions may be made to the Church of the Messiah in Winter Garden (241 N Main St. Winter Garden FL 34787).