Unlike most postseason setups, when the Central Florida Christian Academy Eagles (7-1) and Windermere Prep Lakers (7-0) take the field Oct. 31, for their respective first round games of the Sunshine State Athletic Conference's Florida Bowl Series, they both know where their postseason journeys will end.
Both the Lakers' and the Eagles' seasons will culminate Nov. 15 at The Master's Academy, in Oviedo.
What time the respective programs end up playing that day, however, will make all the difference — the eight-team postseason tournament will conclude with a seventh-place game at 11 a.m., a fifth-place game at 1:30 p.m., a third-place game at 4 p.m. and the 2014 Florida Bowl will decide this season's champion at 7 p.m.
So, although no one's season will end on Friday, their hopes of hoisting the SSAC Championship Trophy very well could, with losers entering a consolation bracket for the Nov. 7 schedule.
HOW WE GOT HERE
The road for both programs to this point has involved a lot of games that haven't been very close.
CFCA, which looked shaky in a 24-8 defeat by Santa Fe Christian in its Kickoff Classic preseason contest, started the season with blowout victories over Ocala Christian (44-3), Merritt Island Christian (58-0) and International Community School (44-6) before falling to eventual division champion Orlando Christian Prep, 30-6.
Since then, though, the Eagles have returned to form and defeated Faith Christian (48-6), Legacy Charter (44-6), The Master's Academy (50-0) and All Saints (44-8).
Paramount in all of CFCA's wins has been its tough, hard-nosed defense. The Eagles are allowing just 4.1 points per contest in their seven wins.
Windermere Prep spent a good portion of the offseason in the weight room and, since the first time the Lakers took the field this fall, it has shown.
Windermere Prep has arguably been the superior team in terms of speed and size in each one of its contests. 
The Lakers opened the season a week later than expected, after bad weather washed out the home-opener scheduled against Mount Dora Bible.
Since then, Windermere Prep has defeated Keswick Christian (55-14), Seffner Christian (46-20), The First Academy-Leesburg (70-44), St. Stephen's Episcopal (49-12), Lake Mary Prep (63-0), Santa Fe Catholic (43-7) and Bishop McLaughlin (52-14).
While defense has been the story for CFCA, it has been the Lakers' offense, averaging 54 points per game, that has seen them through their best season to date.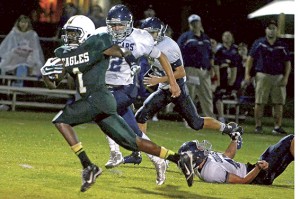 CFCA at MOUNT DORA BIBLE, 7 p.m. 
The Eagles will take to the road Friday with an undefeated program awaiting them.
Mount Dora Bible (7-0) has won every game it has played by double-digits. 
The Bulldogs will test CFCA's defense in particular, as they have averaged 41.6 points per game. 
Eagles freshman quarterback Gehrig Chambless has been instrumental in the team's success on the other side of the ball, having rushed for 782 yards already this season, and will need to continue his strong play for CFCA to be successful in this one.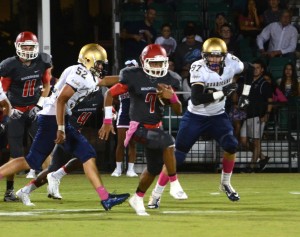 COMMUNITY SCHOOL OF NAPLES AT WINDERMERE PREP, 2:30 p.m. 
The Community School of Naples' only loss this season came on Oct. 17 in a 29-14 defeat to eventual-division champion Berean Christian School.
Otherwise, the Seahawks (7-1) have been dominant, with all of their victories coming by at least two possessions. CSN's average of 38.1 points per game could certainly test the Lakers' defense, which has hasn't been quite as infallible as the team's offense.
Windermere Prep has made a habit of taking early leads against some of its better opponents, so look for the Lakers to try and set the tone early on their first couple of possessions.
KEEPING IT LOCAL
With CFCA and Windermere Prep lining up on separate sides of this season's Florida Bowl Series Playoff bracket, there exists the possibility for an all-West Orange County championship.
For that to happen, both team would obviously need to win their games this week and then again on Nov. 7.
Should the Eagles prove successful against Mount Dora Bible, they would face the winner of the  game between Orlando Christian Prep (8-0) and The First Academy-Leesburg (6-2). The higher-seeded team would host.
Should the Lakers defeat CSN, they would move on to face the winner of Friday's game between Berean Chrisitan (7-0) and Seffner Christian (4-3). 
Contact Steven Ryzewski at [email protected].