Here are the scores from Week 5 high school football games, played on Sept. 25 and Sept. 26.
Dr. Phillips 49, University (Orlando) 0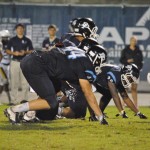 The Dr. Phillips Panthers were unfazed by a partial power outage at Bill Spoone Stadium that delayed the start of Friday's non-district game against University for more than 30 minutes.
Daquan Isom's school-record 99-yard touchdown run highlighted DP's 42-point first half, and the Panthers improved to 5-0 with an impressive 49-0 victory over the Cougars. 
Jaylon Hamer had first-half scoring runs of 1 and 9 yards, while Isom added a 15-yard TD run with 1:04 left in the opening quarter for his sixth rushing touchdown this season. Quarterback Rudy Norwood also threw a 14-yard touchdown pass to Jaquarius Bargnare, Alvin Bryant scored on a 10-yard run and senior fullback Jason Richards had a 3-yard TD run. The DP defense posted its second consecutive shutout and has allowed 30 points in five regular-season games. 
The Panthers, ranked No. 1 in the Associated Press Class 8A state poll the past three weeks, resume their District 8A-5 schedule at home against Boone on Friday, Oct. 3.
— Chris Mayer | Contributing writer
West Orange 50, Jones 14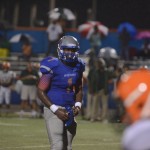 The West Orange Warriors scored two touchdowns late in the first half, one on a juggling-catch by Eddie McDoom and the other on a fourth-and-goal rush by Dexter Williams, taking what had been a 14-7 lead and blowing it open to a 29-7 lead for the Warriors (5-0), who never looked back en route to a 50-14 victory.
McDoom and quarterback Woody Barrett set the tone early, connecting on a 60-yard touchdown pass on the second play from scrimmage, as the firepower of the West Orange offense continues to confound opposing defenses, even in wet conditions.
The Warriors will now prepare for the biggest game of the year in West Orange County — and arguably in Central Florida, as well — when they host powerhouse and rival Apopka on Oct. 3 in a key District 8A-4 battle.
Timber Creek 49, Olympia 7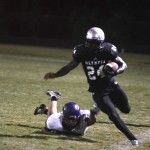 While this one was competitive early, with Timber Creek holding a 14-7 lead early in the second quarter, the Wolves would blow this one open before halftime with a 21-0 run on their way to an emphatic 49-7 win over the Titans (0-4).
Olympia's lone score came on an 80-yard touchdown pass from Khalyn Strickland to Duante Calloway.
The Titans will be at home again on Oct. 3 when they open play in District 8A-3 against Evans.
CFCA 48, Faith Christian 6
The CFCA Eagles didn't let last week's loss to division leading Orlando Christian Prep linger long.
The Eagles (4-1 overall, 3-1 division) scored an emphatic win over Faith Christian at home, 48-6. The game was out of hand at halftime, with CFCA holding a 42-6 advantage.
With the win, the Eagles are in a tie for second place in the Beach Division of the Sunshine State Athletic Conference with Legacy Charter — who they will travel to play on Oct. 3.
Windermere Prep 49, St. Stephen's Episcopal 12
A lengthy delay before the game and plenty of rain didn't slow the high-powered offense of Windermere Prep much.
The Lakers scored 49 points by halftime before letting off the throttle in another blowout victory as they improve to 4-0 overall and 3-0 in the SSAC's Coastal Division — alone atop the standings.
Senior Chris Granjean had two rushing touchdowns on 15 carries for 142 yards to pair with five receptions for 59 yards and a receiving touchdown to lead the way for Windermere Prep. Michael Stones, who recently committed to Dartmouth for basketball, ran a kickoff back 97 yards for a touchdown.
The Lakers return to action on Oct. 3 in another divisional matchup on the road at Lake Mary Prep.
Foundation Academy 21, Orangewood Christian 0
A special teams fumble recovery on the opening kickoff got the Lions started on the right foot, setting up an easy score that began a muddy 21-0 win for Foundation Academy (2-3) over Orangewood Christian.
Quarterback Jacob Murphy tossed two touchdown passes for the Lions — to D'Angelo Byer and Darius Irvin — to lead the offense for Foundation.
The Lions' defense, meanwhile, had a strong game in containing Orangewood's Jimmy Martin, a Boston College commit.
Foundation, healthy and at full strength for the first time all season according to coach Brad Lord, will host Hawthorne on Oct. 2 at Walker Field in Winter Garden.
Thursday — Legacy Charter 39, International Community 0
The Eagles easily improved to 3-1 overall and 3-1 in the Beach Division of the SSAC with a win over International Community.
Connor Knecht had 200 yards receiving with three touchdowns to lead Legacy.
The Eagles will host CFCA on Oct. 3 in a battle for second place in their division.
Bye week — Ocoee (1-3)