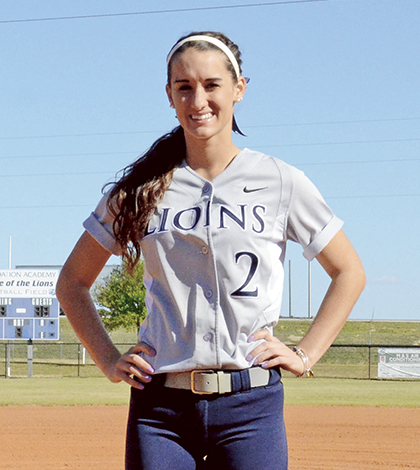 Foundation Academy senior softball player Stevanna Ames had a pretty good week last week. The senior went 3-for-3 in a season-opening win over Lake Highland Prep, pitched five innings in a win over The First Academy, signed a National Letter of Intent to play softball with Seminole State and celebrated her 18th birthday. Helping the Lions get off to a fast start in 2015 has made Stevanna our choice for Athlete of the Week.
You played a big role in the team's win to open the season — how'd that feel to start the 2015 campaign on such a positive note?
It felt really good. It was a great way to kick off the season. I wouldn't have done it without the help of my teammates, because we were struggling there for a little bit. We're new playing together, so it was really cool to see how we all worked together to come back.
You've been on the varsity team here at Foundation since sixth grade. What's it like to now be a senior?
It doesn't feel real yet. It hasn't hit me that it's my senior season. But it feels cool, because I know that I'm the leader on the team, and girls look up to me.
Is it nice to have the recruiting process out of the way in time for your senior season?
Yeah — it's a great confidence-booster, definitely, going into the games knowing that I don't have to worry about getting committed. It's just more fun, and when you have more fun, you tend to play better.
What did you like about Seminole State?
It was a really good choice for me. It's where I can play softball for two years, because I want to go into nursing. So, that way, after two years I can just focus on my degree. It's also really close to home, which I like because I'm a family person. The coach (Courtney Miler), she's awesome. … It just seemed like a great fit for me.
What does the team need to do to be successful this year?
This year, it's mostly our defense that we should work on, because we have great hitters. We have a lot of experience, so that really helps. This is kind of our first year that we've been a great team, so I'm hoping that can take us past regionals and on to states.
Did you play any other sports before you settled on softball?
I played volleyball up until freshman year. I was not as serious as the rest of the girls on the team, so it was just kind of something that I did for fun, so I just decided to focus on softball, because that has been my dream since I was 4 years old — to play in college for softball.
What have you liked about attending Foundation Academy all these years?
It's awesome, because the teachers and the coaches, they really care about your success. So grades are a really big thing, and grades are basically what gets you a scholarship to college. That played a really big factor in getting a scholarship (for me). 
Why did you decide you wanted to study nursing?
I actually had a cousin who passed away from cancer, and that kind of just led me to go into pediatric oncology. I want to be a nurse for kids with cancer.
Do you have a hobby or something that you like to do outside of softball and schoolwork?
I like to travel. We go to Hawaii a lot, and I serve in Hawaii, so that's fun.
So where is somewhere that you haven't traveled to that you would like to visit?
Probably Europe. My sister just went on a trip to Europe, and it seemed really nice to go there, so I would like to go to Europe.
So what's your favorite subject in school?
Science. I like anatomy, and then this year, I'm in marine biology, and that's fun.
Once you're a successful nurse, what is your dream car that you're going to buy?
I want a white (late-model) Camaro with purple racing stripes.
Being a leader on the team, how do you go about approaching that mentally?
You kind of have to be just be more mentally tough. You have to have a better attitude on the field. You have to leave an example for all the younger girls so they know, when they're in this position, what they have to do.
What have you been focusing on to improve within your own game?
For the high-school season, pitching, definitely, because I don't pitch in travel ball. I just do it for high school, so I'm just trying to get back into the swing of things. In the offseason, I was focusing on getting committed (to a college), so it was less pressure.
So is making it to state the goal for this season?
We're definitely capable of winning a regional championship. And states will be tough, but I think we can do it as we improve throughout the season.
Can you describe what it was like on National Signing Day when you, along with three of the football players, were up on stage in front of the whole school?
It was really awesome, because I've always looked at those football players as great athletes, and to be up there with them was a really cool experience. It's like finally all my hard work has paid off.