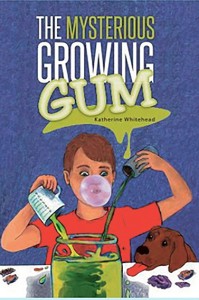 WINDERMERE — For 36 years, Katherine Whitehead has dreamed of publishing a book, but with the time-consuming responsibilities of raising children and teaching many others music at the elementary level, she was short on time to write.
In retirement, Whitehead finally has found the time to write her first book, "The Mysterious Growing Gum," published in September through WestBow Press, with illustrations by John and Sue Powers of Winter Garden.
"There was no time to write or publish anything, so it took until my retirement, until I was finally able to think about it," Whitehead said. "I thought, 'I still want to do this. I'm not giving up.'"
Although taking care of her children did prevent Whitehead from publishing a book sooner, it also provided her the material for this book.
"I started staying home with my daughter and ADHD son," she said. "That was a full-time job. 'The Mysterious Growing Gum' is based on something my son did — but it didn't grow in real life, thank goodness. He couldn't understand consequences and lived only in the moment."
Her son was one of the first to take Ritalin, a drug that sometimes tempers symptoms of Attention Deficit Hyperactivity Disorder, Whitehead said.
"They didn't know to keep him on it all the time," she said. "I always said, and it was true, if I took my eyes off him for a minute, that was too long. (Some) really, at that point, don't know what they're doing. Their brains aren't developed enough. It's a challenge."
Part of that challenge was the basis for Whitehead's story.
This tale, intended for middle-school students, focuses on James, who represents Whitehead's son. James is lively and curious. He creates a smelly, frightening mix of lotion, juices and spices.
"Some of the mixture spills on his purple chewed gum, and the gum grows," Whitehead said. "James can't stop it because he's not sure what he did. James and his sister worry he's started something dangerous. He surely has created funny and scary trouble for his family."
James becomes a local news story in the process of his growing gum, but he does not want fame, Whitehead said.
"He's upset because he's not sure what he did," Whitehead said. "When it becomes local news, James is kidnapped."
In the course of the story, James learns the importance of qualities such as responsibility, knowledge and appreciation for his family.
"The book, I think, too, talks about the lack of understanding about what caused this gum to grow," Whitehead said. "I think in the book it mentions that, even as adults, there's some things we don't understand, and we don't know how to stop them once we start, with climate change for one."
The story also teaches how parents and family should react under such duress.
"In the story, the family, when they realize James has created something and is very scared about it, they don't jump all over him," Whitehead said. "They try to calm him down and help him try to get rid of the gum. The parents listen to him when he's upset and don't make fun of him at all, even his sister. She gets upset when she gets interviewed by the paper. James gives her a crazy handmade card to console her, and they're very caring toward each other."
Apart from teaching children and their families valuable lessons, Whitehead has wanted to publish books that would be humorous and fun for children to read — something to draw their focus and keep them reading through the end of the book, she said.
Other children will benefit from the book, too. Proceeds from sales of this book will go to Save the Children, a charity that helps the children in about 120 countries, including the United States, with education, hunger, disease, safety, emergency response and survival.
"It is because of the Christmas songs," Whitehead said. "I had been listening to them in stores, on the car radio, everywhere. I began to notice they are very idealized for lots of presents for kids, decorations, having family there. Everything was supposed to be wonderful for Christmas. I began to think of children who are refugees, living in tents, with not enough to eat, and I thought, 'We have children starving here who need help, too.'"
Contact Zak Kerr at [email protected].