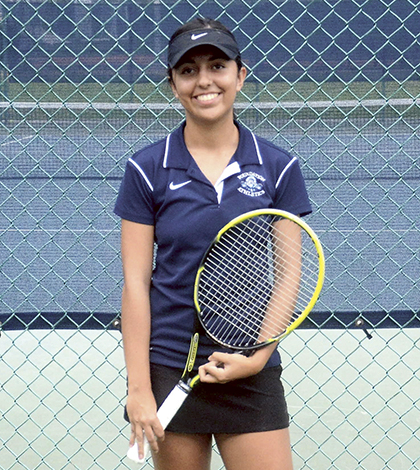 A junior at Foundation Academy, Isabella Delgado has been on fire for the Lions girls tennis team at the No. 1 position in singles competition. As an individual, Delgado — a native of Colombia — has posted impressive wins over opponents from The First Academy, New Dimensions Charter, TFA-Leesburg and Mount Dora Bible in recent  weeks. Along with her doubles partner, Macy Glance, Delgado also has been helping her team with wins in doubles plays against all of those opponents.
You've been doing really well lately at the No. 1 singles spot for Foundation. How have you felt out there on the court?
I've felt really good. I've been practicing every day with my parents and my coaches. I've definitely felt really confident (lately).
As a team, you all have played some tough competition and, overall, played well. How far off is the team from putting things together?
The team has definitely been improving. We still have a long way to go. But, definitely, over the season, we've progressed, and we've gotten a lot better each time we've played.
What element of your game have you been focusing on lately?
Individually, I've been working a lot on my fitness, my consistency. A lot of on-court strategy — a lot of things like that.
When did you take up tennis, originally, and when did you become serious about it?
I took up tennis when I was like 5 years old. I became serious about it about five years ago. Since then, I've been playing every day.
In addition to varsity competition for Foundation, are you competing in USTA events, also?
Yeah, I haven't played in a tournament in a while because of injuries, but over the summer I did play in Colombia — in Bogota, Colombia.
How was your time playing in Colombia this summer?
I didn't make it as far as I wish I did. But, it was an amazing experience — it was so cool. I got to play on courts where you had ball boys and stuff like that. It was really amazing, and, hopefully, I'll do it again this summer.
As a junior, have you been thinking ahead toward your prospects as a collegiate tennis player?
I'm definitely interested in it, depending on how I do in districts and over the summer. But, I'm looking into big colleges, so if my tennis doesn't meet up with like Stanford or Harvard, I'd go academically (only).
What is your relationship like with your teammates at Foundation?
Oh, I love it. I think they're amazing people, and I have so much fun with them. It's no pressure. … They're great people.
What's your favorite class in school?
So far, it's been AP Literature. I love that class. I love reading.
What's the last good book you read?
"The Count of Monte Cristo." I love the whole justice story; that he was wronged and he eventually gets his due.
What do you like about going to school at Foundation, and how long have you been going to school there?
I've been there since freshman year. Definitely, my favorite thing is the people. The teachers, the students and how flexible they are with my tennis schedule.
How long ago did you come to America?
I was like 5 years old — so 10 years ago.
How often do you visit your native Colombia?
Not enough. Last time I went there was over summer (and I go) every two years.
Whether you attend college as a student-athlete or solely as a student, what are you considering as a field of study?
I was thinking of being a biochemical engineer.
What's your favorite show to binge-watch on Netflix?
Recently, it's been "Parks and Recreation." I've been watching that one obsessively.
What's been the best moment of the season so far?
We have almost like a little team rivalry with Cornerstone (Charter). It's definitely fun playing them — and winning.