DR. PHILLIPS  At the western end of the Beachline (State Road 528) on the western side of Turkey Lake Road is a set of more than 1,000 timeshare units in the 179.4-gross-acre Sand Lake Resort Club Planned Development.
VHB Inc. officials presented their request to add 10,000 feet of commercial space and 107 timeshare units to their current maximum of 1,261 units to the club at a community meeting Jan. 27 at Dr. Phillips High School.
Jim Hall offered a brief presentation of VHB Inc.'s plans, mainly consisting of tearing down an old building to make room for two new buildings with more units. He said these buildings — the last to be built for this site — would be closer to the southeastern shore of Big Sand Lake, which the parcel abuts roughly a half-mile south of Dr. P. Phillips Hospital. But the added commercial space — for retail or comestible sales — would be near a parking garage away from the lake in a northern corner of the property, Hall said.
Area resident Paul McGarigal suggested deceleration turn lanes for both right turns and left turns into that part of the property, which officials said they would consider based on county traffic numbers.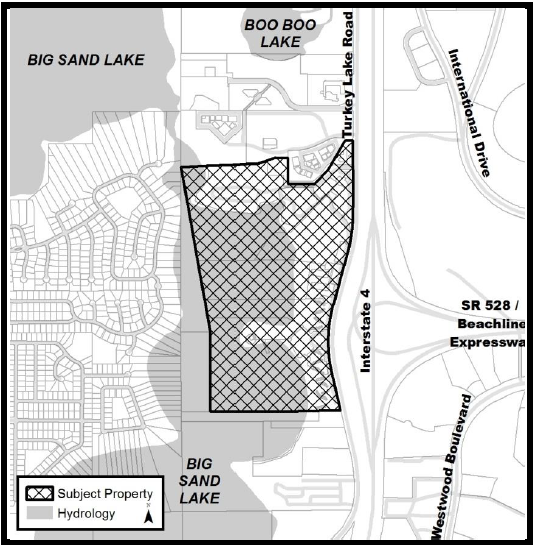 An employee at Sand Lake Medical Park just to the north asked club officials to monitor drivers taking limited parking in the medical park instead of on club property. A club representative agreed, saying attendees should not have a need to park anywhere off site.
Hall said each of the two buildings should take about 17 months to construct, with August as a goal to start.
A discussion of the large number of proposed and existing timeshares in the vicinity ensued, leading to District 1 County Commissioner S. Scott Boyd explaining how reduced densities in most of those projects would make use of land without adding as much traffic as previously called for. Residents expressed dissatisfaction with county traffic counts' indication of traffic being available in that area, noting it does not accurately depict their reality and that this timeshare expansion would increase traffic.
Boyd offered an update on a nearby plan to alleviate congestion — the Daryl Carter Parkway Interstate 4 half-interchange. He said the current stage was looking to neighboring property owners for right-of-way, but the project remains several years away.
Hall mentioned a road that would go straight to Walt Disney World from the Dr. Phillips area, so mouse-bound traffic would never hit South Apopka-Vineland Road. Boyd added an idea of a small street connecting Turkey Lake Road and International Drive, which residents liked, but funding is not in the works.
Residents said that officials should have a goal to form an alternative access in that area to enhance access and decrease driving times to Dr. P. Phillips Hospital. Hall agreed, saying it would be great for all of south Dr. Phillips.
Contact Zak Kerr at [email protected].