WINTER GARDEN  In the wake of the Pulse Orlando nightclub shooting June 12, countless people and organizations have banded together to help support the victims.
Uno Pizzeria & Grill is hosting a company-wide fundraising event all day Friday, June 24, to benefit the OneOrlando Fund. The purpose of the Fund, according to its website, is to "provide much-needed support to the victims of the Pulse tragedy and their families."
Customers who dine in or order takeout from any Uno location nationwide Friday can participate by showing their server the official voucher. After the voucher is presented, 10% of the check will be donated to the Fund. Uno will then match the 10%.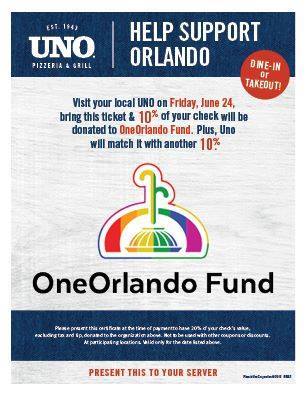 Additionally, there will be an official Dine Out for Orlando United on June 30, when participating restaurants, employees and guests can donate time and money to benefit the Fund. 
For more information on the OneOrlando Fund, visit https://www.oneorlando.org/.
Local Uno Pizzeria & Grill locations:
Winter Garden
3167 Daniels Road, Winter Garden
(407) 877-6510
Open 11 a.m. to midnight
Lake Buena Vista
12553 S.R. 535, Orlando
(407) 827-1211
Open 11 a.m. to 2 a.m.
Kissimmee
5350 W. Irlo Bronson Memorial Highway, Kissimmee
(407) 396-2755
Open 11 a.m. to midnight
International Drive
8250 International Drive, Orlando
(407) 351-8667
Open 11 a.m. to 2 a.m.