The theme for the West Orange Warriors' 2016 season, which held true throughout 31 games in the course of 96 days, was determined before the girls set foot on the diamond for a game.
It was determined by, of all things, a T-shirt.
When head coach Todd LaNeave contacted Jade Caraway and the rest of the team's seniors about what they wanted on the team's T-shirt for this season, the answer seemed obvious: For a program that is always good and always in contention — but had not won a state title since 1994 — this was a year to finish.
"Every year, we win (a lot of games), but we never get the final game and we never finish what we started," Caraway said. "This year we just wanted to focus on finishing every step of the way."
The idea of finishing was intensely personal for Caraway and the other seniors on the 2015 Warriors. That team, loaded with Division I commits and arguably the best roster in the state, fell to Hagerty 2-1 in extra innings in the regional final. 
It was a crushing, heartbreaking loss that left a bad taste in the team's mouth.
"We didn't feel like we finished last year, (especially) when you look at the talent that we had last year," LaNeave said. "We felt going into this year that there's more to this, and we needed to try and finish this year."
The 2016 Warriors were instantly recognizable as different from the previous season's squad. Whereas the 2015 team had several power hitters, this year's offense was predicated on speed and small ball. 
The modus operandi for LaNeave's ballclub in 2016 was to get a runner on, move her over by stealing a base or two and to bring her in, either by a bunt or a timely piece of hitting. 
It is a strategy that worked incredibly well, with the Warriors successfully stealing 95 bases and only being caught stealing twice. And as the season went on, the team began to show power, too. In total, West Orange amassed 90 extra-base hits: 65 doubles, 12 triples and 13 home runs.
On defense, the Warriors never let up more than five runs in a game, only allowing five runs twice, and junior ace Lauren Mathis allowed just three earned runs in 142 innings.
Those numbers underscored impressive wins against rivals such as Apopka and Olympia, a dominating showing at the Montverde Invitational and a perfect record in district play.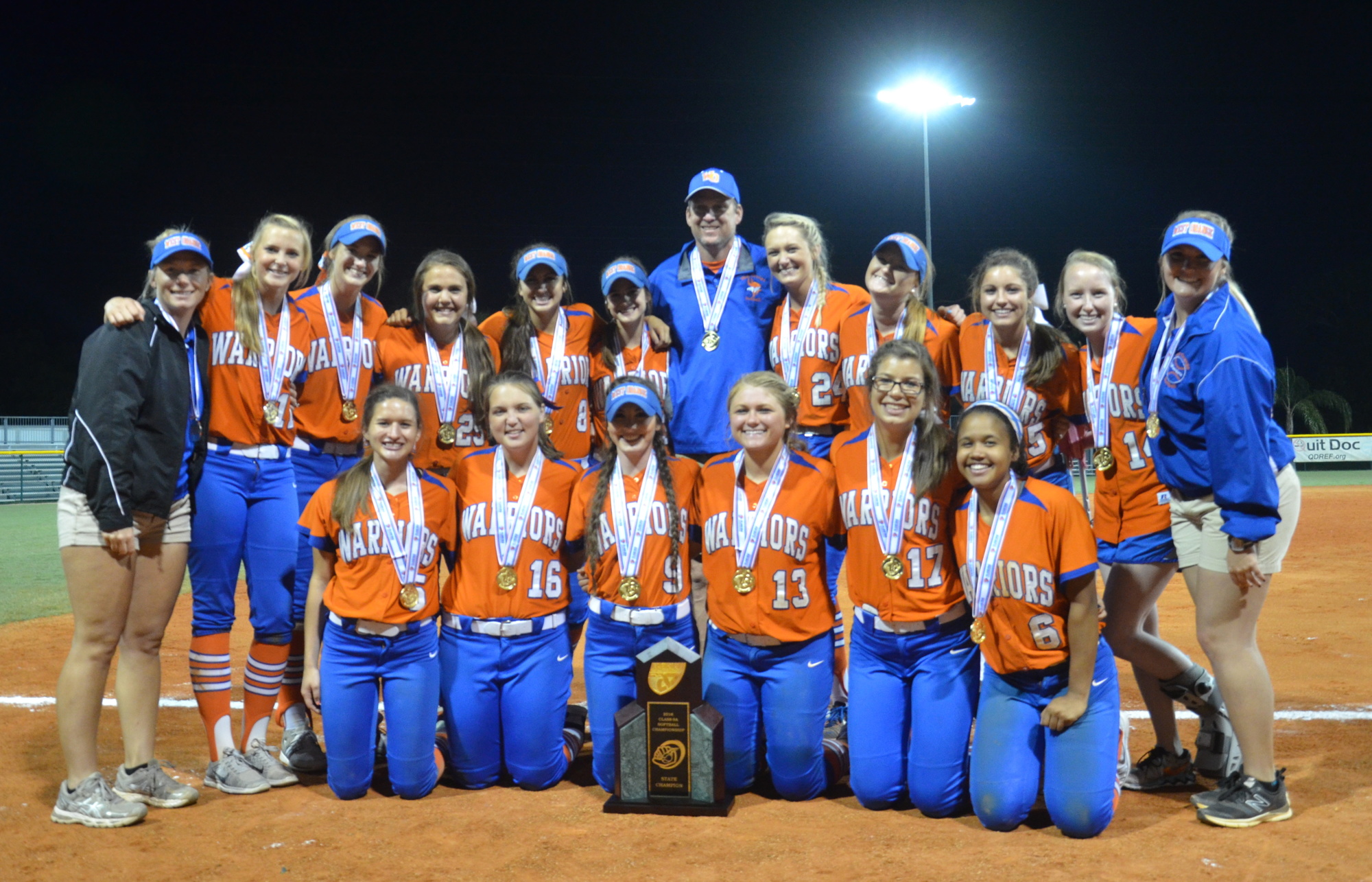 "As we got rolling and rolling and rolling, I'm like, 'Hey, we're pretty good,'" LaNeave recalled.
West Orange suffered what would end up being its only loss of 2016 early, a 1-0 loss Feb. 20 to eventual Class 6A Champion American Heritage (Plantation).
That loss might have been a godsend, as the Warriors won their final 23 games.
It was a streak that saw players across the roster — regardless of age — step up. In fact, the team's ace pitcher (Mathis) was a junior, and the most productive player on offensive, statistically speaking, was a sophomore (Lexie Blair). 
But it was also a streak fueled by the leadership of a dynamic senior class — the same senior class that settled on "#finish" as the team's hashtag for the 2016 season.
"Jade was probably more vocal, and Sam Moore was really vocal," LaNeave said, describing the role his seniors played in the team's success. "(Sam) Golden would lead by example and so would Kalie Romig. Even Maddie Hynes, who has been hurt all season, is there everyday in practice offering input to the girls. We probably couldn't have done it without that senior leadership."
As it would turn out, the passion of West Orange's seniors led to underclassmen who wanted to send their senior teammates out on top.
"This was their dream; this was our whole team's dream," Blair said. "These seniors worked so hard to push us here — they got us here."
When the district tournament arrived, the Warriors decided to add another hashtag to the equation: "#more." The idea was that, as they would go on and win postseason games, they could not be content with just a district title or a regional title — this was a time to want more.
The motto served the girls well and, once they were celebrating a state championship in Vero Beach, there was no more to do.
They had, after all, finished.
"We probably couldn't have done it without that senior leadership."

Todd LaNeave, coach
Of course, "#more" might be a handy motto to hold on to for the program. With so many talented players returning for the 2017 season — the final season before the program is presumably split up by the opening of a relief high school — it only stands to reason that West Orange will have an opportunity for another historic feat: back-to-back state titles.
Now, how's that for more?
Contact Steven Ryzewski at [email protected].