SOUTHWEST ORANGE  Seeing guests cook their own steaks, burgers and seafood to order is a normal occurrence at the newly opened Black Rock Bar & Grill in Windermere.
The Michigan-based steakhouse chain's signature niche is Australian-style rock cooking. Guests receive a black volcanic rock heated to 755 degrees and get to have the experience of cooking their own food, right at their table. Steaks, burgers and seafood can be delivered raw on the stone, and it will sear on the rock as guests flip it over in bite-sized pieces to their liking. 
"That's the fun part of it — every bite's as hot as the last bite," said Billy Grimm, vice president of operations for Black Rock. "You can season it, we have sauces, garlic rubs and butters, and you can have fun with it and make each bite different and cooked to order."
Servers at each table will teach the guests how to use the rock to cook their food to perfection and will recommend the searing time for each one's preference.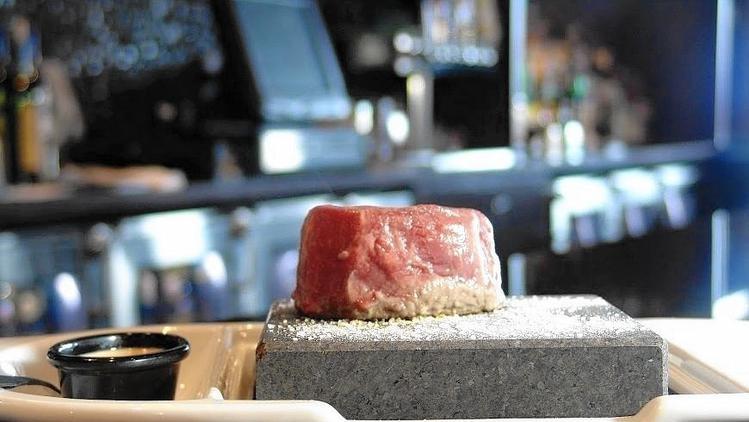 The restaurant started in Michigan in 2010 after the Morgan Roth family opened its first location in Hartland, and quickly became the No. 1 steakhouse in Michigan. Currently, there are three locations in the state with three more in development. Now, Grimm and his team are bringing the unique steakhouse down South. The Windermere restaurant is the first Florida location, but two others will open by the end of August in Carrollwood and Brandon, both near Tampa.
Grimm described the atmosphere as "polished steakhouse meets sports bar," and although the restaurant only opened May 5, he said there are already repeat regulars coming back.
"We want to be approachable but have quality food," Grimm said. "We sell certified Angus beef, and we have everything from sirloins to filets, rib eyes and New York strips. It's priced affordably. We also have a full line of fresh fish, lobster tails, scallops, shrimp, fresh craft burgers and Ahi Tuna that can go on the stone."
According to the website, Black Rock is allergy friendly and offers gluten-, peanut- and dairy-free menu options. Additionally, separate fryers are used to prepare gluten- and allergy-free foods. 
The restaurant centers on high quality, huge portions and having fun, Grimm said, and the staff looks forward to getting involved in the community, giving back and hosting sponsored events.
"We want to be this neighborhood's favorite restaurant, to come, relax and have a great meal with family and friends," Grimm said. "We're excited to be here. We love the location and this area; we have an incredible staff."
Contact Danielle Hendrix at [email protected].