OCOEE After it was all said and done, it didn't really matter that the Ocoee Knights had nearly blown a 28-point lead.
What mattered was that the Knights (7-3) had ended a six-game losing streak to the West Orange Warriors (2-8) in the annual rivalry game the programs play for the Shield, holding on for a 31-29 victory to close the regular season.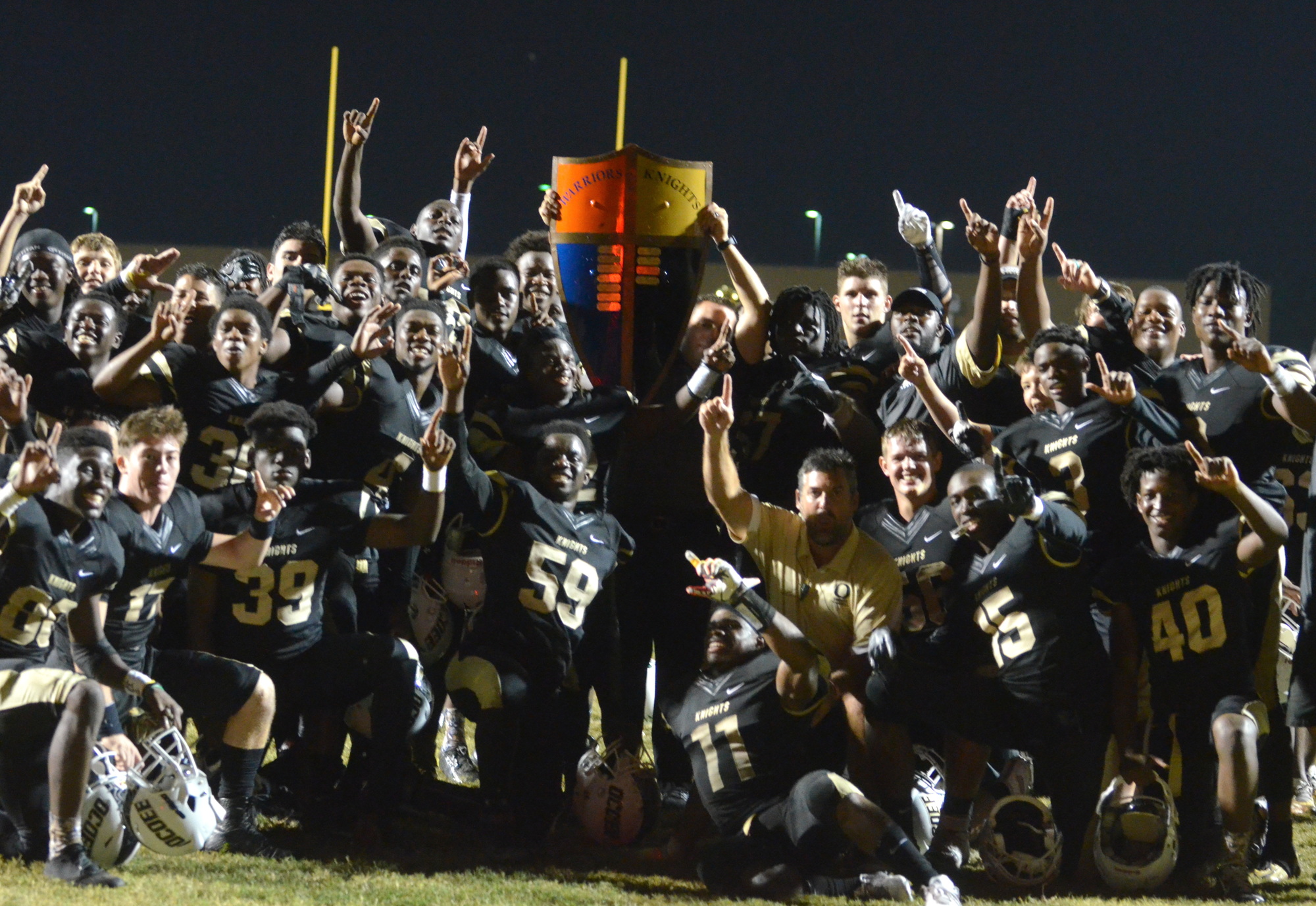 "It means everything — we set certain goals at the beginning of the year and one of them was avenging this loss from last year," Ocoee head coach Ben Bullock said. "(West Orange) played a difficult schedule (this season) but that's still a great team. We kind of found out that we have to execute for four quarters to beat great teams."
While it took a field goal attempt sailing just wide for the Knights to secure the victory, the first half of Friday's game went Ocoee's way in just about every way, with the Knights leading 28-0 as the teams jogged in for halftime — anchored, in part, by two touchdowns from junior running back Konrie Brown.
A strong halftime message from West Orange coach Bob Head got the Warriors going in the third quarter, though.
"Anything that could have went wrong, went wrong (in the first half)," Head said. "We were in the game if we just believed that we were in the game. So I told them (at halftime) if we came out and got a stop, and if we scored, then we're going to win the game."
West Orange did both of those things — and then some. 
The Warriors went on a 23-0 run to bring the game within five points in the fourth quarter. As the lead Ocoee had built gradually crumbled, Bullock said his team had to refocus mentally.
"We were so gassed up for this game and then we came out and made it 28-0 and we were even more gassed up — then, all of a sudden, that bubble burst," Bullock said. "It was a struggle all second half."
A fumble recovered by Lyston Barber around the mid-point of the fourth quarter led to an important 37-yard field goal by Candido Worrell for the Knights. Worrell, a senior, has been strong for Ocoee all season — but that particular kick may have been one of the biggest of his varsity career.
"(Worrell has) been doing it — he did it last year and he did it this year," Bullock said. "When we had to have it, he made it happen."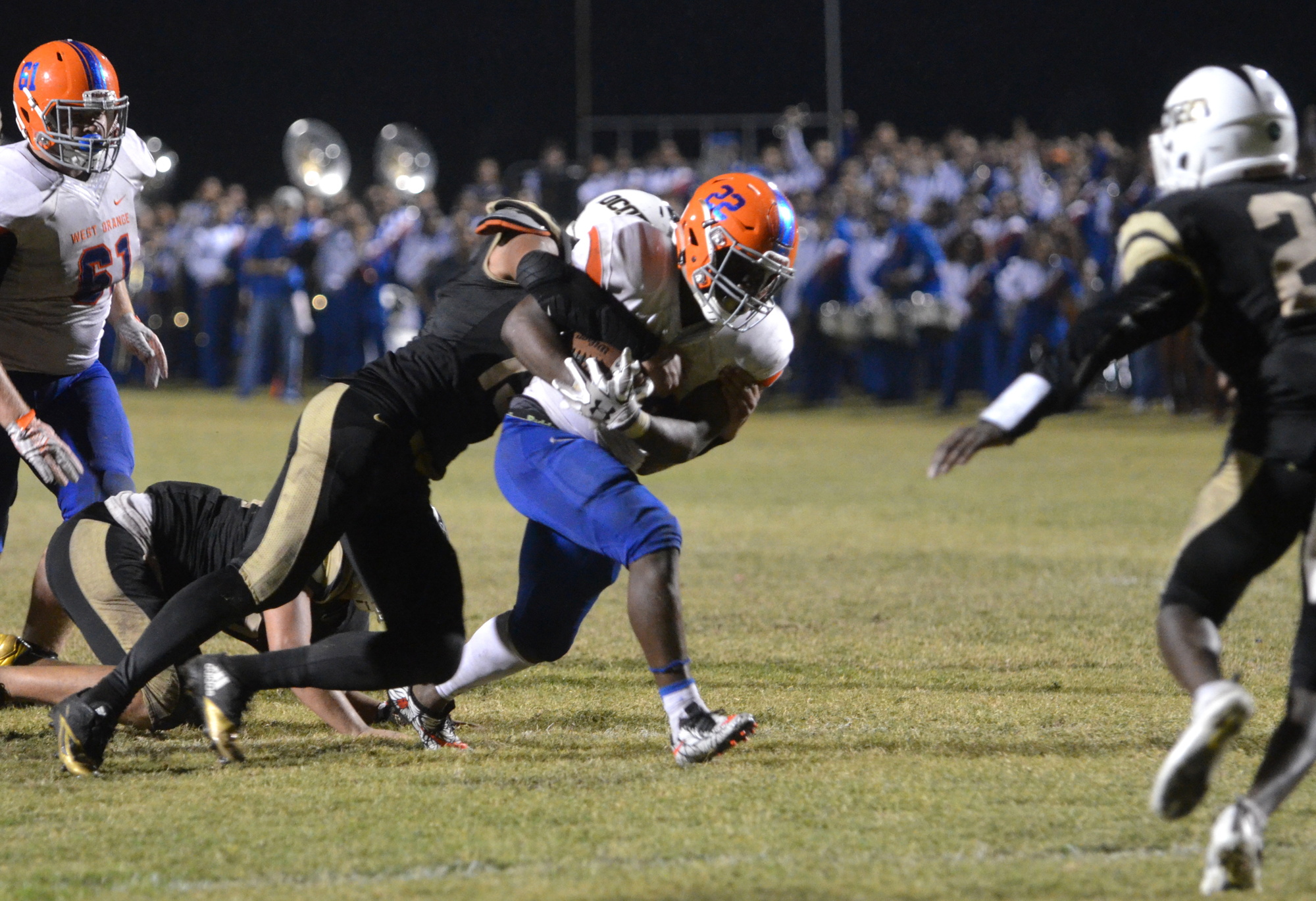 West Orange would score with about two minutes to play on Tay Winters' second rushing touchdown of the night to come within two points. A two-point conversion attempt failed, in large part because Barber blew through to force a hurried throw from West Orange quarterback Austin Burton.
Despite that, the Warriors got the ball back on an onside kick with 1:19 left, setting up a final drive that would afford a 32-yard field goal attempt with under 30 seconds to play. Though the kick would miss and West Orange would ultimately fall to the rival Knights, Head said afterward that the fight his team showed in the second half was something it could feel good about.
"Our guys fought and I couldn't be more proud," Head said. "They showed a Warrior spirit."
For the Knights, though they will need to address some problem areas that led to nearly squandering a four-possession lead, retaining the Shield for the first time for anyone on the current roster still made for a memorable night.
"It's a huge honor because we haven't had the Shield since 2009," Worrell said. "It just shows we've gotten better as a team, a school and a community."
Contact Steven Ryzewski at [email protected].