LAKE BUENA VISTA Countless games of flag football took place on the fields at Disney's Wide World of Sports Complex last weekend as part of the Special Olympics Florida 2016 State Fall Classic. And, with each game, there was more going on than meets the eye.
Teams from around the state competing in the "Unified" flag football tournaments, including two teams from Lakeview Middle School in Winter Garden, were doing more than just trying to win on the scoreboard — they were working to foster a better, more inclusive environment.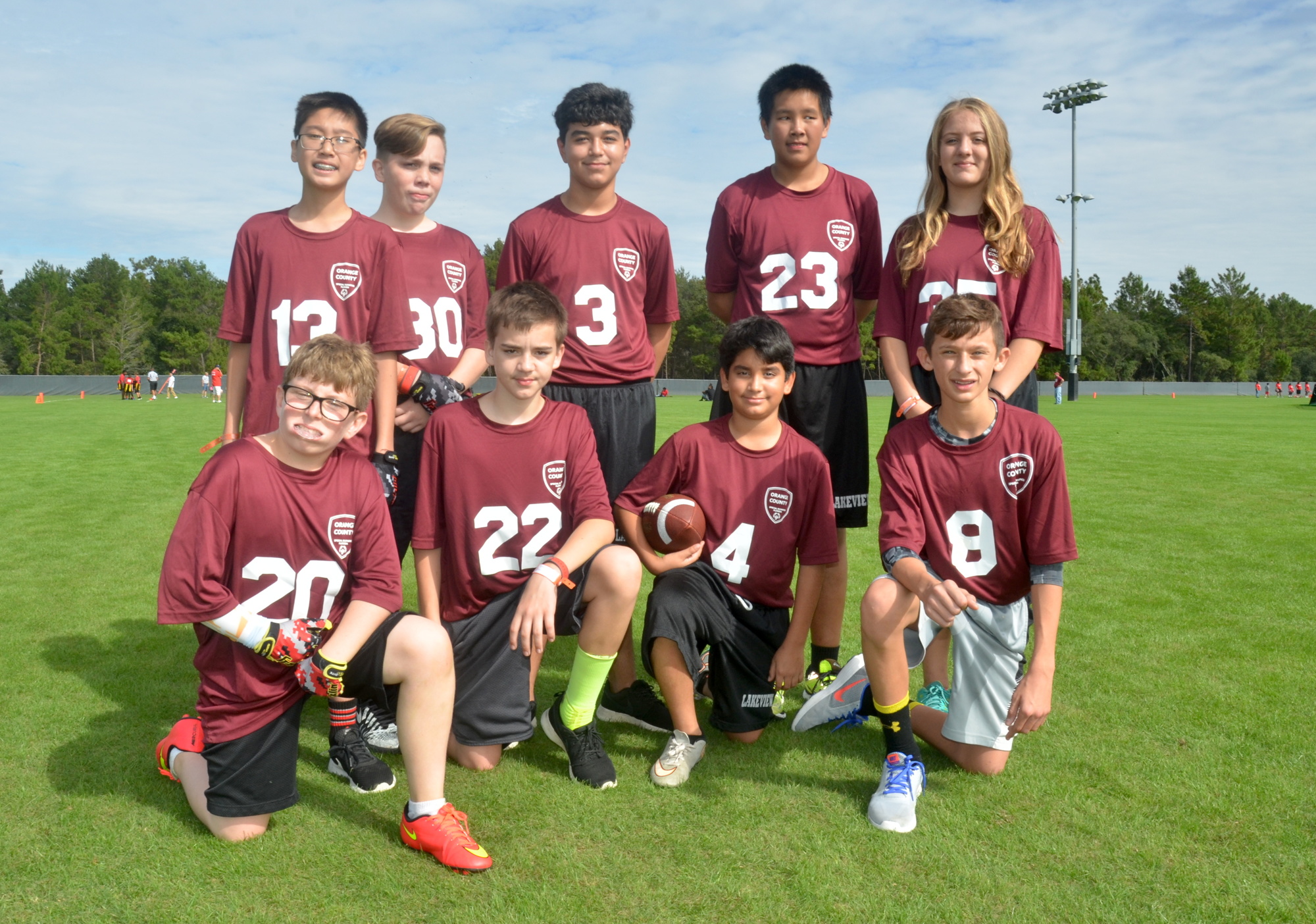 Special Olympics' Unified initiative pairs traditional Special Olympics athletes with intellectual disabilities with partners, or peer volunteers without an intellectual disability, to play on the same team and compete alongside each other.
"The Unified theme is that we live unified, so we play unified," said Tyrone Adams, a Lakeview Middle School teacher who also volunteers and coaches the school's Senior Unified team.
What that translates to on the field is that within the five-on-five flag football games, each team will have three traditional Special Olympics athletes and two volunteer partners at all times. There are rules to keep the partners from dominating the game — they are not allowed to pass to one another, for instance — but otherwise, the only way to tell players apart is by the numbers on their jerseys. Athletes wear even numbers, and partners wear odd numbers.
The end product is that traditional Special Olympics athletes, many of whom would normally not have the opportunity to play team sports with peers without disabilities and represent their school, get to do so. In turn, the peer volunteers get to interact with classmates they normally might not know.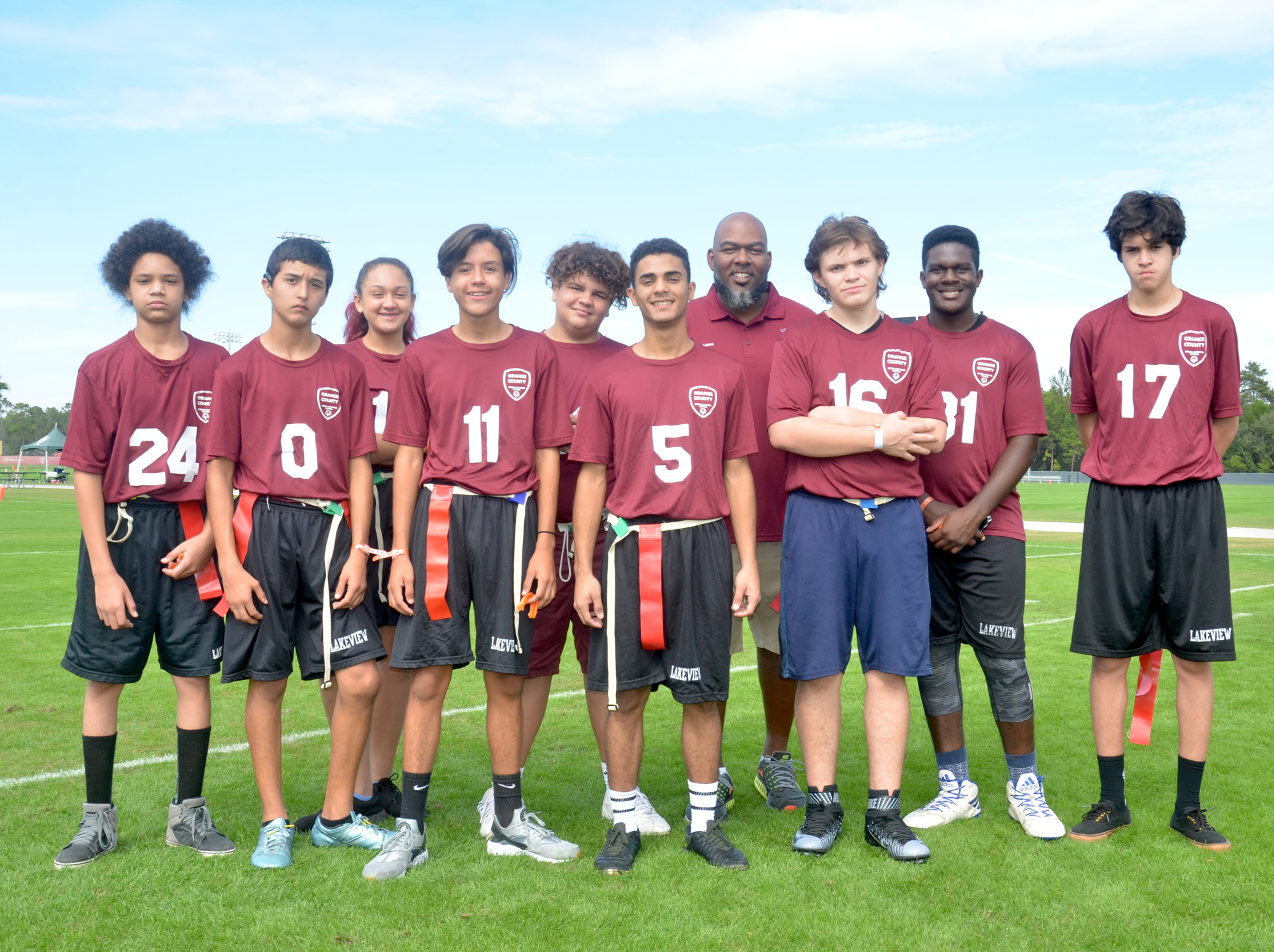 The result is a learning experience for all involved.
"Let's teach diversity; let's teach that our athletes are regular like you and me, they like to be 'weekend warriors,'" Laurie Chmielewski, the training director for Special Olympics in Orange County. "(The partners) are coached just like the athletes. We play as a team, and they complement each other."
The Unified concept has proven to be popular at Lakeview Middle, according to Adams, in part because it is not viewed as traditional Special Olympics competitions intended only for students with intellectual disabilities. That other students without a disability can get involved and work together with their peers has led to increased interest in competing for the school's Unified sports programs.
"I don't really say 'Special Olympics,' because there is a stigma that comes with that," Adams said. "(Instead), I can introduce it as 'Hey, this kid plays Unified flag football with us.'"
The peer volunteers who have given the program a shot include Hannah Sauers and DeVaughn Clarke — who both say they have enjoyed the experience and making new friends.
"I've enjoyed it — even if we don't win, we have fun," said Sauers, 13. "Some of the boys on our team — we don't usually talk (at school), but now we do."
"They're helping one another and they're talking to one another. It's a win-win, man."

— Tyrone Adams, Lakeview Middle School coach
Conversely, the athletes get the valuable experience of being part of a team.
"My favorite part is that we get to play sports, and everybody has good team spirit," said Angelyka Roldan, 13.
In addition to feeling like they are part of a team, Chmielewski said Special Olympics is increasingly focused on keeping its athletes active, in general — something that is valuable to everyone, disability or not.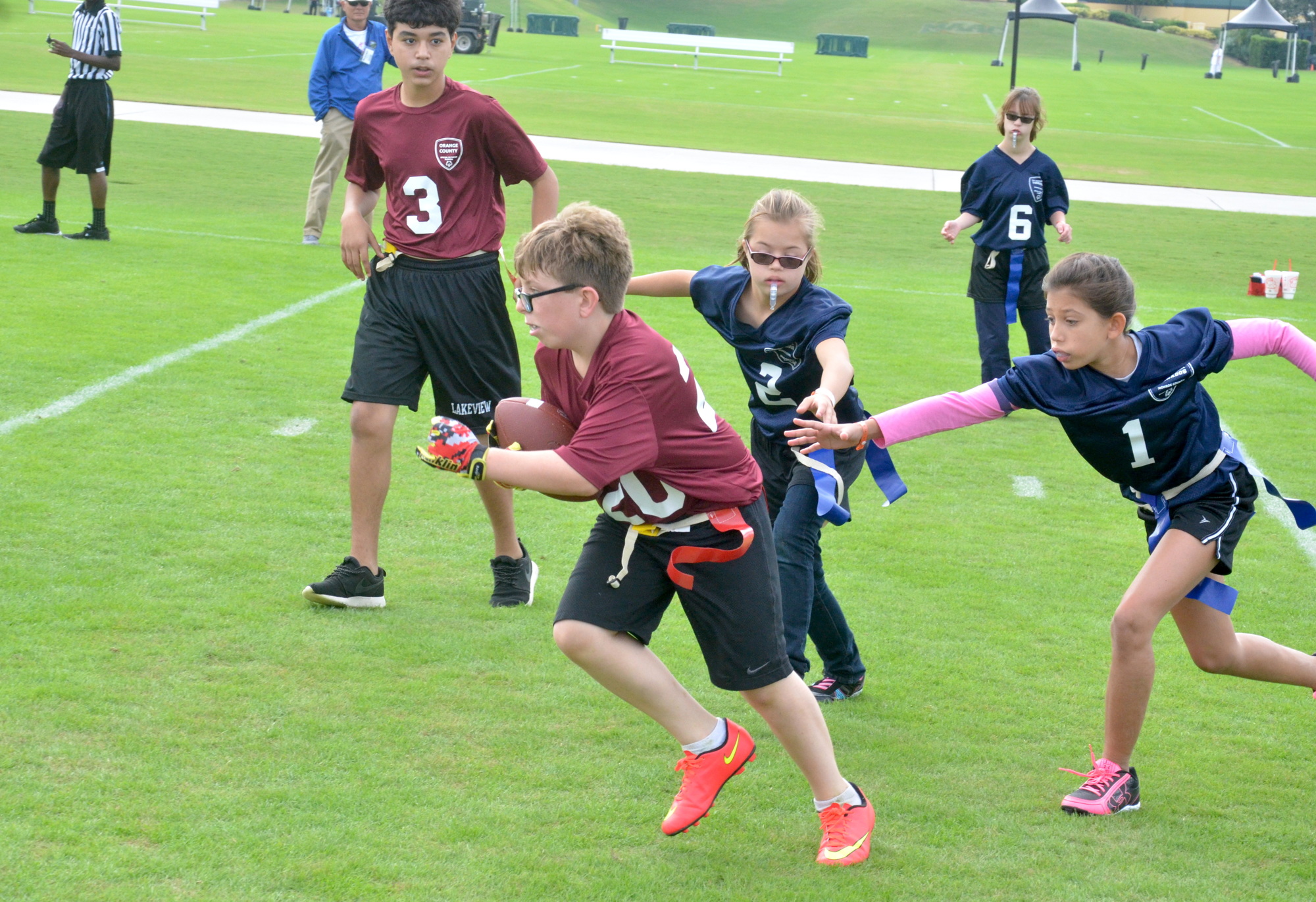 Chmielewski cites the example of John David Haywood, a Dr. Phillips graduate who is 33 years old and intellectually disabled, and the active lifestyle he leads. Haywood, who was the team manager for the varsity basketball team while in school at Dr. Phillips High, regularly swims and goes cycling in addition to his role on teams in Special Olympics competition.
"Special Olympics is about taking care of the health and well-being of the athlete," Chmielewski said. "(Having) sports and a coach and regular team practices only helps that and promotes that. So we try to teach them (to be active) on their own."
Add to that that the Unified concept creates situations where a partner quarterback may throw a touchdown pass to an athlete receiver, or vice-versa, and it really is icing on the cake.
"They're helping one another and they're talking to one another," Adams said. "It's a win-win, man."
Contact Steven Ryzewski at [email protected].