Ocoee High baseball's Caleb Andreaus has been a leader for the Knights at the plate and on the field. Andreaus, a senior with interest from Texas Tech as a possible walk-on, is hitting .428 this spring with 20 runs scored and 18 RBIs. He also has just one error out on the field for the Knights (13-7), spending time playing second base, third base and center field.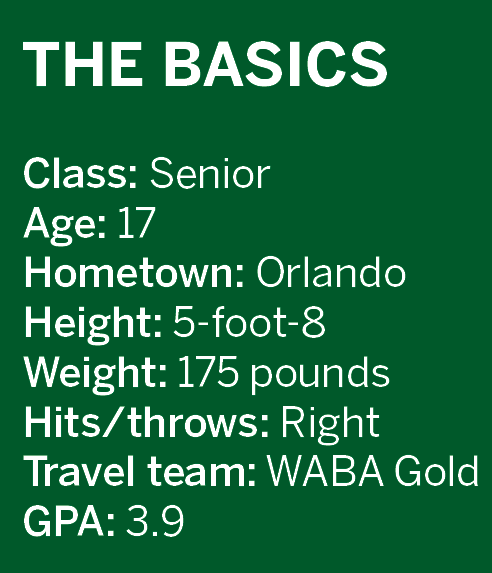 Ocoee had a breakout season in 2017. How motivated were you to build upon that success?
I was very motivated. After we graduated seven seniors (from the 2017 team), everyone counted us out. We came out of the chute playing well … we've just got to keep working hard.
Of which win for the team are you most proud so far this spring?
Beating West Orange (2-1, Feb. 27), because for us seniors, it was the first time that we actually got to do it. It was the best game we've played, defensively, all year. Offensively, it was an all-around good game for the team.
What have you learned from being in head coach Bobby Brewer's program?
He just knows a lot about the sport. What you have to learn about him is when he's on you, it means he cares.
Who is an alumni of the program who made a big impression on you?
Colby Karr. (He) and I grew up playing together. … We became really good friends, and he motivated me to stick to baseball.
Can you explain what you love about baseball?
I just love the way the sport is. It's mentally tough — I like the challenge. In its own way, it's a "me" sport and a team sport. You have to do your job in order for your team to be successful.
Is there a professional player whom you admire?
Ben Zobrist, because he's always been an underdog and worked hard to make his way on the field. He won a World Series ring, and it's every kid's dream to go out there and do that.
If you could play a ballgame at any ballpark — past or present — which would you pick?
We're going old school and playing at the Polo Grounds (baseball and football stadium in New York City, demolished in 1964). It's a unique ballpark — it was like 250-something (feet) down the line and 500 (feet) to dead-center. 
What's the best baseball advice you've received?
You've got to learn to let stuff go. If you strike out in your first at-bat and you dwell on it, then you're not going to have a successful day.
What do you think you'd like to study in college?
I'm going to study sports marketing and try to become a sports agent. I just want to be around sports all the time. 
What's your favorite postgame meal?
A lot of times we always go to Chipotle. I get a steak burrito bowl with white rice, black beans, cheese, sour cream and lettuce.