As 9-year-old Miles Newbold gave a bag of basic necessities to a homeless woman at Lake Eola Park, his concern for her was evident.
But it was the reassurance from the woman that struck a chord with Miles and his mother, Danielle.
"Don't worry, honey," the woman told Miles, a Windermere resident. "I sleep under the stars."
MILES TO GO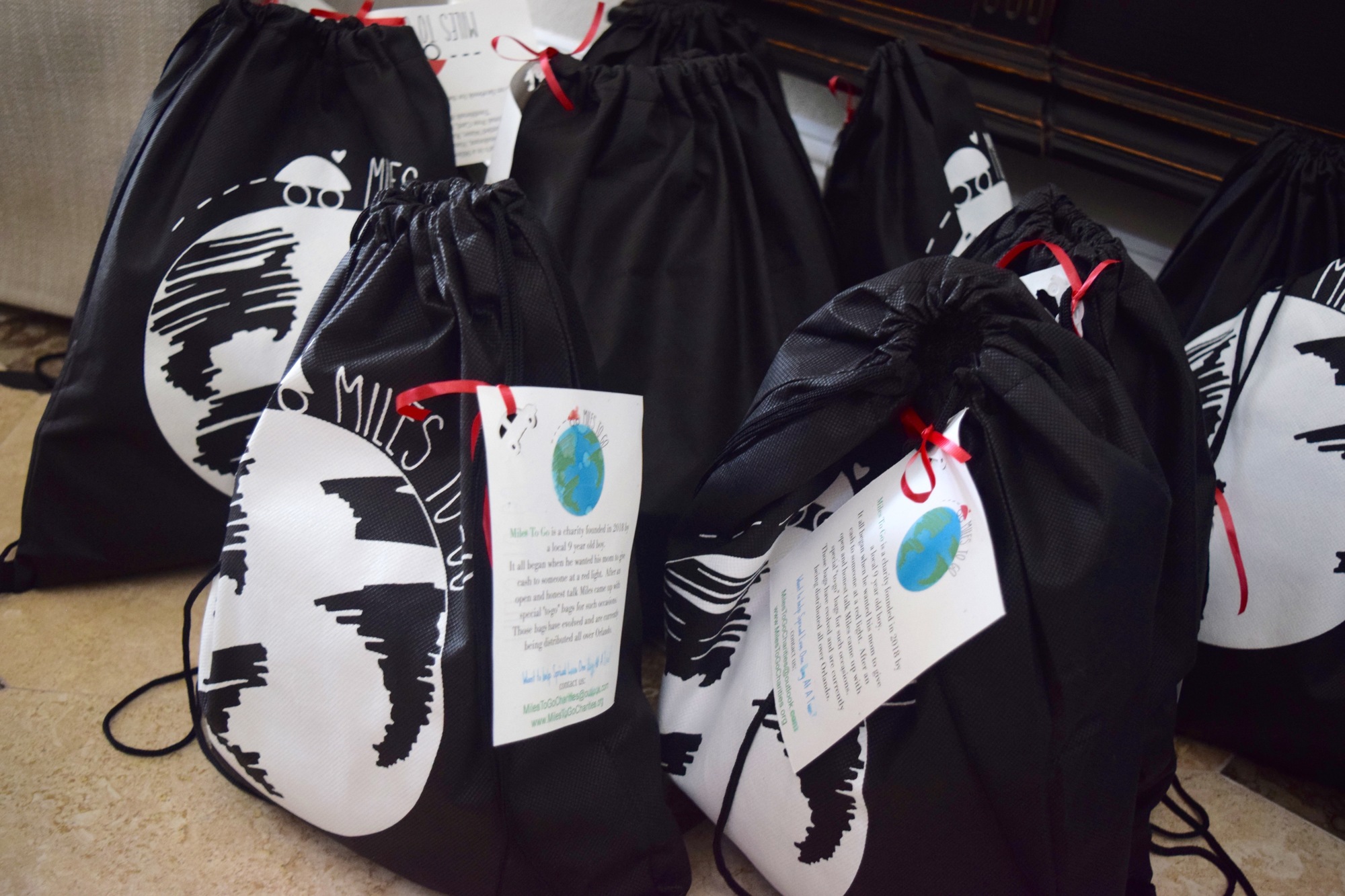 The rising Windermere Preparatory School fourth-grader noticed that whenever he and his mom came across a panhandler in the streets, they wouldn't give out money. 
"Mom didn't give out any money to the people in the streets, so I thought maybe we could give them something, and then we decided to make these bags with everyday needs like toothbrushes, soap, deodorant, snack bars and water," Miles said.
The effort began in February as Miles' brainchild. Together, he and his mother came up with the name Miles To Go Charities and have since obtained 501(c)(3) status. The charity name combines Miles' name with the idea of everyone having "miles to go" in their own growth and development, regardless of situation.
The purpose of Miles To Go is to provide those in need with basic necessities they might not have access to otherwise. The custom drawstring bags are filled with items ranging from toothbrushes, deodorant and hand sanitizer to beef jerky, rain ponchos and a T-shirt.
Danielle Newbold said she used to feel bad about not having anything to give to these people and she didn't want to give out cash for fear it might be used to help them hurt themselves.
"The biggest change for me is that it used to be when we were at a red light, we didn't want to contribute money, so I avoided eye contact with people," she said. "I did not want them coming anywhere near our car, because I didn't have something to give, and now we have something to give, and I feel a bigger connection. It's changed the way that we see people in situations. Now, at a red light, we're waving people down to come to us."
She said Miles always has been a deep thinker and a bit sentimental, so when he decided to do something to help those in need it was a no-brainer. So far, Miles To Go Charities has put together and distributed about 400 bags. 
"I like that I'm making other people feel happy. I just care about making people happy. I don't care how big the (charity) is. I just like it when they're happy. It makes me feel good." — Miles Newbold
The bags' contents are either bought with money donated to the charity or are donated through Miles To Go's Amazon wish list.
"People don't necessarily know what we're giving them, and the biggest reaction comes when they start to look through it," Danielle said. "Miles came up with a lot of the items. We started with fewer, and he thought, 'Well, it'll be raining every afternoon, so we should have a poncho.' When it gets cold outside, we'll put in hats, gloves and scarves."
TAKING ACTION
The Newbolds always keep some bags in the car to hand out if they see someone in need, but they've also taken trips to Lake Eola Park to distribute bags and bottles of water. Additionally, those interested can donate a few dollars for a bag, which they then can have on hand to give away themselves.
"The feedback we've gotten is that the person who is giving the bag is fulfilled in a really beautiful way," Danielle said. "It almost affects them just as much as the person receiving the bag — it's a human connection. … It's a great gift to give someone who has everything, because you're giving a gift of love for them to spread."
At a shopping event in the Newbolds' neighborhood, Danielle said Miles talked to about 100 women about the bags. They ended up receiving donations for 40 bags, which the women then could give away themselves. 
Miles To Go recently held a kids' yoga fundraiser in conjunction with the Young Yogi program and Firefly Yoga, where people bought T-shirts and made donations for bag. The bags also can be found at the Dora Mae Jewelry studio in downtown Orlando.
Even Miles' younger siblings — Violet, 6, and Reed, 5 — have gotten in on the action.
"Violet is 6, and she started collecting stuffed animals from her room and adding them to the (donation) area," Danielle said. "I asked what she was doing and she said, 'Well, I want to contribute something. … If (the homeless) have a kid, they need a stuffed animal.' And Reed cannot give bags out fast enough; he gets it."
"It's not entirely surprising that Miles is helping people," she said. "He's always been very compassionate. It's been terrific watching him inspire other kids, including his siblings."
With a motto of spreading love one bag at a time, Miles To Go Charities is catching on and growing. For Miles, he doesn't care how big his charity gets — he just wants to help people.
"I like that I'm making other people feel happy," Miles said. "I just care about making people happy. I don't care how big the (charity) is. I just like it when they're happy. It makes me feel good."
Danielle said no one has ever declined the bags, and when recipients take a look inside, the surprise is written all over their faces. One man, she said, immediately broke open the toothbrush and began brushing his teeth with the biggest smile on his face.
"We've been encouraging everyone to save their shampoos from hotel visits over the summer, with summer travels going on," she said. "And someone can spend $6 on our Amazon wish list and make an impact — you can do anything, and it makes an impact. Our community has been wildly generous, but we hope to be able to keep doing what we're doing."
And when asked how long he hopes to continue to be able to provide these bags of hope, Miles answered almost instantaneously: "Forever."