Pacing along the floor in his classroom, robotics teacher John Giles keeps a watchful eye over his students as they work.
The tables placed along the walls are covered in containers holding a variety of colorful plastic pieces and wires.
As light music plays in the background, there are murmured discussions among students as they plan and piece together their small robotic projects. Some are working on small robotic vehicles, while others develop more ergonomic concepts such as fans.
But there is something here that also is being worked on simultaneously. And it's something these kids in Giles' robotics class hope could revolutionize the country.
The hope is to develop a means of stopping gun violence in schools.
"They have to do three projects, and the last project is they have to find a real-world problem, and design and build a robot to solve that problem," said Giles, who is in his third year at Glenridge. "One of the problems we have discussed as classes is shooters. What would they need to do to build and program a robot to stop these active shooters?"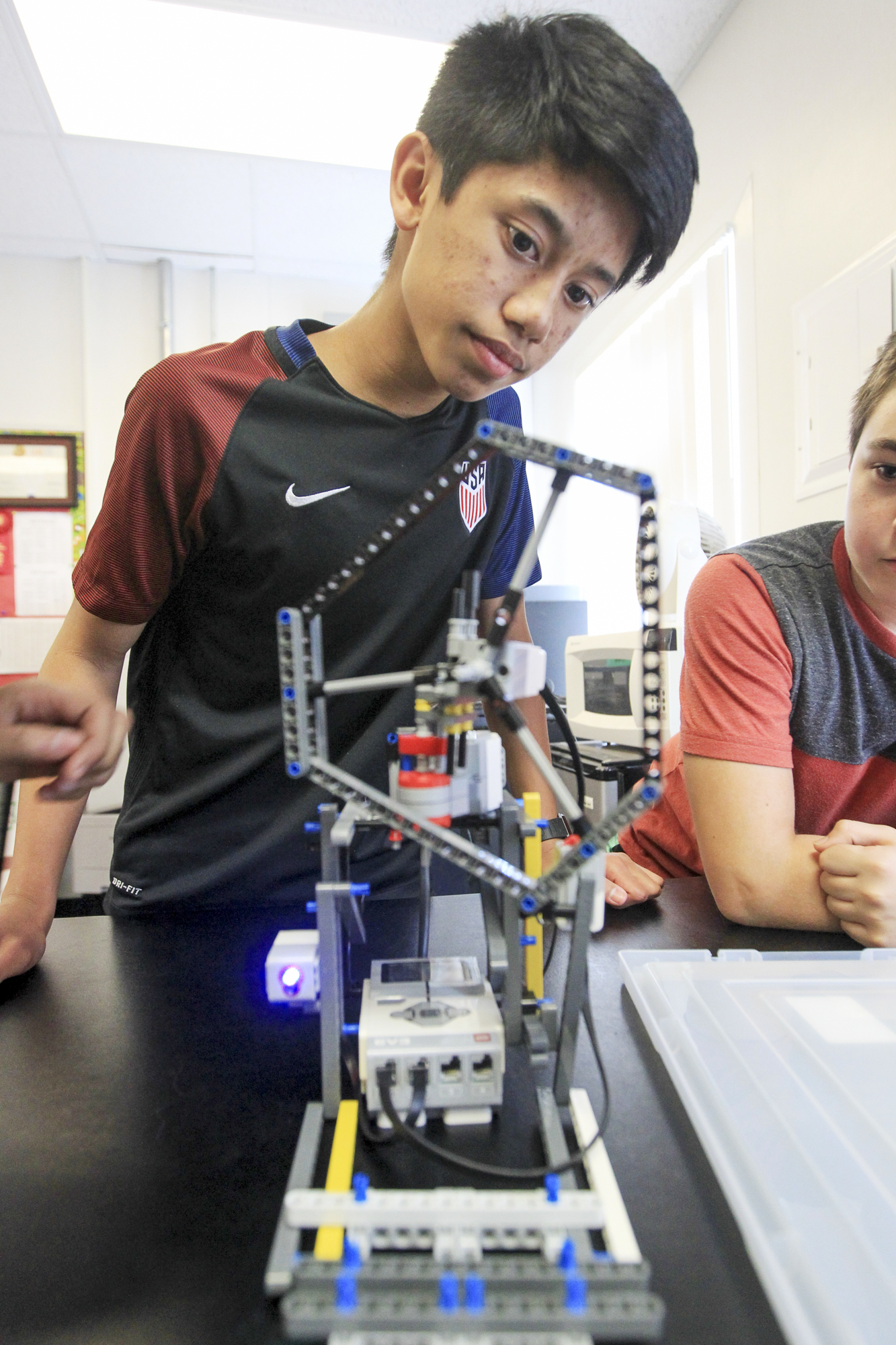 Although some may scoff at the idea of young students being the ones to figure out how to end school shootings, Giles and his students are taking this project seriously.
As of now, Giles' robotics classes are in the early stages of developing ideas.
So far, Giles' students have come up with a sensical mix of concepts that could be incorporated to end shootings such as the one Feb. 14 at Marjory Stoneman Douglas High School. That shooting inspired the students at Glenridge to choose this subject for their final project.
"For solving a real-world project we did some brainstorming on what they would need for the robot," Giles said. "They came up with the fact that we need something that can detect various things (such as a gun), that can alert authorities and that can protect people."
From there, Giles split students into teams of three to four and let their imaginations run wild.
The first thing students decided on was that there needed to be a means of detecting certain things — specifically facial recognition and possible materials that gunman would be carrying.
"We need some sort of robot sensors at the door that could use facial recognition software that could look for strangers — especially people who are known problem people," Giles said. "They also could have sensors that detect metal, and also detect gun powder or explosives. 
"So if any of those things are detected before the perpetrator can even come into the building, the robot will start shutting everything down and we would go into lockdown on campus," he said. "At the same time, it would notify the police that either gun powder had been detected or a weapon, and (indicate) where it was."
Other ideas that have popped up during these early discussions have come in the form of placing strong magnets in the doorways that could help prevent someone from carrying a gun or machete into a classroom.
To help develop these ideas, students will be using Robotix and LEGO Mindstorms to program and create what they believe will put a stop to gun violence in schools. 
As the final project, students will present their idea and concept to the class. And if the concept seems to be a real winner, Giles said he would look into obtaining a patent.
Although the object of the school's seven robotics classes is to help educate students through science and critical thinking, this specific project means just a little bit more to Giles.
"One of the reasons I did this was because I wanted to empower them," Giles said. "I don't want them to cower in fear that this could happen — instead I wanted to empower them (so) that they could find the solution and possibly solve this problem so we never have active shooters ever again."