In the third meeting of the year between the Olympia Titans and West Orange Warriors, the Titans rallied back from a 3-0 deficit to beat the Warriors 4-3 in the FHSAA Class 9A, District 3 Semifinals, completing a season sweep.
With the win May 2, Olympia clinched a spot in the district final Friday and next week's regional playoffs.
"(I'm) very proud of them," Olympia head coach Chuck Schall said. "They didn't lay down. I told them 'the only way we're getting back into this game is we gotta' swing (the bat) because (West Orange pitcher Doug Nikhazy) ain't walking anybody.' Then we stepped it up, started putting some hits together. … We haven't done that very much this year. When we got behind, we haven't been able to bounce back, but they didn't want to quit."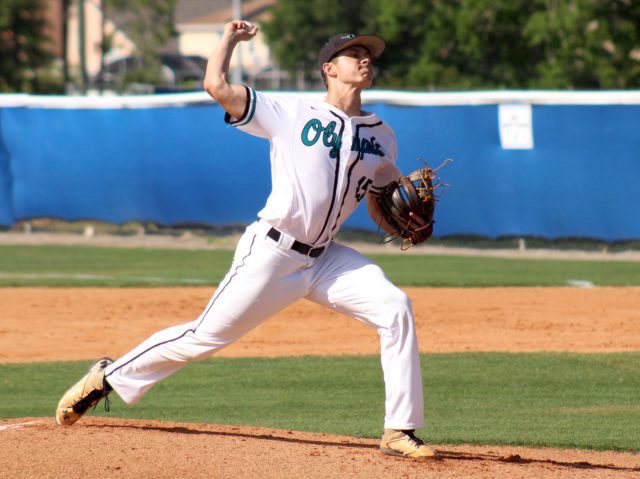 After neither team scored through the game's first five innings, Alex De Valle broke the scoreless tie in the top of the sixth inning with a two-out RBI double. Rafael Gutierrez followed that up with a two-run home run to put the Warriors (12-14) up 3-0 heading into the bottom of the sixth inning.
The bottom of the sixth opened with an error and fielder-interference from West Orange, which put the leadoff runner on second base for the Titans (16-10). Following a base hit from Collin McMahon that put runners on first and third with no outs, a throwing error from the Warriors allowed a run and again put runners on first and third, with their lead trimmed to 3-1.
An RBI-single from Alex Britton trimmed the lead to 3-2 and forced West Orange's head coach Graig Smith to bring in Ryan Jean to relieve Doug Nikhazy. After a sacrifice-bunt from Chase Dunlap put runners on second and third with one out, a wild pitch allowed a runner to score and tied the game at 3-3. Chris Olgee would then walk to put runners on first and third with one out.
On the first pitch of the next at bat, Schall called for a suicide-squeeze—which was perfectly executed by Davis Hawks to put the Titans up 4-3.
"It was a lefty on lefty, and I thought we had a better chance of Hawks laying down a bunt there and I wanted to take that chance," Schall explained afterward. "Plus we had another runner on second base so if it wouldn't have worked, I still had a runner in scoring position. It wasn't that hard of a call for me to make and it worked out just right for us."
The Warriors went to the bullpen again and brought in Carson Montgomery, who got back-to-back strike outs to get West Orange out of the inning.
West Orange would threaten to tie the game in the top of the seventh, putting runners on first and second with one out, but Jeslyn Whitehead would get the next two batters to strike out and fly out, respectively, completing his complete-game effort on the mound and leading the Titans into the district finals and regional playoffs.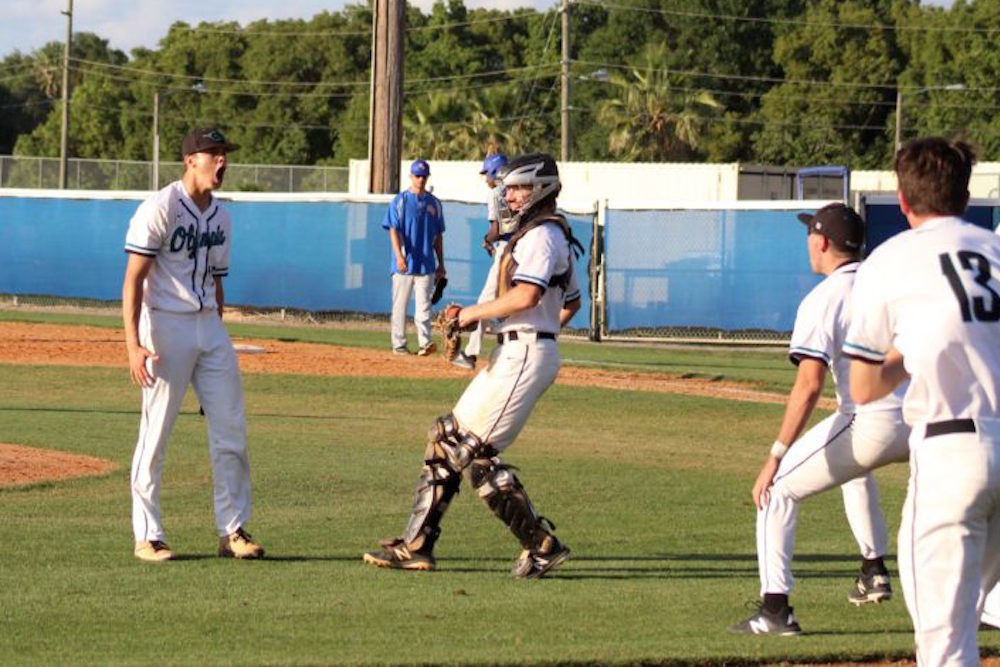 "He was about out of gas," Schall said of Whitehead going into the final inning. "They (West Orange) had seen him four times already, but I knew what I could get out of him. I asked him before he went out there, 'can you finish this thing up?' He definitely wanted the ball. He's a gutsy kid — he's going to give you everything he's got, even though he's getting tired."
The Titans will face the winner of the Apopka Blue Darters and Lake Brantley Patriots on Friday night at 7:30 p.m. at Apopka High School.
"The pressure is off of them at this point," Schall said of his team's mindset heading into the district final. "We're just going to go out there and play as hard as we can and see what happens."