Before the Windermere Wildfire travel-softball organization had won its first national championship, won any of its 15 state championships or had north of 70 former players sign National Letters of Intent to compete in college, it was born as a solution.
The problem was that, back in the mid- to late-2000s, the girls on the All-Stars teams for Windermere Little League kept running into roadblocks as they progressed in the postseason tournaments.
"We always thought we had very good teams, but we'd go to the playoffs and get beat every year, and we didn't really know why — we didn't really know there was a travel-ball thing out there," George Paulson said. "We didn't know what we didn't know."
So, following the summer Little League season of 2007, Paulson and a handful of other parents at Windermere Little League decided to form a travel-softball team with the girls who competed for the Windermere Little League All-Stars team so they could get more experience playing at an elite level. 
The team's colors were blue and yellow, similar to the branding for Windermere Little League, but it also needed a name. Paulson suggested Wildflowers; Dave Chabot suggested Wildfire.
The group of parents for the original Windermere Wildfire team that competed in the fall of 2007 did not know it then, but the brand they coined would become a powerhouse. 
But for the first few years, it was simply a way to help the teams for Windermere Little League play year-round and improve.
"We discovered these girls (on other teams) are playing all year-round," Wes Pollock, another longtime coach for the organization, said. "Windermere was blessed with having a lot of talented players, but they needed the resources — travel ball was a snowball that was building, and we were fortunate to get on while it was still building."
For anyone familiar with the local softball scene, the names of Wildfire alumni are recognizable.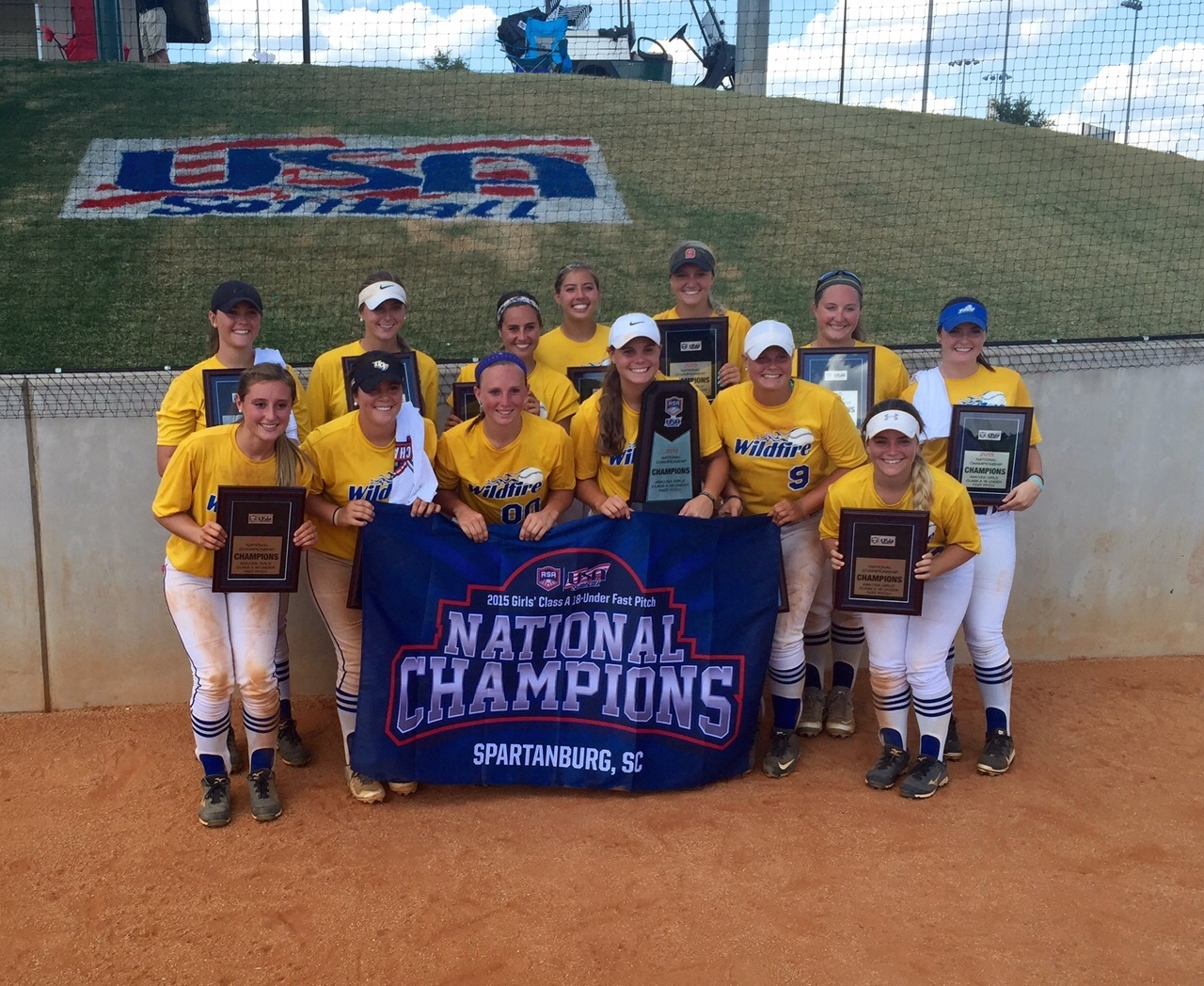 Paulson's daughters, Madison and Alex, went on to compete for Boston College and UNC-Charlotte. Pollock's daughters, Arielle and Sydney, competed for Southern Miss and Detroit Mercy. Steve Stutsman coached the Wildfire 18U team that won a national championship in 2015 and the program's first national championship team in 2011. His daughter, Sabrina, was a member of the Florida State softball team that won the Women's College World Series this past summer.
That's not to mention about 70 other players — from Sarah Lang to Cassady Brewer to Tate McClellan — who have come through the program and gone on to college careers, as well as the nearly dozen players currently competing who are committed to college programs.
Over the years, there has been a group of dedicated coaches and parent volunteers, including Mike Lang, David Taylor, John McReynolds, Wes Mathis and Phil Golden — among others — who have invested plenty sweat equity into the brand.
"It was a community thing — there was a lot of pride around the Wildfire brand, and we did well," Paulson said.
The organization has grown and its size has ebbed and flowed — Wildfire had as many as 10 teams in the summers of 2014 but pared down to two teams for the summer of 2016, as a sort of soft reboot. Last summer, there were six teams.
The original vision for the program even came to fruition when, in 2012, a Windermere Little League All-Stars team coached by Mathis — whose daughter, Lauren, is a sophomore for the Georgia Bulldogs — made it to the Little League Softball World Series. The team featured several girls who played for the Wildfire.
A few years in, the requirement that girls also be Windermere Little League players was relaxed. Although most of the younger teams are still based locally, with youngsters from Windermere, Horizon West, Winter Garden and other surrounding areas, some of the older, more elite teams have had girls from as far away as Clearwater, Daytona Beach and Tallahassee.
"It was a community thing — there was a lot of pride around the Wildfire brand, and we did well."

— George Paulson, longtime coach and co-founder
Coaches have come and gone, and some, such as Paulson and Pollock currently, continue to coach despite having daughters who have aged out.
"I love to coach," Pollock said. "I wanted to help give back and I appreciate how fortunate my own daughters were. I want to help other girls achieve their dreams and play at the next level."
Players from the first Wildfire team began graduating in 2013, and a few already have graduated from their college programs. Others are competing for college programs around the country, and girls currently in the program are varsity players for schools such as West Orange, Windermere, Olympia, Dr. Phillips and others around the region.
And, while the wins are nice, the ultimate goal is facilitating access to a college education.
"That moment when they are committed, I get chill bumps thinking about it," Paulson said. "It's special."