For parents of school-age children in OrangeCountyy, few things prompt instant anxiety quite like a thunderstorm rolling into the area near dismissal time.
They know — especially with the particularly storm-heavy start to this school year — those rumbles mean one thing: The 30/30.
The 30/30 is an Orange County Public Schools policy that aims to keep children safe during lightning storms. During a 30/30 lockdown, dismissal is delayed for at least 30 minutes. The lockdown affects everyone — bus riders, car riders, bikers and walkers — and can turn an already-stressful task into a downright debacle.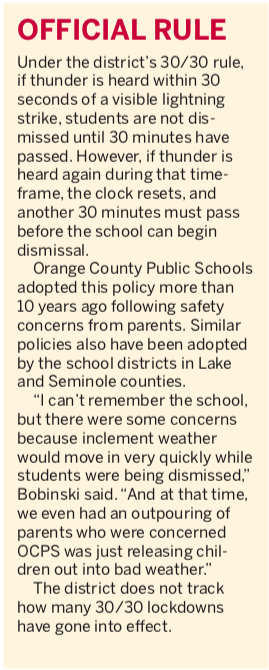 What's more, because school buses run routes for all school levels (elementary, middle and high), a 30/30 lockdown at a school level that has earlier dismissal times can disrupt the timing for the remaining routes — even if the storm has passed. Such has been the case in recent weeks at Bridgewater Middle School. In Orange County, middle schools have the latest dismissal time at 3:57 p.m., and Bridgewater parents said recent 30/30 lockdowns at the elementary level have caused significant delays for their children.
"The other day our daughter got home at about 5:30 or 5:40 p.m., and then she had to go straight to tumbling (class), so she had to miss dinner," said Chad Kalter, a Bridgewater parent. "And they say, 'Well, you can come pick your child up.' But you really can't, because to go pick your child up, you have to go wait in a line that wraps around the school for at least a quarter-mile. So it's nearly impossible to pick up your kids from that school."
Kalter said the rule is nonsensical — particularly if its purpose is to ensure student safety. Because of busing policies, Kalter's daughter walks two-fifths of a mile to the nearest bus stop because his family resides 1.8 miles from Bridgewater. Only students who reside more than two miles from school are eligible for free busing.
"The 30/30 rule really doesn't make any sense," he said. "I assume it's for safety reasons. I understand that, and yet the kids are allowed to walk two miles to school. It seems a bit contradictory to me. It's a pretty dumb rule. ... The percentage of kids that get struck by lightning has to be less than 1%, but how many kids get hit by cars, and yet we're making the kids walk two miles to school. It just seems like a backward policy to me."
Another Bridgewater parent, Tamara Hass, echoed Kalter's sentiments.
"My son didn't get home last week until almost 6 p.m.," Hass said. "When one school goes on a 30/30, even though the schools that do dismissals later aren't on a 30/30, it pushes all the buses back. So they don't get home until hours after their designated normal time.
"I realize they're looking out for the safety of our children, but I think it needs to be revamped," she said. "And my personal concern is (the district) is worried about them getting home in a storm. But then, if there's a storm on the way to school, there's no 30/30 rule in place for that. So it's OK if the buses pick them up during a storm in the morning, and yet not bring them home."

Shari Bobinski, an OCPS media representative who also has children attending Bridgewater, said the dismissal problems at Bridgewater are exacerbated by overcrowding. Bridgewater currently has 2,611 students enrolled and a program capacity of 1,040 students.
"They're over capacity, and they're going to get relief next year," she said. "But for now, we have to just deal with the long lines, unfortunately. The school is doing the best that they can to move people through and make the process as painless as possible, but there are a lot of kids there."
She also urged parents to be patient. Storms are most frequent during the three months of August, September and October, and Bridgewater's relief school is scheduled to open next year.
"(The policy) is 100% for the safety of students and staff," Bobinski said. "We know it's not easy to sit in long lines, but it's truly for the safety of everyone. ... Unfortunately, the West Orange area is so popular, and it grew so quickly. This is just another one of those situations where we've got to just get through the growing pains. But next year, it should be a lot better."