Freshman Zach Miles went the country mile to prepare for his upcoming role as a livestock rancher in West Orange High theater's upcoming production.
"My mom's boss actually owns a pig ranch, so I went out and I visited the pigs and got to kind of talk to them and act and go through method acting," Miles said. "It was very fun to see how pigs react. It gave me basis for (the role)."
Miles, 15, will be playing Abel Frake, a livestock rancher and father of the Frake family, in the theater department's production of Rodgers and Hammerstein's "State Fair." The show runs from April 25 to 28. Showtimes are 7 p.m. April 25 to 27 with a 2:30 p.m. matinee April 27 and 28.
"State Fair" tells of the Frake family's journey to the 1946 Iowa State Fair. The story follows the family members' experiences at the fair. Abel enters a pig in a competition; the mother, Melissa, enters a cooking contest; and the children, Margy and Wayne, each experience love and heartbreak, theater director and teacher Tara Whitman said.
"It's a beautiful family story, (and) it's a piece of Americana — I think," Whitman said. "It started as a movie, and the first film came out in the '40s. … The musical came after."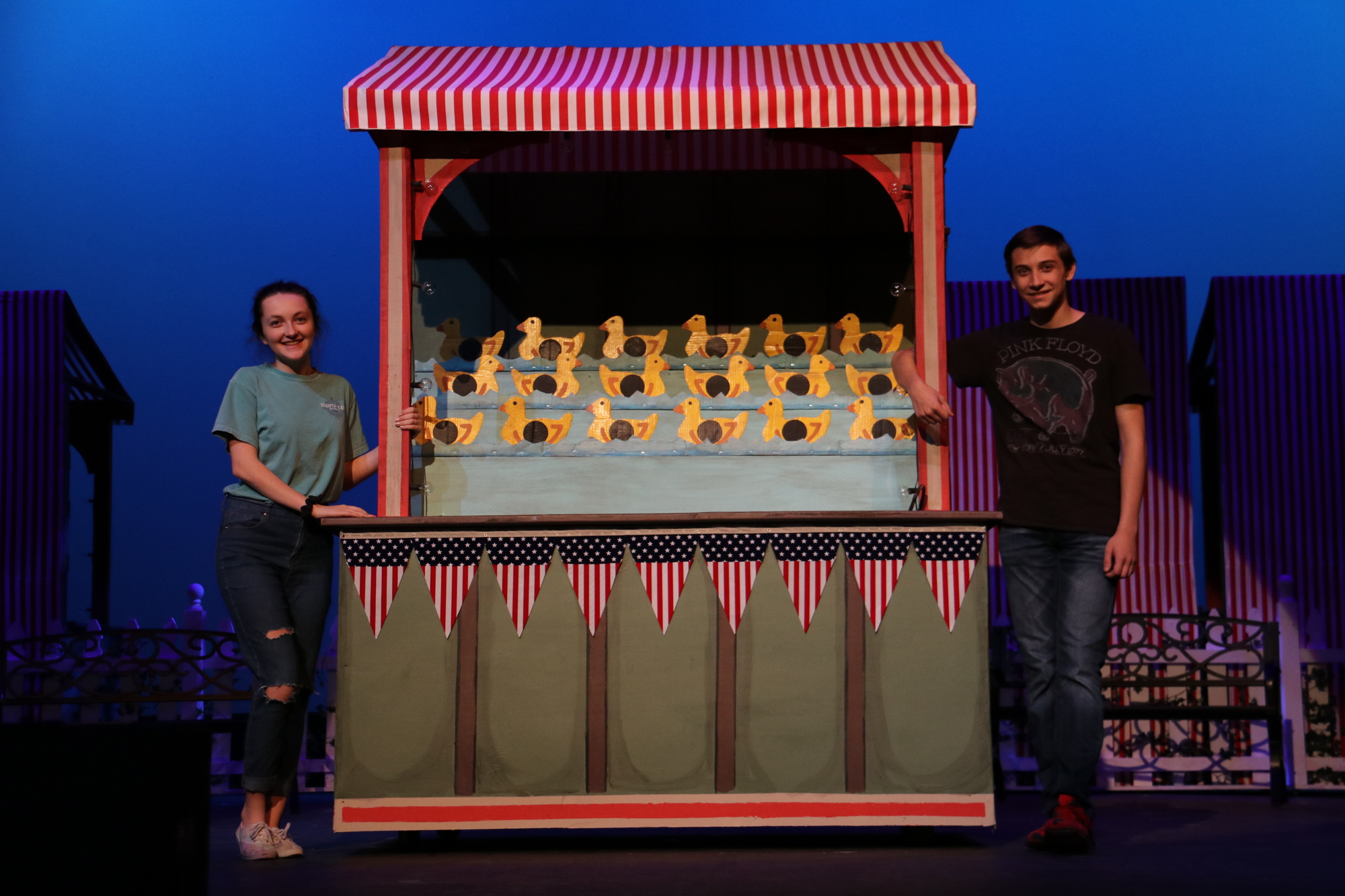 Whitman added the production will be the department's first Rodgers and Hammerstein show since 2002. The show will feature an extended stage, and the music in the show will be performed live by the school band. 
"We've added the stage extension to ... bring the actors closer to the audience," Whitman said. "We will be working with our school band who will play in the live pit, so they sit (within the extended stage). It's just like being in a real Broadway pit. … This is our favorite time of year when the two programs get to work together."
Junior Abby Marotta, 17, plays the role of Margy in the show. She chose Margy because she enjoys the character's strength and adventurous nature.
"I think that she is sort cheesy, but she also is very strong, and I like that about her," Marotta said. "She wants adventure, and she wants to have this really nice, adventurous life, and I relate to that. I think that's really cool."
Marotta added although she enjoys taking audiences back in time on stage, adapting to the period the show is set in is something that challenged her. 
"I love shows like this where we get to go to a different time period and really transport the audience," Marotta said. "Trying to move like we would in the 1940s … is difficult when I'm so set in 2019, but it's been really cool to get to do that."
For Miles, playing fatherly roles is nothing new. In fact, he often seeks out those roles and enjoys playing them because they allow him to see the world from a different perspective.
"I like playing fatherly characters, because you get to kind of see the world in a more adult way," Miles said. "My favorite thing about Abel's character (is) he's kind of a fun character. He's very easygoing. He's very passionate about what he does with his livestock ranching. … He's great fun to play. He's also very emotionally connective, because, while he seems fun on the outside, he's also very empathetic and supporting of his children."
Miles added that adapting to the role of a 60-year-old man proved to be a challenge. To help meet that challenge, he spent some time with his grandparents.
"Acting like an old man — that's been the greatest challenge," Miles said. "I've been around my grandparents a lot (to) try to study how they (act). Being around my grandparents helped a lot."