For one Foundation Academy teacher, summer vacation meant the opportunity to attend space camp in Huntsville, Alabama.
Lori Waters, the school's biology and environmental science teacher — and last year's Earth and Space instructor — finally realized a dream of hers when she participated in weeklong activities at the Space Academy for Educators at the U.S. Space and Rocket Center.
"I've wanted to attend Space Camp since I was in fourth grade," Waters said. "I vividly recall the Challenger disaster in 1986 and take my inspiration from Christa McAuliffe, the educator who died on that mission. … When I found out that there was a professional development opportunity to attend space camp as an educator, I immediately signed up."
During her camp adventure, Waters collaborated with 16 other educators from around the United States, as well as one from Australia and one from Japan.
She took part in myriad activities, including team-building projects, water survival training, astronaut and mission control training with simulated missions to Mars and the moon, and a variety of STEM activities for the classroom. She launched rockets, learned about electronics and "developed ablative shields and landers for eggs-stronauts," she said.
Participants received briefings from NASA about the new Space Launch System and the Artemis mission returning to the moon, and, she said, some activities highlighted the 50th anniversary of the Apollo moon landing.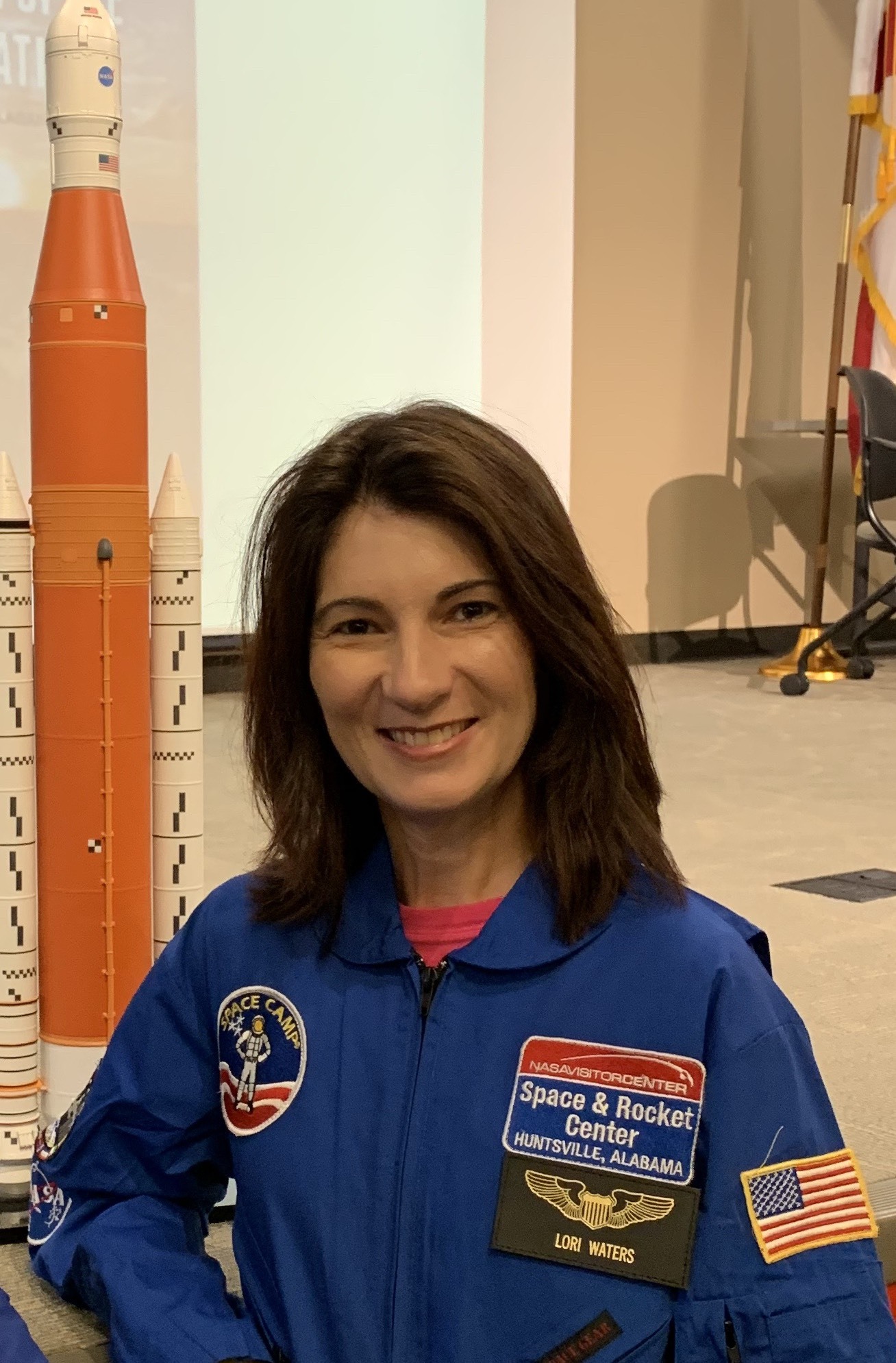 "The one-sixth gravity chair simulated what it feels like to walk on the moon, and, of course, spinning in the astronaut training multi-axis chair, which is unique to space camp in Huntsville, was a must-do," Waters said.
The camp in Huntsville was the next step for Waters, who attended Space University for Educators at Space Center Houston in 2018. She also attended the SPACE Conference for Educators at the Kennedy Space Center last month through a scholarship from the Florida Space Grant Consortium.
"I'm always looking for opportunities to learn and bring ideas back to my classroom," Waters said.
From her time at space camp, as well as other space-related conferences, Waters has built a deep file of lessons, experiments and investigations to use in the classroom. She has expanded her professional network to continue collaborating with NASA officials and other teachers who are also passionate about space.
"I am teaching the Mars generation," she said. "These students will be the astronauts, engineers, scientists, project managers and politicians that will lead to human exploration of Mars and beyond. Plus, the rocket launches and current missions provided a tremendous hook to help connect scientific content with real-world application. Science becomes real and exciting."
Even with her switch from a focus on Earth and space to one of biology and environmental science, Waters said NASA has resources, research and missions that will connect with these subject areas.
"If my students are going to search for life beyond Earth, then they need to know what characterizes life as we know it," she said. "Plus, we need to understand the physiological effects of the space environment on life, including humans and plants."
She already has lined up three research opportunities for her classes that are connected with International Space Station.