One in 20 Americans over the age of 50 suffers from peripheral artery disease (PAD). PAD can be a subtle disease, but it has serious consequences. If untreated, PAD can increase the risk of coronary artery disease, heart attack and stroke.
PAD occurs when plaque builds up on the inside of walls of the arteries that carry blood from the heart to the legs and feet, resulting in the narrowing of the arteries. This is called atherosclerosis and is the most common cause of PAD. Because of this narrowing, the vessels can't deliver enough oxygen and nutrients to the body. Also known as peripheral vascular disease, PAD can occur in the stomach, arms and head, but most commonly occurs in arteries in the pelvis and legs.
Symptoms of PAD
PAD symptoms can be difficult to recognize. Many people may experience no symptoms or mistake symptoms such as leg cramping, pain or tiredness when walking for other causes — especially since the symptoms go away with rest, only to return with activity.
Symptoms of PAD include:
Cramping, pain and tiredness with walking
Sores on lower extremities that won't heal
Toes that look pale, discolored or blue
Leg or foot pain that disturbs your sleep, including leg cramps at night
Leg numbness
Coldness in your lower leg or foot
Shiny skin on legs, or loss of hair on your feet and lower legs
Thick yellow toenails that are not growing
Erectile dysfunction in men
It's important to talk with your doctor if you experience any of these symptoms.
Risk Factors
The risk of developing PAD increases with age. Those with coronary artery disease have a greater chance of having PAD. A family history of PAD, cardiovascular disease or stroke also increases the chances. Other risk factors include:
Smoking
Diabetes
High cholesterol
Chronic kidney disease
High blood pressure 
Treatment
PAD can be diagnosed througha variety of tests, including a physical exam, a blood pressure test, ultrasound, blood tests or angiography. Once PAD has been diagnosed, the goal is to reduce symptoms and decrease the atherosclerosis in the vessels.
Stopping smoking and starting a supervised exercise program are two key ways to reduce the effects of PAD. Other lifestyle changes, such as following a healthy eating plan to reduce cholesterol and weight, also can help. Medications to lower cholesterol, reduce high blood pressure or prevent blood clots may be recommended. In some cases, surgery or an angioplasty procedure may be needed to address blockage in a blood vessel.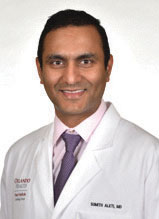 Dr. Sumith Aleti is an interventional cardiologist and endovascular specialist with the Orlando Health Heart Institute Cardiology Group – Ocoee, located at Orlando Health – Health Central Hospital, 10000 W. Colonial Dr., Ocoee, FL 34761.