There's a lot that goes into becoming a dominant force in your sport, and that includes sacrificing precious free time.
While many of their fellow friends and schoolmates take to the beaches and theme parks this summer, there's a trio of swimmers who will take lap after lap in the pool at Windermere Prep.
Hayley Clark, Addison Reese and Isabella Lojewski are members of the Windermere Lakers Aquatics swim club.
"We just had practice from 5:30 to 7:30 a.m. this morning, then we had weights from 8 to 9 a.m., and then practice from 11 a.m. to 1 p.m.," said Reese, 13, who will be starting eighth grade in the fall at Bridgewater. "We just accomplished one of our goals — we got put in an elite group, and there's not many kids at all, so that's why we have extra practices on Mondays and Fridays."
"We have 10 practices every week — including Sunday — and our only day off is Wednesday," said Lojewski, 14, a homeschool student who also swims for Windermere High.
While that kind of intense workload may be overwhelming to most, for the Lakers trio it's just the same old, same old.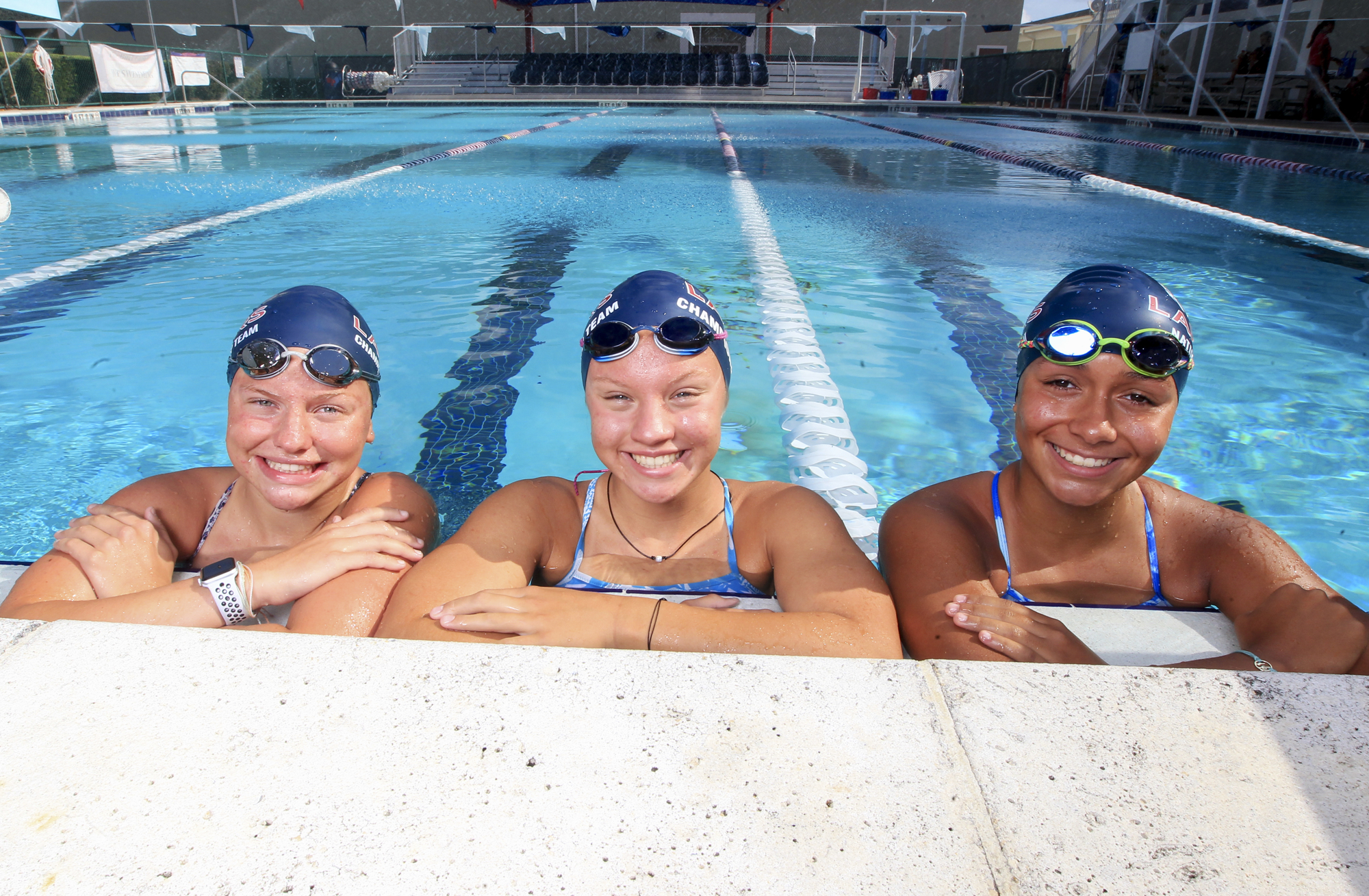 The constant practice and dedication to their sport — both in and out of the water — has also brought with it fruits of labor, as all three girls were named to the USA Swimming 2019 Southern Zone Select Camp held on the campus of the University of Louisville.
The four-day camp — which took place from Thursday, May 30, to Sunday, June 2 — brought the top 56 swimmers (28 boys and 28 girls) throughout the southeast to Louisville, Kentucky, where they would dive head first into training.
The Windermere trio of swimmers was selected based on simple math: They were the best in their events. Lojewski holds the fastest time in the 400m free in the southeast, while Clark holds the fastest time in the 200m breaststroke. Meanwhile, Reese was invited thanks to her outstanding IMX (based on overall swim times).
"I was definitely nervous, because we were racing the top kids in the country," Lojewski. "But when we all got there, we all told each other that, 'We deserved to be here, and don't ever feel like you don't deserve to be here.'"
Going into the camp the trio knew a bit what it would be like, as they had friends who had previously gone to the camp.
Despite having a general feel for the camp, there were still some surprises along the way — including the routine of it all.
"I definitely expected much harder training sessions," said Clark, 15, who will be a freshman at Windermere High in the fall. "They really focused on technique, which is really good, and they taught us about nutrition, recovery, sleep and goal setting."
And the girls weren't alone in their journey to Louisville, as Lakers head coach Alexander Dehner joined the staff during the camp.
Getting the opportunity to be a part of that experience is something that Dehner never got to do as a swimmer himself, but having the chance to take in the camp with his athletes was incredible.
"It's really special — the camp that they went to is actually the first stage of USA Swimming's Olympic progression," Dehner said. "It's the first time I get to wear USA Swimming's colors and be a part of the USA Swimming staff. For me this is truly an amazing experience, and I couldn't have done it without them swimming the way that they do."
With this recent pinnacle of success, Clark, Reese and Lojewski have been able to accomplish a lot through their young careers, but there's one thing that has been around since they first started racing competitively: Make the Olympics.
"It's the first time I get to wear USA Swimming's colors and be a part of the USA Swimming staff. For me this is truly an amazing experience, and I couldn't have done it without them swimming the way that they do."

— Alexander Dehner
In the case of Lojewski, it's something that came about following her original stint in synchronized swimming.
"I was always in the water — I did swim lessons as a kid — but when I turned 8 I started doing synchronized swimming for four years, and when I turned 12 I realized it's not what I want," Lojewski said. "I (made the cut) really quickly for championship meets, so I decided that my goal is to make the Olympics. I've been working hard ever since."
On the other hand, Clark and Reese knew pretty immediately once they started swimming in the beginning that making it to international competition was the ultimate prize.
"I've always kind of loved the feel of water and I've always loved being in it and racing and splashing around," Clark said. "I think when I was around 9 years old was when I really got into competitive swimming and set goals for myself — like making the Olympics."
"These past few years I've just always wanted to make the Olympics," Reese said. "It's my dream — I have it written all over my room."