In a rare non-unanimous vote Tuesday, May 7, the Oakland Town Commission passed 3-2 the first reading and public hearing of an ordinance that would change the future land-use designation of a parcel of land on West Colonial Drive from Rural to Mixed-Use Activity Center. Mayor Kathy Stark and Commissioner Rick Polland cast the dissenting votes.
An accompanying ordinance that proposed to change the official zoning map designation from A-1 Agricultural (Orange County) to Planned Unit Development (Oakland) was withdrawn by town staff because advertising requirements were not met, and it was not voted on. The first and second readings and public hearing will go before the commission this summer.
LIV Development Inc. is proposing to build a 242-unit luxury-apartment complex on 11.3 acres of property formerly owned by Gary and Dana English. The property is bordered by Johns Lake to the east, Orange Avenue to the west, West Colonial to the north and the English property to the south.
The controversial issue brought residents who live within the town limits of Oakland — as well as folks residing in unincorporated Orange and Lake counties — to the special commission meeting.
Many people in attendance spoke against the project, saying it would negatively change the landscape and small-town feel of the town.
Ernie Marsh, a resident of the Deer Island community on the east side of Johns Lake in unincorporated Orange County, spoke on behalf of a number of people at the meeting. He presented a 300-signature petition opposing the development project, as well.
"We applaud all the development Oakland is doing, but we are against the apartments themselves," Marsh said. "It's going to forever change the look and demeanor of Johns Lake."
Ray Pearce, a resident who lives on Orange Avenue with a Winter Garden address but with a Lake County designation, said one of his concerns is the traffic backups that are inevitable on his street with garbage trucks and recycling trucks from two counties, as well as school buses.
John Dolezar, another Johns Lake homeowner who lives on Remington Road, said the proposed apartments are not in the town's best interests because they take away from the small-town atmosphere and aren't good for the town's infrastructure.
"We shouldn't allow something that's going to take away from so many and benefit so few," he said.
Others were concerned with issues such as the proposed height of the apartments, high density of the project, pitch of the land toward the lake, environmental impact on the lake and wetlands, time of day the West Colonial traffic studies were conducted, increased traffic on the already-congested West Colonial and the precedent an apartment project would set.
The audience did include some in favor of the proposed project, including Oakland resident David Stimmell.
"It's ironic that so many people who don't live in the town of Oakland are trying to tell us (what to do)," he said. "We paid for a lift station and sewer so we can have development."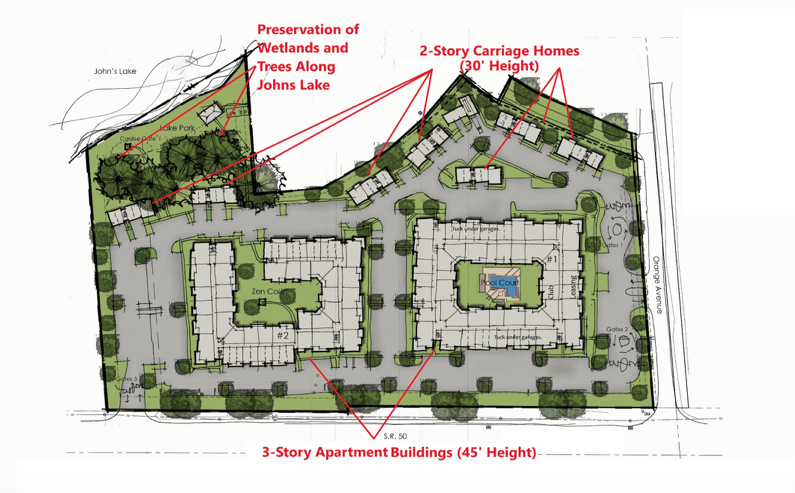 Hilgardt Lamprecht, a John's Cove resident, also is pro-development: "I see 242 families come in — economic growth. It has been costing us to keep development at bay."
Gary English, previous owner of the land in question, was in favor of the diversity the apartments would bring to the town.
Commissioners had their chance to ask questions of the developers.
One of Sal Ramos' concerns was soundproofing. Tim McEachern, senior director of development for LIV, said these would be luxury apartments and residents would be respectful of the surrounding community.
"I like a well-balanced town, and I don't think we're a well-balanced town," Ramos said.
Commissioner Mike Satterfield questioned the impact of such a project on Orange Avenue.
"For folks who live at the end of Orange (Avenue), whatever goes on that property, it's going to have to plan some high-falutin' road going down there," he said.
Matt Smith, attorney with Lightsey & Associates, of Winter Park, replied: "It hasn't gone to design yet, but we have an agreement with the town to make improvements."
Before the vote, Mayor Kathy Stark said there are more questions that need to be answered.
"I have to think long and hard about density," she said. "I am not anti-apartment. I am pro-diversity of housing. We are pro-'doing everything we can for the town.' Money is far down the road for me. It's about doing the right thing."
The proposed project includes 242 luxury apartments in two three-story buildings plus seven two-story carriage homes fronting Johns Lake designed to buffer the neighbors. There would be 120 one-bedroom units, 97 two-bedroom units and 25 three-bedroom units. Rents would range from $1,380 to $2,025.
The original plan was revised in January; it decreased the proposed unit count from 288 to 242, the density from 25.5 units per acre to 21.4 and the maximum building height from four stories to three; and it added preservation plans for trees and wetlands on Johns Lake.
The original vote was scheduled for April 23 but was postponed because of a discrepancy in property identification numbers. Oakland approved the annexation of two properties — a four-acre parcel and seven acres of a 12-acre parcel.
"We had incorrect parcel ID information that we advertised on April 11," Town Manager Steve Koontz said.
In response, the property appraiser's office issued a statement: "The Orange County Property Appraiser's office followed well-established procedures and subdivided the land into smaller components and as a result, new parcel identification numbers were assigned. … Information regarding the new parcel numbers was available on our agency's website after Feb. 26, 2019. … OCPA complied with its obligations pursuant to the filings made with the county, and the leadership of the Town of Oakland knew of the changes in advance of the April 23 meeting."