For some bright-eyed, 7-year-old ballerinas, the coveted role of Clara in "The Nutcracker" is one of which they dream for years.
That dream came true in September for 14-year-old Frankie Muller, an eighth-grader at Glenridge Middle — but it didn't come without years of blood, sweat and tears.
The Baldwin Park resident has been a student at the Orlando Ballet School since she was 7 years old and now is part of its pre-professional division.
And now, after years of training at the school and participating in Orlando Ballet's "The Nutcracker," she performed as Clara for the first time.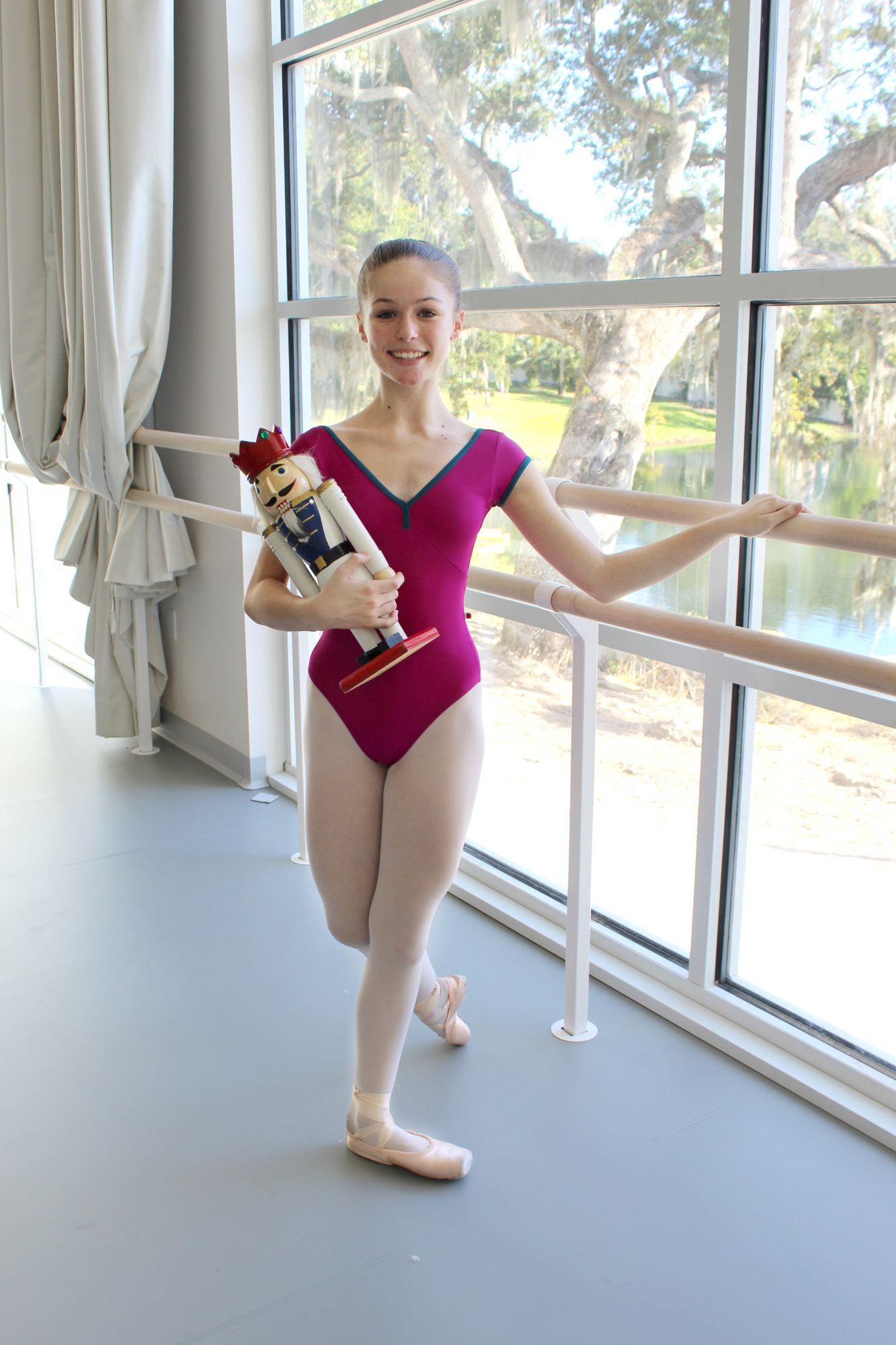 CHASING DANCE DREAMS
Frankie wasn't always a dancer. Although she did mommy-and-me ballet classes as a toddler, it was gymnastics that captured her attention in the beginning.
"I did gymnastics at first, and my best event in gym was floor, and on floor your dance in your routine," she says. "I decided that I wanted to stop doing gymnastics but I didn't want to stop doing floor, so I decided that dance would be the best option because it's almost the same — or at least I thought it was almost the same. That's why I decided to start ballet."
Even then, ballet didn't resonate with Frankie. For the first couple of years, she said, she found it boring. But she kept at it, and by the time she was 9 or 10 years old, it became her favorite activity.
"I saw more of the light at the end of the tunnel there," she says. "I set more goals for myself, and I really started to work hard and could see the work starting to pay off, which really made a big difference."
The most rewarding part of it, she says, is the unmatched feeling of being on stage and performing in front of an audience. Forget stage fright, too — Frankie loves being able to step on stage and do what she does best.
"The thing that I love most about it, I think, is definitely performing, just that feeling of going on stage and letting everything go," she says. "I love performing for an audience. I especially love being able to hear their reactions — whether it's laughing or a gasp or if something funny or crazy happens on stage."
But with the exhilaration of performing comes hours of hard work. As a student in OBS' pre-professional division, Frankie takes classes and dances for at least three hours daily. 
"It's definitely very time-consuming," she says. "You're in classes every single day, and you're usually in rehearsals. There's not much time for things like birthday parties or extra social things, because you're constantly focused on ballet and ballet only, which can be a good thing and a bad thing. A lot of people usually do virtual school or homeschool, but for me personally, it was just easier to stay in public school so I could have those two separate worlds where I could have a social life and then also a dance life." 
"…it's easily one of the hardest roles I've ever done. (Clara is) a very happy, joyful character — she's a little girl at Christmas, she's pretty relatable. It's so surreal, just getting to dance on the stage, it doesn't feel real." - Frankie Muller
With dance classes six days a week — seven days a week during "The Nutcracker" season — time is a precious commodity. Frankie goes to school every day but leaves early, because dance starts before school ends.
She goes straight from school to dance, often doing her hair and getting ready in the car on the way over, and always stretches before class to ensure she is warmed up and less likely to suffer an injury. Ballet classes are daily, and sometimes an extracurricular class — such as jazz or hip hop — is thrown in the mix.
After dance, Frankie goes home,  completes all homework and gets some sleep. On weekdays, Frankie is at dance for three to four hours. On Saturdays, it could be as long as eight. Balancing school and dance is tough, she said, but organization and time management is key to being successful at it.
"The best way to manage that — and the way that I manage it — is I use every single bit of time I have that I'm not in dance for things like homework," she says. "I just think that when it comes to dance, you can't procrastinate. You have to get it done, because if you don't get it done ahead of time, you're going to keep getting distracted and you just have to be very, very organized."
HARD WORK PAYS OFF
At the Orlando Ballet, "The Nutcracker" season is the busiest of the year. Auditions and casting begins in September, and after the dancers get their roles, it's full-steam ahead for the holiday season.
"It's exhausting, but it's also one of my favorite parts of doing ballet, just because it's almost a professional experience because not only are you performing with the company — all the professional dancers — but you also get to perform for a big, live audience at the Dr. Phillips Center (for the Performing Arts), which makes it even cooler," she says.
Frankie has been part of "The Nutcracker" for years, but it was only in 2018 that she got to audition for the role of Clara. She received the role of the Clara understudy, in which she learned the role to be able to act as a replacement on short notice.
This year, though, she was chosen as one of four Claras. Because the Orlando Ballet puts on 22 performances of "The Nutcracker" and each dancer also has other parts, the four rotate their performances as Clara.
"I've been wanting to do this so bad; this was always kind of my goal and the 'light at the end of the tunnel' for me pretty much since I started," she says. 'When I found out, I was sitting in one of my classes at school, and I knew that the emails were going out, and every once in a while I'd check my phone … I texted my mom really quick and I said, 'Did you get the email?' She sent me a picture of it and it said (I got) Clara, and I was just so overjoyed and shocked."
Although the artistry in "The Nutcracker" looks dreamy, Frankie said ballet is not necessarily all about pretty tutus and smiles.
"Even though that's what we do on stage, there's a lot of hard work and blood, sweat and tears that goes into it," she says. "Things like our shoes, how we have to stand on our toes. It looks pretty, but it can hurt really bad, and you have to dance through it and you have to keep going."
Through numerous rehearsals, Frankie mastered the role of Clara. But it didn't become real to her until the dress rehearsals in the theater.
"To the audience, it seems very simple, but it's easily one of the hardest roles I've ever done," Frankie says. "(Clara is) a very happy, joyful character. ... It's so surreal, just getting to dance on the stage, it doesn't feel real."