Over the last three weeks, 13 West Orange-area neighborhoods received the royal treatment as princesses riding in a horse-drawn carriage visited them, spreading some magic along the way.
Thanks to a partnership between SOUL Haven Ranch in Winter Garden and Ever After Character Events — along with some help from other members of the community — the princess carriage visits came about as a way to spread joy in otherwise tumultuous times. 
Susan Nastasi, owner of SOUL Haven Ranch, started her services in 2016. It began with her animal-therapy program using her miniature horses, and her ranch house also offers rooms for rent via Airbnb.
However, another of her passions is driving horses. She has two, Libby and Lizzy, who are responsible for pulling the carriage on SOUL Haven Ranch's carriage tours. 
Like many businesses, SOUL Haven Ranch had to shut down March 15. However, Libby and Lizzy still needed their exercise.
"So that I could continue contributing to the wellbeing of my horses, I was driving empty carriages around Winter Garden," Nastasi said. "I was sitting on my couch literally three weeks ago on a Sunday afternoon and I said, 'Hey why don't I call my friend Christine (DiRienzo) over at Ever After Character Events, see if she will have a princess sit in our carriage and let's go spread some joy and hope and unconditional love with our neighbors?' I called her up and she said, 'That sounds like a great idea. Let's do it.'" 
DiRienzo runs Ever After Character Events and first met Nastasi a few years ago, when DiRienzo needed her own miniature horse trailered over to a new barn. They have talked about offering princess carriage rides as a paid service for a couple of years, but both had been too busy with their respective ventures.
DiRienzo has provided three different princesses over the last three weeks. It's been an incredible experience not only for the community but also for herself, Nastasi and the princesses, as well.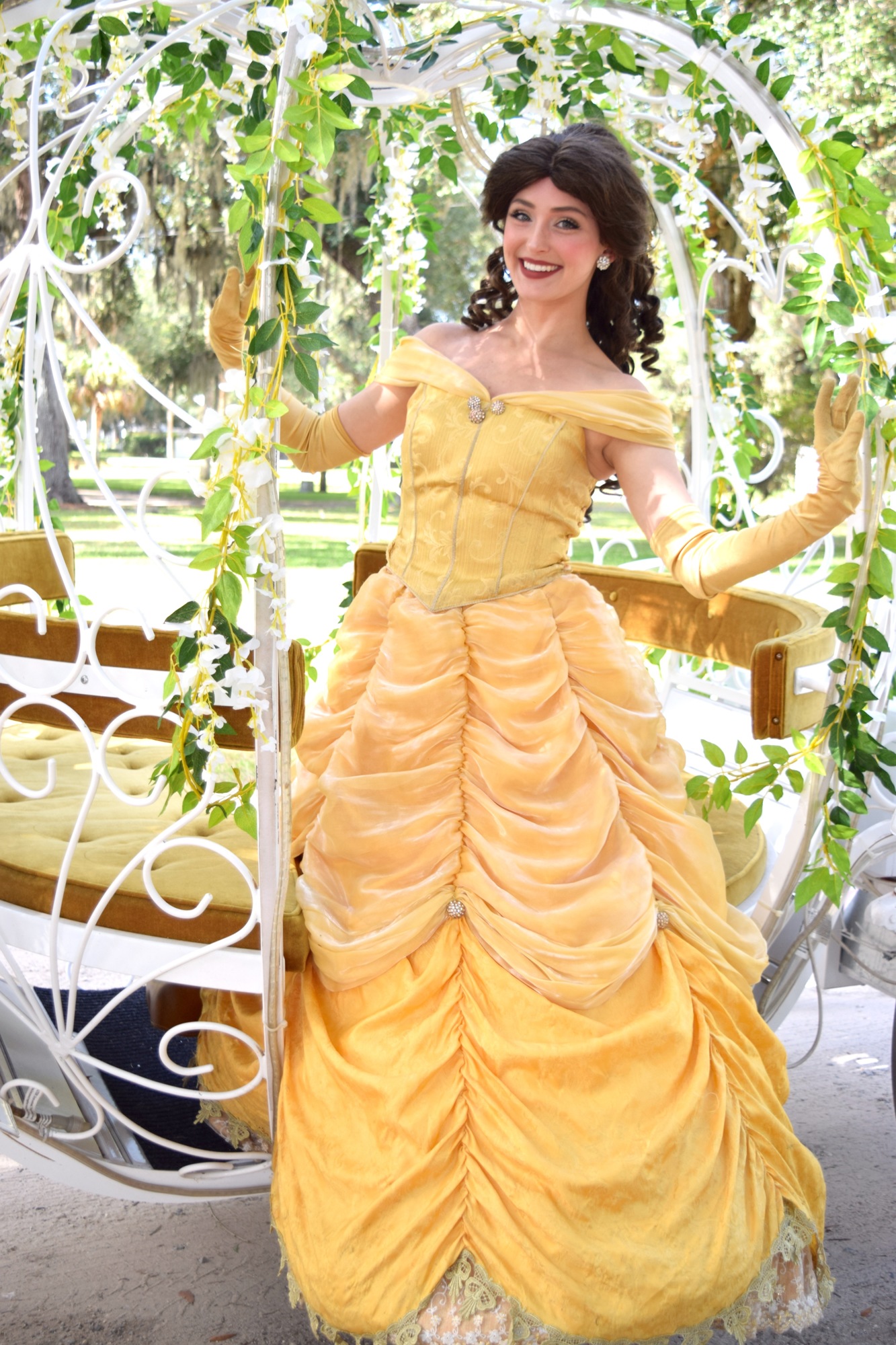 "The first two (rides), she had me ride in there with her just to get pictures and all, and we were almost crying because of the people's reactions," DiRienzo said. "Whether it was children, single women, single guys, construction workers, the Amazon driver — their faces lit up. … Even a princess who has been with me since 2011 said this is the most magical experience ever. For people to look up and they see a princess — especially in these days where that little bit of magic's missing and all — it was just nice to say, 'You know what, we're all in this together, we're all spreading kindness, we're all trying to show love and be together.' It's a beautiful carriage and the horses are so beautiful — it's a spectacle, really."
Throughout those 13 carriage rides, it wasn't just Nastasi, DiRienzo and the princesses donating their time and resources to the cause. Other community partners pitched in, as well, including Tim Warren, of Higher Power Drone Photography; Kathy Hudson, of Paint With Light Photography; Hannah Farrell; and Nastasi's parents, Dave and Judy Wilhelm.
"We've had so many people (who) have come together literally almost on a whim to help us with the safety and wellbeing of the horses while we're driving the carriage, and all the princesses that came forward and said, 'We'd love to help you guys,'" Nastasi said. "It's been a pleasure and an honor to be able to give back in a pandemic that nobody saw coming … Everyone's really been so gracious and welcoming for us to come in their neighborhoods, exercise Libby and Lizzy and along the way spread an abundance of joy."
When SOUL Haven Ranch reopens, Nastasi and DiRienzo will partner again to offer princess carriage rides as a paid service. They hope to have them running by mid-June.
"Through this whole quarantine, I stayed committed to exercising (Libby and Lizzy) on a regular basis and making sure that they stayed fit so that when we do reopen, we can do so and get out there and continue to serve our community," Nastasi said.
"It just extends the magic into your community and was so special at this kind of time," DiRienzo added. "We're all in it together — if anything, this should be a time when we really connect again and show each other love and kindness."