Aubrey Clark always has loved butterflies — after all, they are just as free-spirited and beautiful as she was.
It's why a butterfly garden was planted in her memory a few years ago at Citrus Elementary in Ocoee, her former school.
On Jan. 20, 2015, 10-year-old Aubrey and her friend Jordan El-Ouadi were struck by a car near the intersection of Clarke and Silver Star roads. Jordan was injured; Aubrey remained in critical condition at Arnold Palmer Hospital for Children until family members were forced to take her off life support a few days later.
Over the years, time took its toll on Aubrey's butterfly garden. It became somewhat overgrown with weeds and covered in leaves.
Bridget Smith, media clerk at Citrus Elementary, has only been at the school for a couple of years, so she never got to meet Aubrey. However, she knew Aubrey's story — and she knew the garden needed some love.
"One of my duties in the afternoon is to do car line, and I work out on the side of the building, and that's where the little garden is," Smith said. "When I was standing out there, I used to look at that all the time, and it was just such a sad thing that it kind of went into disrepair and nobody was taking care of it."
Smith brought up the idea to work on the garden to one of her coworkers, as well as former Principal Delaine Bender. Coincidentally, her coworker met Karen Wheeler one day in February as Wheeler was dropping off her grandchild. 
"Karen is a friend of Aubrey's grandparents, and she mentioned that, 'I hate to see that that garden went like that and nobody's taking care of it — I wish we could do something about it,'" Smith said. "We started talking back and forth, and that's how we got it all going."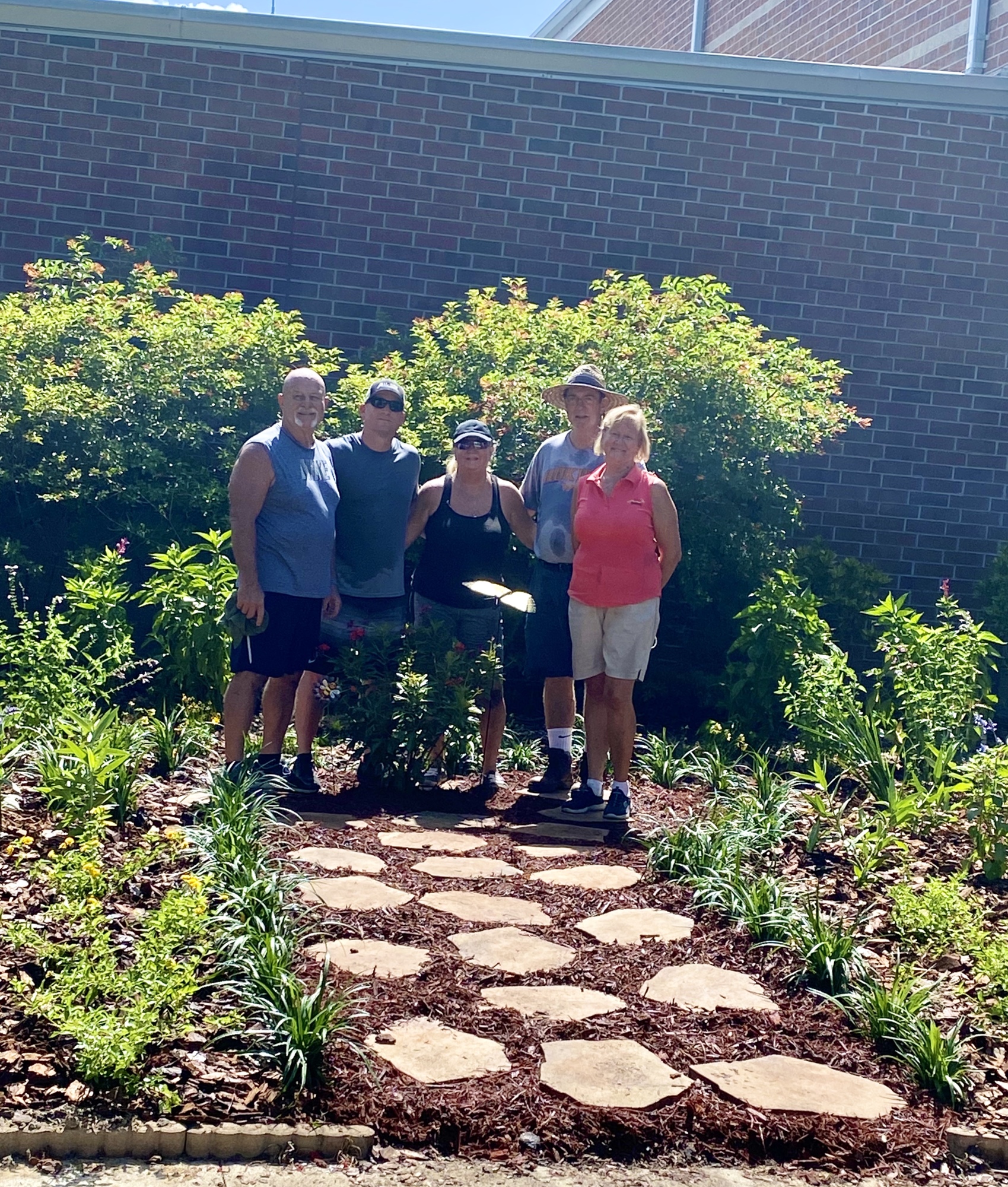 Before spring break, the Citrus Elementary Student Council, school staff, Aubrey's grandparents, Aubrey's father and Karen Wheeler all pitched in one day to clean the garden out. The intention was to come back after spring break and finish the garden with new plants. Then, COVID-19 hit.
"We never came back to school after that," Smith said. "Karen contacted me again sometime in June and said, 'I would love if we could get this garden finished before the students come back — if they come back — in the fall.'"
As Smith talked with the school's new principal, Robert Walker, he suggested rolling it into a full school-beautification project. So, at the end of July, school staff met again with Aubrey's grandparents and father to finish the garden.
Lucas Nursery and Butterfly Encounter in Oviedo gave staff advice on finding the best plants to attract butterflies, and an anonymous donor supplied all the new plants. And as fast as the team could put the plants in the garden, butterflies began landing on them. It brought Wheeler and Aubrey's grandmother, Kathy Clark, to tears.
"They were both saying, 'Oh, look, Aubrey's here already," Smith said. "Aubrey was a big fan of butterflies, so the whole intention was to make it a butterfly garden. … It looks amazing. I was just out there the other day, and we already have caterpillars on our milkweed that are turning into monarchs, so it's really nice."
Aubrey's dad, Danny Clark, said the staff at Citrus Elementary has become like family since her death. When they told the Clarks that Aubrey's garden was going to be revived, he said, everyone was on board.
"When we went out there to tear (weeds) all out of there, it was actually really cool," Danny Clark said. "There were children out there — they didn't even know Aubrey, but they know what that butterfly garden is. There were probably 15 kids out there, and they helped us tear everything out — pulling weeds, cutting bushes down. They were helping and they really did a really good job."
When asked what he thought Aubrey's reaction to the beautiful new butterfly garden would be if she could see it today, his response was simple: "She is here, and she has seen it."
"I think she would love it," Danny Clark said. "She always liked butterflies. I think she would be ecstatic over it."
For the Clark family, the real gift is knowing that Aubrey always will be remembered. Danny Clark said the ongoing support from both Citrus Elementary and the city of Ocoee means the world to them.
"The staff there is amazing," he said. "They treat us at Citrus like we're a part of them still, and it's been over five years now. They treat us just like we're family, and we're part of whatever they do. We want them to know that … we're very appreciate of what's going on and love them for it."