Peyton Cottle, who won a local chalk-art contest this spring, has designed Buzzy, the mascot for the Bloom & Grow Garden Society's Pollinator Power project. The West Orange High School senior was invited to create the bee for the garden club's new Pollinator Power initiative.
"Buzzy is our logo and mascot for the project, and we're so proud of Peyton's accomplishments," said Joyce Carcara, Bloom & Grow publicity chair.
The club asked Cottle if she would like to design the new mascot because they were familiar with her artistry skills. Cottle knew she could create something club members would like and accepted the assignment.
"I wanted her design to be sweet and friendly," Cottle said. "I was requested to draw a 'bee with personality,' so I figured a gardener bee would best fit the project."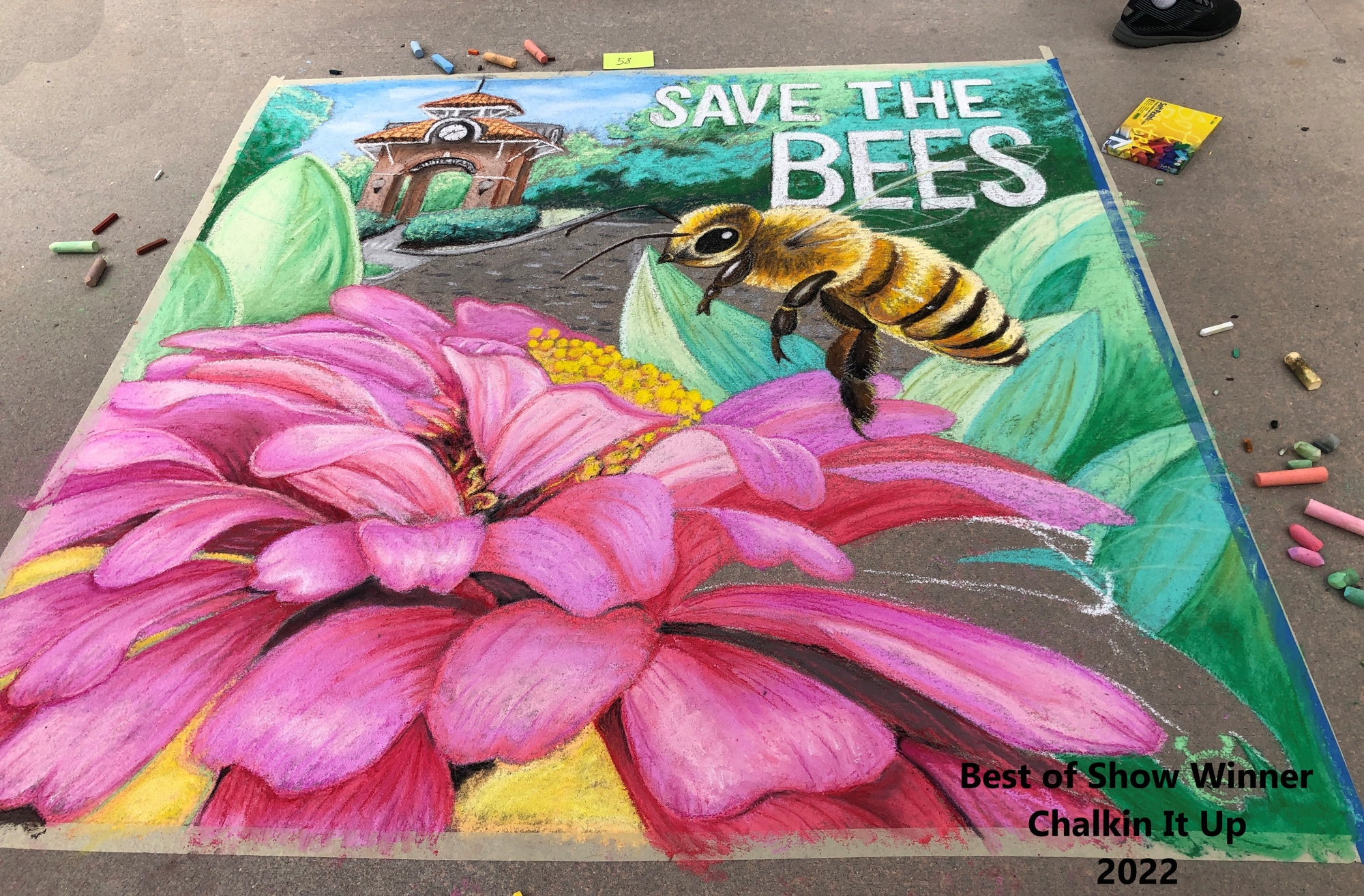 Cottle won Best of Show in the Chalkin it Up art contest during the garden club's annual Spring Fever in the Garden festival in April. Cottle and her father, Jack, designed the award-winning chalk art, which featured a fuzzy bee hovering over bright pink blossoms with the downtown Winter Garden clock tower and the words "Save the Bees" in the background.
"We were so impressed we asked her to design a bee for our Pollinator Power initiative," Carcara said.
Cottle's Buzzy has a cartoon-like appearance and sports a purple-flowered bucket hat and green gardening gloves.
"I got excited about the opportunity to do a real commission," Cottle said. "I think it's a great first step to getting my name out there, if art is the career I end up following. I like experimenting with different mediums as well, so a digital commission like Buzzy was pretty new to me. All I used was an app on my phone and my finger."
To view Cottle's other work, visit her Instagram page: @peytlaartist.
Carcara said Buzzy will appear on Bloom & Grow signs that will be posted at participating pollinator school gardens during the five-year program.
The club has created a website for the new Pollinator Power project: bloomandgrow.club/pollinator-power.
Members of the club have set a goal to add 2,500 acres of pollinator habitat in Orange County within five years. The club is participating through a partnership with the National Garden Club.
Residents who want to participate in the program and add pollinator habitats to their yard, neighborhood, school or business can contact Bloom & Grow through the website. Pollinators are a keystone species for wildlife/environmental health and balance.
The Pollinator Power program has several components. Bloom & Grow provides a community education series for residents called "What's the Buzz? Who are native pollinators and why are they so important?" Members will meet with individuals and homeowner association boards to advise on adding more pollinator habitats.
Through a sponsorship with Healthy West Orange and Orlando Health, the garden club provides waystation garden kits to schools in the area and works with them in advising planting of the plants.
So far, members have provided plants to 10 schools in the area; six more are to be added in the fall.
Bloom & Grow also will provide pollinators for parks, public property and businesses.
The club holds waystation/pollinator plant sales twice a year to help the community increase its pollinator habitats.