Darron Esan has exchanged one OPD badge for another and has made the move from the Orlando Police Department to the Oakland Police Department.
Orlando police Lt. Esan wasn't looking to retire, but when the opportunity arose to apply for the position of Oakland chief of police, he knew he was ready for the challenge.
He began his role in leading the town's 14 full-time officers and three reserve officers Nov. 1.
"I only retired because this opportunity popped up," Esan said. "It wasn't my plan to leave at that point, but … the idea of a fresh start, of being part of that growth and the agency's growth was far more exciting than staying and finishing out however many years I was with Orlando."
He is excited to take on the challenge of taking Oakland's department "to the next level," especially with the advances in technology, and he wants to integrate the latest equipment and programs into everyday policing.
"The biggest emphasis to me will be Community Oriented Policing," Esan said. "The theories behind it, they work. One thing I would like to implement is some sort of opportunity for the community to get together with the police, like coffee with a cop — at least quarterly to allow the community to meet the officers that patrol their neighborhoods but also to ask questions of the police. I would like to start that soon."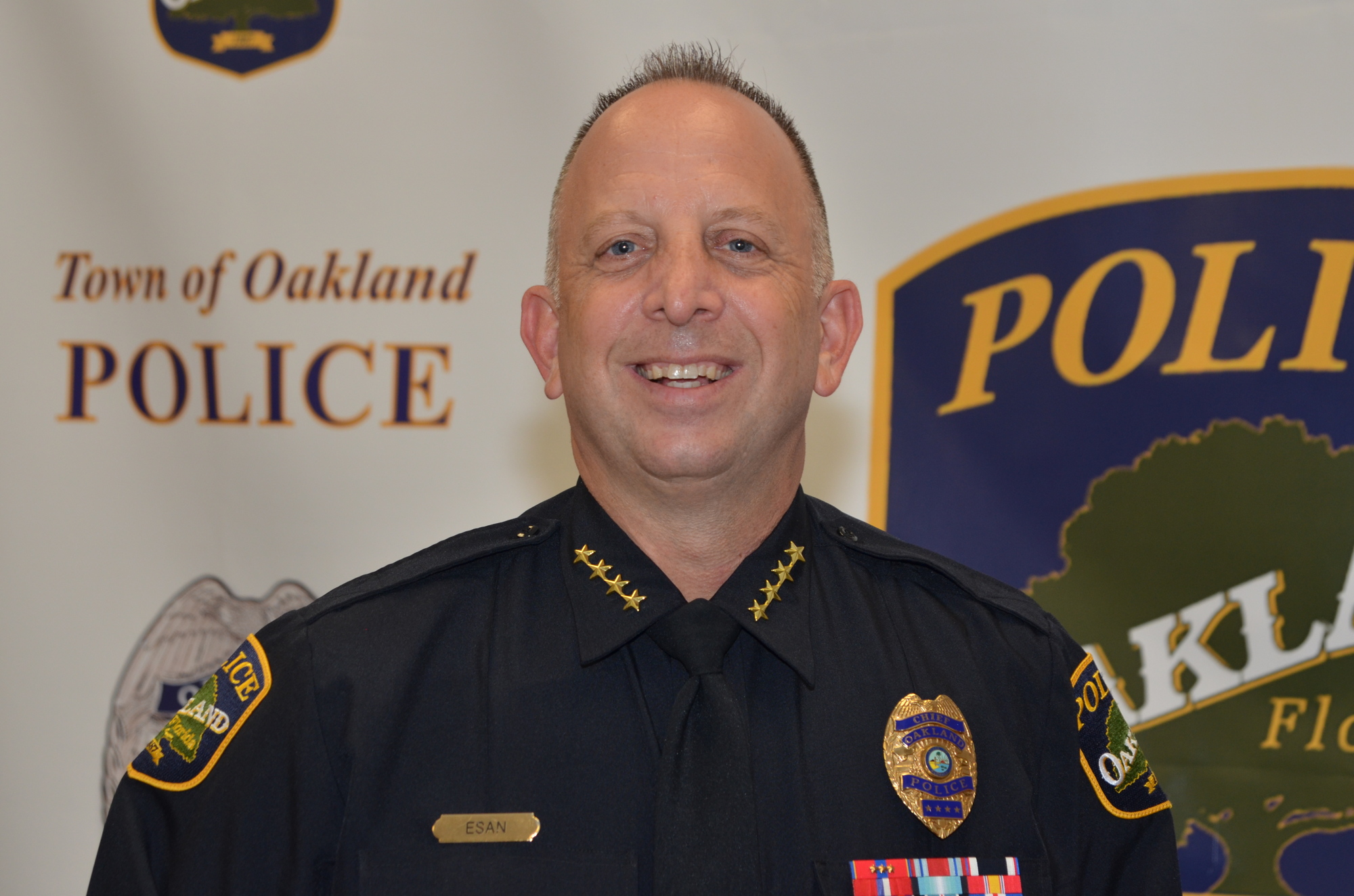 Another push he wants to make is to make better use of social media platforms. He hopes to see more residents engaged in the police department's Facebook and Twitter pages so they can learn about the department, meet officers in individual profiles and get the latest information about town happenings.
"The biggest challenge is seeing the forecast for what kind of residential and commercial growth — and building a police department in that community — that we're going to have," the chief said. "A few thousand more residents means increased staffing, technology demand. How can we keep all the generations so they get what they want out of the community? That will be a fun part of the challenge — enabling the town to grow and also the police department to grow together."
DISCOVERING A CAREER
When Esan entered college, he still didn't have a clear plan for his future. He took a criminal justice class because it seemed interesting, and his professor offered extra credit to any students who signed up for a ride-along with a police officer.
"When I got done with that short ride-along … I said, 'I have to do this,'" he said. "It showed me I'm going to get into a career where I don't do the same thing every day. That excitement has continued for 26-and-a-half years. I can't wait to get to work. I don't know what's going to happen, and I love that. I want to know that whatever comes over the (radio), it's a learning experience, it's a challenge."
While with the Orlando department, Esan served as a field training officer and a criminal investigator before being promoted to sergeant in 2006. As a sergeant, he was assigned to and supervised units within Patrol, Community Involvement (downtown bikes unit), Neighborhood Patrol Unit, Uniform Drug Unit, CID - Robbery, and CID - Homicide.
He created and supervised the first multi-jurisdictional task force in Central Florida related to homicide investigations, the Joint Homicide Investigation Team.
Esan was promoted to lieutenant in 2014 and commanded sections within Uniform Patrol, the Drug Enforcement Division, Criminal Investigations Division – Property Section and Criminal Investigations Division – Violent Crimes Section and at the Orlando International Airport.
He served as a hostage negotiator and retired as the team commander of the Emergency Services Unit.
"Some of my assignments, I've seen what we're really here for," he said. "The greatest assignment I've ever had was when I was supervisor over the Homicide Unit and … I got to work next to some of the most talented people I've ever seen. The most rewarding thing was to sit down with a family member and tell them we found who killed their family member."
Esan said he has learned to look at the "big picture." Eight months after he and another officer, George DeSalvia, were hired at Orlando, DeSalvia was killed in the line of duty.
"That incident caused me to do a lot of soul searching, 'Why am I really here?'" Esan said. "That incident, it has guided me, and he has guided me through all of this. His mother still calls me her son. I don't go anywhere without him. I have his badge number tattooed on my arm.
"His memory has guided me," Esan said. "Everything that I've been able to accomplish and be so lucky to be involved in, he's been there. I've had some close calls, and I call his mom and say, 'I think George was with me today.'"
Remembering fallen officers has always been important, Esan said, and he was honored to be named Orlando's police memorial coordinator in 2006. One of his classmates at the police academy was Orlando police Lt. Debra Clayton, who was killed while on duty in 2017.
"No officer in the town of Oakland has ever been killed in the line of duty, and my job is to keep it that way," he said.
ALWAYS ACCESSIBLE
Esan and his wife of 16 years, Annemarie, live in Lake County and have one daughter and four dogs. Annemarie is a homicide detective with the Orlando Police Department.
Esan graduated with a Bachelor of Science degree in criminal justice from Florida State University in 1996. He served three years with the Tallahassee Police Department and was hired by the Orlando Police Department in 1999.
He earned a Master of Science degree in criminal justice from the University of Wisconsin – Platteville in 2017. Esan has taught as an adjunct professor with Valencia College and Southwestern College in Wichita, Kansas.
Esan said he is eager to meet the residents of Oakland and wants them to know they can reach out to him at any time.
"My door is always open," he said. "I'm always accessible."