OLD TIMES
80 years ago
The Winter Garden Rotary Club sponsored a sale of defense stamps with chairman W.F. Cappleman aided by Johnnie Davis, Harry Smith, the Rev. Albert Stulck, J.B. Rodgers, C.O. McRae and Mayor Frank Roper.
75 years ago
Neil McMillan, sharpshooter, broke 95 out of 100 targets, capturing first-place honors in the 100 Targets Handicap event in the Orlando Gun Club's registered trap shoot. A field of more than 30 marksmen representing six states competed in the annual event.
70 years ago
Winter Garden City Commissioners voted to start the wheels rolling to get sidewalks laid for the protection of the school children attending Dillard Street Elementary.
55 years ago
Miss Andrea Wright was honored with a kitchen shower hosted by Mrs. Malone Traywick and Mrs. Doris Stout at the Florida Power Lounge. Miss Wright and James Davis were married Nov. 17 at the First Methodist Church of Winter Garden.
First Lt. Ward Britt, son of Mr. and Mrs. M. Ward Britt of Winter Garden, was on duty at Bien Hoa, Vietnam, as a forward air controller in the Pacific Air Forcdes. He was a graduate of The Citadel in Charleston, S.C.
40 years ago
Kristin Bean, a lineman for the Ocoee Bulldogs' Junior Midgets, was the first girl to play Pop Warner football in Ocoee. Her coach, Mike Hopper, praised her for her determined effort and improvement over the season.
The Times staff consisted of George Bailey, publisher; Anne Bailey, editor; Ken Morris, managing editor; Mike Hubis, advertising manager; Meribeth Jackson, advertising; Alice Howe, office, Diane McKee, composition; Mary Anne Swickerath, sports; and Win Pendleton, editorial consultant. The newspaper was 25 cents per copy, and an annual subscription cost $9.
Jimmy Crowe, a 21-year veteran of the Winter Garden Post Office, was appointed postmaster.
The production of "La Boheme" at the Bob Car Auditorium marked the opening of the 24th season of the Orlando Opera Company. West Orange representation includes Marjorie Masson of Windermere, president of the opera company; and chorus members Marilyn McAlpin of Windermere and Marian and Sam Wagster and Carol Knighton of Winter Garden.
30 years ago
Barbara Roper was honored with the Lifetime Volunteer Achievement Award on the 50th anniversary of the Central Florida YMCA. She was chairman of the National Board of the YMCA of the USA and served on the executive committee of the World Alliance of YMCAs. She was the first woman to preside over the national organization.
THROWBACK THURSDAY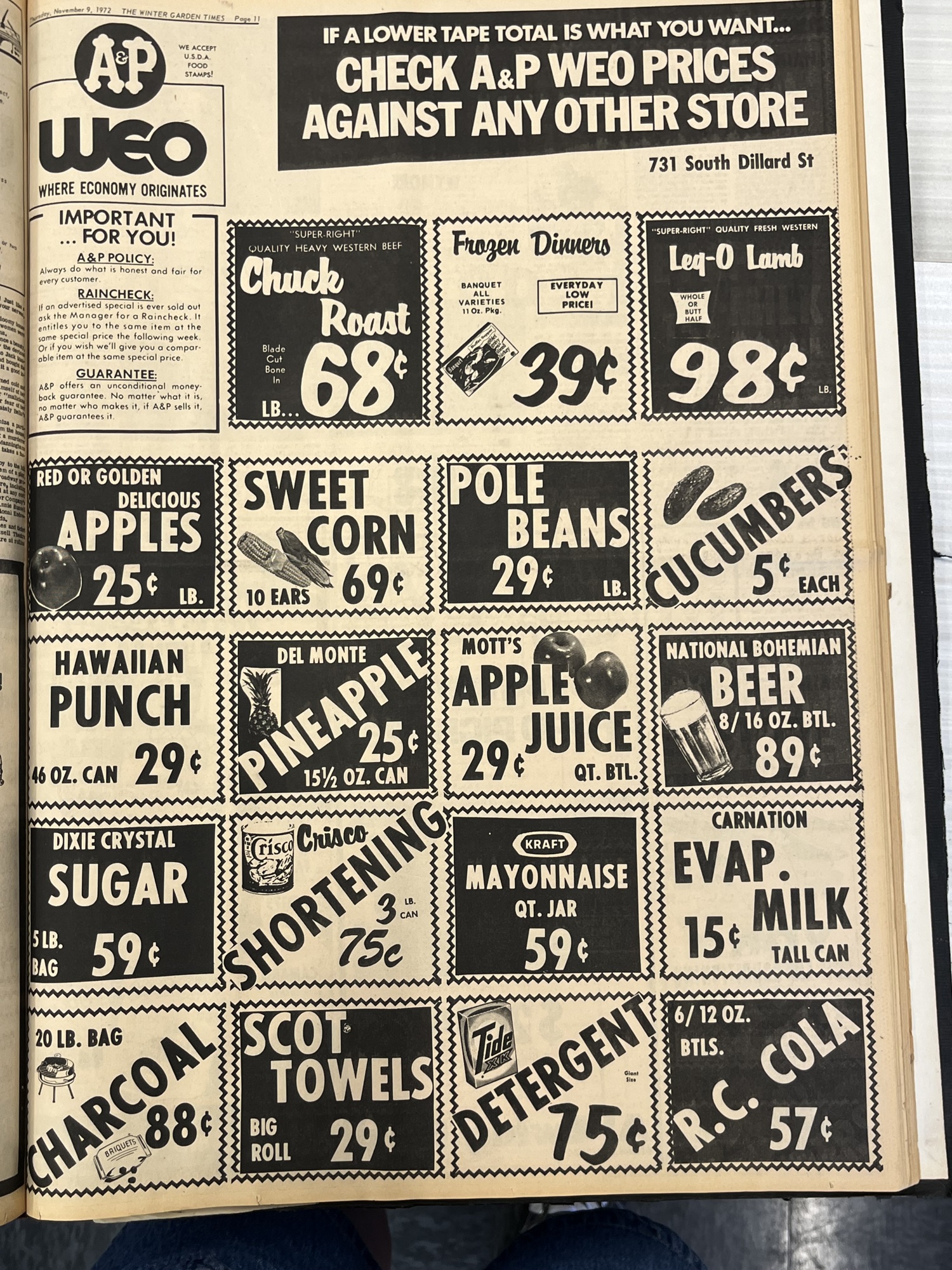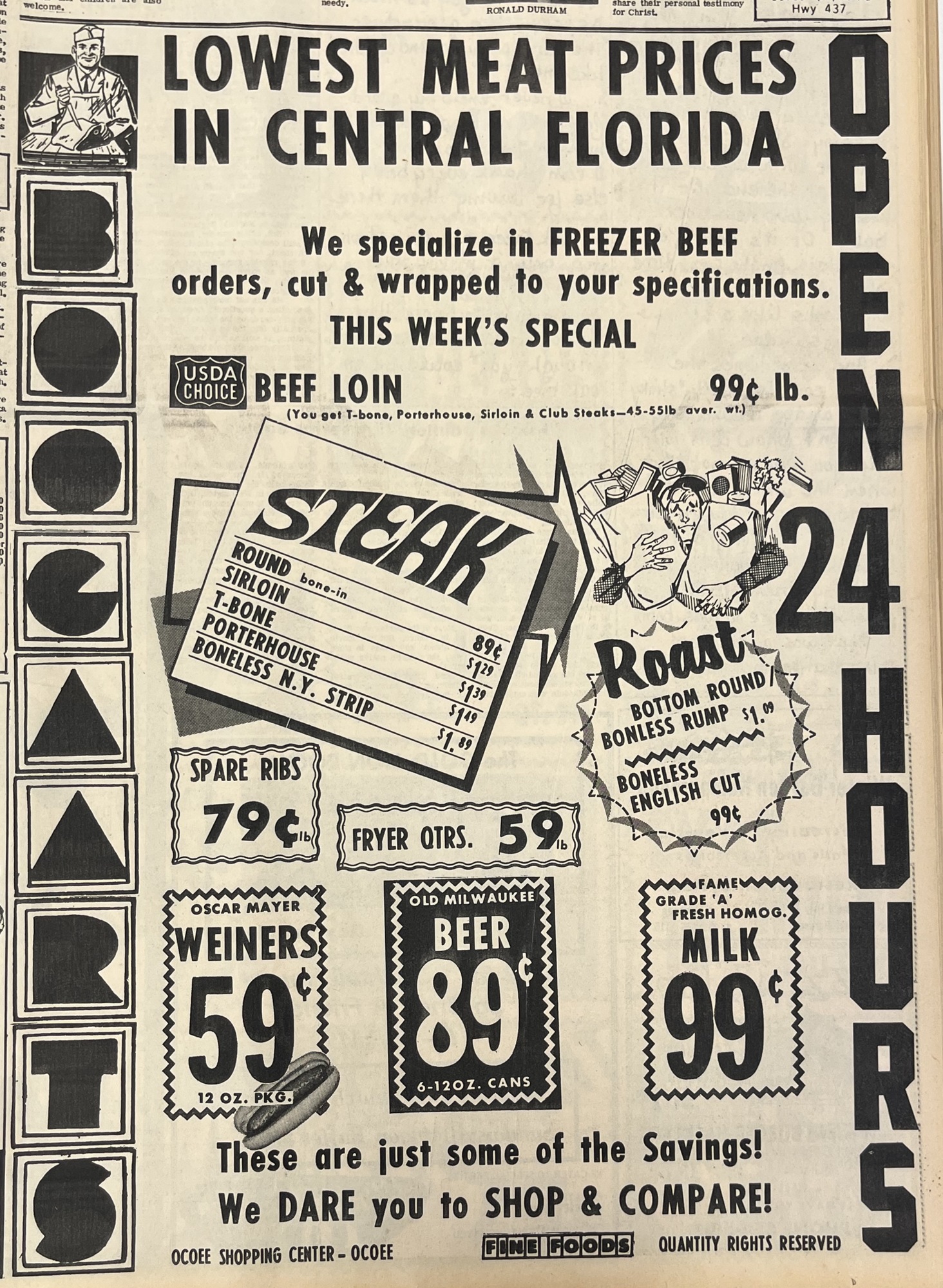 Nov. 9, 1972
Two local grocery stores — one in Ocoee and one in Winter Garden — advertised their weekly specials in The Winter Garden Times.
Boogarts in Ocoee advertised they had the lowest meat prices in Central Florida, specializing in freezer beef orders cut and wrapped to shoppers' specifications. In November 1972, beef loin was less than one dollar a pound and boneless New York strip was $1.89 per pound. Need milk? You paid 99 cents, and that likely was for a gallon.
In Winter Garden, A&P offered deals on chuck roast (68 cents per pound) and leg of lamb (98 cents per pound), as well as apples (25 cents per pound), cucumbers (a nickel apiece), six bottles of R.C. Cola (57 cents).
FROM THE WINTER GARDEN HERITAGE FOUNDATION ARCHIVES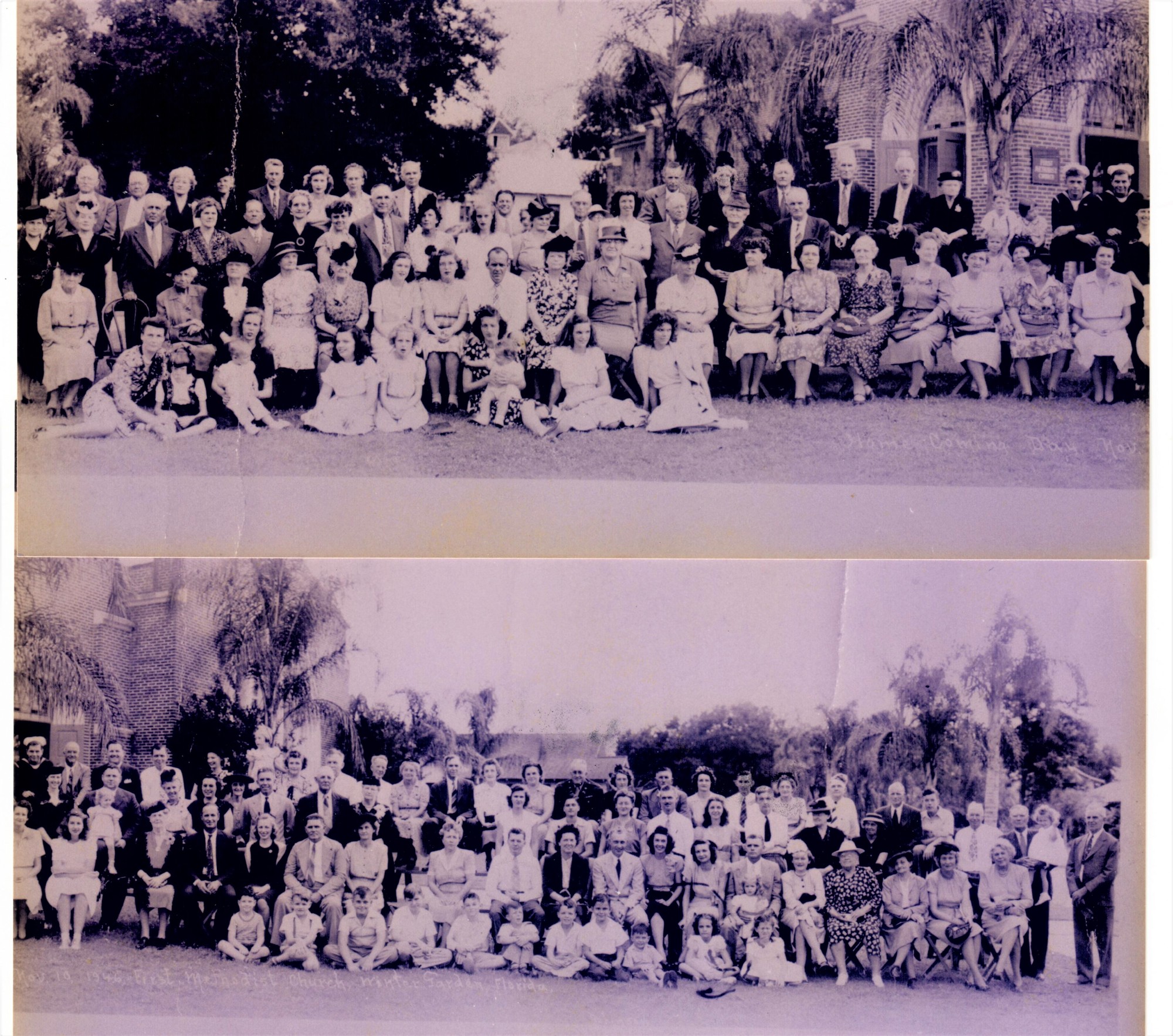 These two images form a panoramic view showing attendees at a First United Methodist Church homecoming. The occasion was photographed Nov. 10, 1946 — 77 years ago. A total of 136 members gathered for fellowship under the aegis of the Rev. Jesse E. Waller, who served as pastor from 1946-51. During his tenure, the Educational Building was constructed; the parsonage was remodeled; and the fellowship hall and chapel were in place. By 1949, a library was established and audiovisual equipment was acquired.
The Winter Garden Heritage Foundation maintains and preserves an extensive collection regarding the history of Winter Garden's First United Methodist Church. Call (407) 656-3244 to make a research appointment.