After four years, the West Orange High Warriors have a new athletic director in longtime head softball coach and math teacher, Todd LaNeave. Former athletic director Lisa Montgomery has stepped down from the position. 
"I really like the opportunity to support the coaches, to help them," LaNeave said. "Having been a coach, it's always nice when you have a very supportive athletic director and athletic department. So, (I'm excited) to just continue to do that because I think the systems, and the foundation that Lisa put in place over the last three years, are great." 
LaNeave — who holds a degree in recreation from the University of Florida —  arrived at West Orange in 2009 as an Algebra I teacher after passing the education certification he spent months studying for.
"That was during the 2009-10 school year, and … at the ninth-grade center, which is a STEAM academy right now. … That first year, I didn't coach. But then that next year … I got involved with softball. And then, I also assisted with wrestling a couple  of years."
Prior to arriving at West Orange, LaNeave already had acquired coaching experience — while coaching his children — in baseball and softball, and acted as vice president of the Windermere Little League, for a few years. This served him when becoming part of the Warriors softball team. 
"Once I started here, I had to leave the board over there," he said. "My kids were not in it anymore. … I enjoyed working with the other kids and other athletes over there, but the time thing wasn't going to work." 
Although LaNeave is excited to start his journey as the new head of the West Orange High Athletic Department, after a little over a decade of teaching, it is bittersweet for him to know he won't continue teaching and coaching his students and athletes. 
"I'm going to miss (coaching); I did that for 10 years," he said. "I am going to miss the teaching, I enjoyed it. … I think not right now so much, but once the students get back next week and they are in, I'll see them in the courtyard, (and) I'll miss it more. … It's going to be a change from being  on the field and being behind the operations and everything." 
LaNeave acted as the assistant athletic director and worked hand-in-hand with Montgomery for the last three years, so he is looking forward to continuing the unwavering support to all sports teams at the school — boys and girls alike. 
"(Lisa) always elevated everybody to the same level, and I appreciated that as a coach of a girls sport, so I'm definitely looking forward to continuing that aspect," he said. "Our facilities are great. … She always wants to make sure of that. … There's a few more things we can do, and I want to continue with that. Obviously it costs money to do that so that becomes a little bit of a challenge, … (but) we've come a long way in the improvements, whether it'd be aesthetic improvements or structural improvements with our athletics." 
For LaNeave, the most rewarding moment of his time at West Orange can't be narrowed down to just one. 
"It applies to both the teaching and the coaching part," he said. "There's moments when you are out with the family somewhere and see a former student and they recall something I had talked to them about once, or some little tidbit of advice that I had given them and telling me, 'Oh coach, do you remember that time we talked about this, that and the other?' I still remember that.
"Those are the rewarding things to have, former athletes that played for me, to run into them or even have them reach out to me just to see how I'm doing," LaNeave said. "That feels good, because that means that somewhere along the line I must have had a positive impact on them that they would think of me enough to say, 'Hey, how's it going?'"
Moving forward, LaNeave, sees himself being at West Orange for the long run, and he is excited to continue writing history as part of Warrior Nation.
"I want to be here at West Orange," he said. "I don't have any desire to go and even teach anywhere else. This is the only place I've ever taught, and I always tell myself that if for some reason they don't want me back, I don't know if I would go anywhere else." 
NEW WARRIOR
In baseball, Mike Scudero has been hired as the new head baseball coach for the Warriors.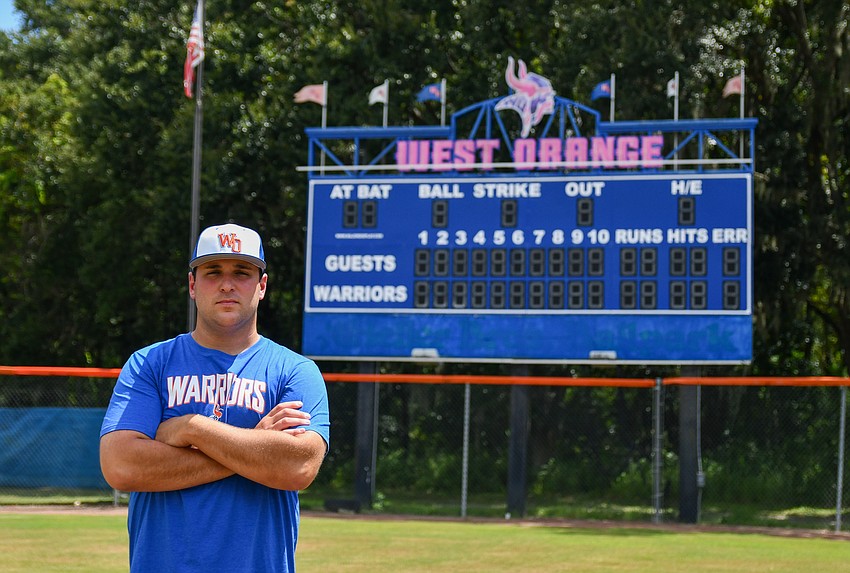 "Being a part of the tradition of West Orange and its community, I think (it's) what excited me the most," he said. "It seems like everyone is super supportive here, and it kind of invigorates me to really do my best and try to work hard, win and teach those kids the right way to play baseball and be young men." 
Scudero comes in as a relief to Kyle Flannigan — former head baseball coach for West Orange — from Wekiva High School.
Originally from Long Island, New York, Scudero played high school baseball at Massapequa High School and then continued his baseball career in college at Adelphi University in Garden City prior to playing independent ball with the Thunderbolts — a team in the Frontier League. 
"I've been playing baseball since I was 5," he said. "I absolutely love the game, I love everything about it." 
Scudero hopes to bring stability to the baseball program at West Orange and sees himself coaching the Warriors for a long time. 
"Having routines, building a team culture here that can last for a long time and that is successful," he said. "A (culture) that gives back to the community and that has a good reputation throughout all of West Orange High School and the community around it — Windermere and Winter Garden — and all the places. … I'm super excited to get started." 
Other new hires include Will Anguish as head cross country coach and Matt Jackson as head girls volleyball coach.