OLD TIMES
85 years ago
The Florida Telephone Corporation announced it had available for its subscribers the weather forecast as provided by the Weather Bureau at Lakeland. During the cold spells, anyone could call the local information operator and ask for the latest forecast.
From "Winter Garden Social Affairs": Notes at the Winter Garden Welfare League Formal Banquet — Enid Biggers, new president, was gowned for the occasion in pink chiffon-made Grecian line with her new "page boy" haircut. Fran Irrgang, outgoing president, was gowned in black velvet, relieved at the neck and the short sleeves with white lace. Ann Harrell was in white taffeta, Evelyn Tilden and Jane Britt in pink lace, Rubie Harris in white, and Glady Moore in a brand-new black number of taffeta. The girls presented Fran with a Roseville pottery vase.
60 years ago
Many local people gathered at the Orlando Municipal Airport early Sunday to bid farewell to their new congressman, Edward J. Gurney, and his wife as he left for Washington, D.C.
55 years ago
Airman Richard T. Farnsworth, son of City Commissioner and Mrs. Everett L. Farnsworth, North Dillard Street, Winter Garden, completed his basic training at Lakeland Air Force Base, San Antonio, Texas.
Jack Hutchinson was honored by the boy scouts of Troop 210 for his work in the organization. Neil Carris presented the plaque to Hutchinson, who had been scoutmaster for three years and activating in scouting for many years.
45 years ago
A major capital funds drive launched for the new family facility for the West Orange YMCA. Orange County Commissioner Dick Fischer was general chairman. Other key leaders were Dr. Jack Jowett, Barbara Roper and Larry Cappleman.
Vera Carter of Windermere was appointed to the Orange County Planning & Zoning Board.
40 years ago
Gov. Bob Graham appointed Charles Prather, longtime Windermere town attorney, to a vacancy on the Orange County Court.
All 12 of Elizabeth Woodson's children had a reunion in Ocoee at the Orange Avenue home of Gladys and Grady Gould.
20 years ago
The Winter Garden Heritage Foundation held a dinner at Whippoor Willy's to honor its volunteers, who do a great service to the museums and the city of Winter Garden. The Volunteer of the Year was Mae Reeves, who was awarded gift certificates to all the downtown Winter Garden residents. The foundation also celebrated the one-year anniversary of the opening of the Winter Garden History Center at 32 W. Plant St.
THROWBACK THURSDAY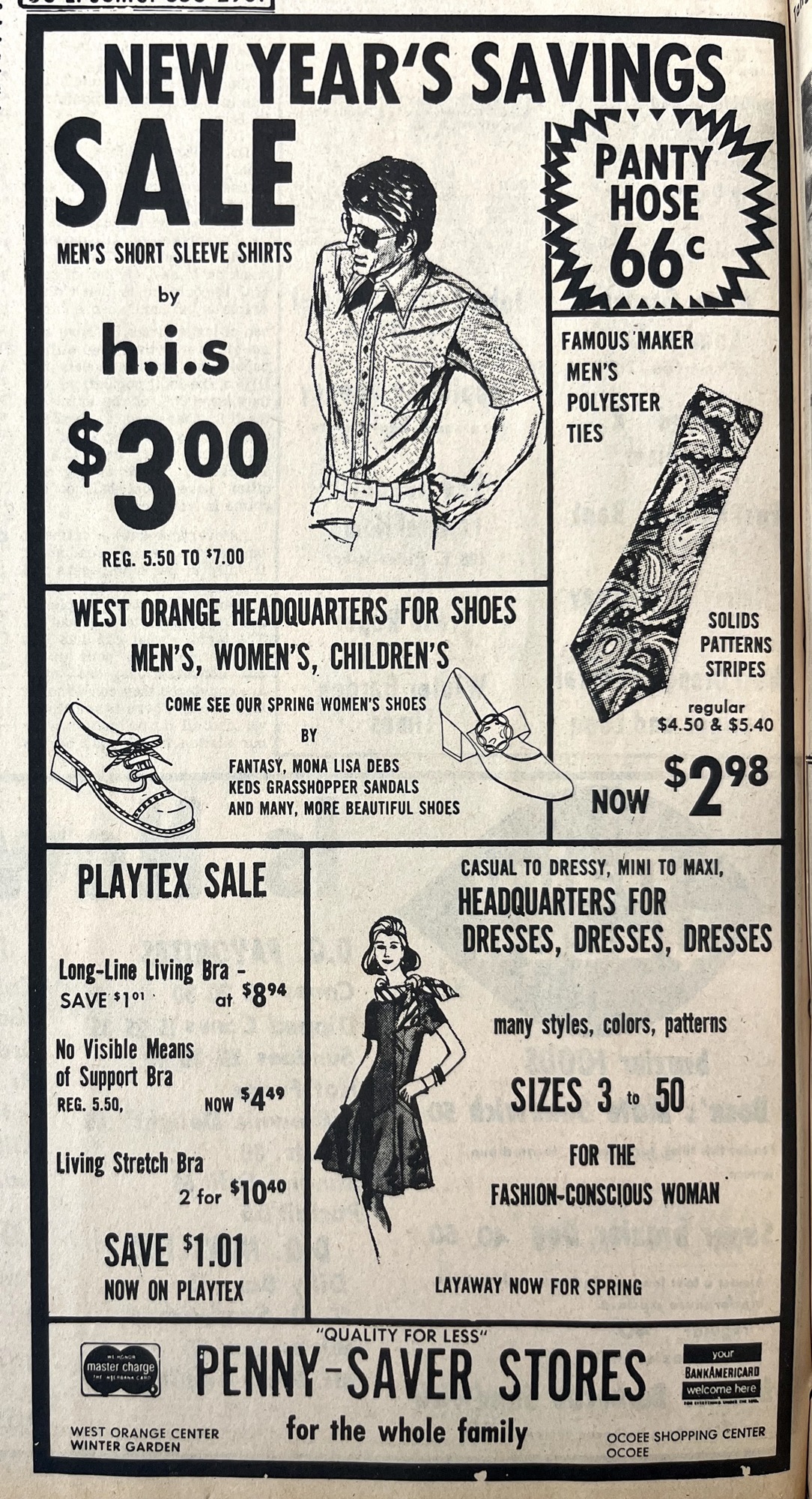 Jan. 18, 1973
New year, new you! It was January 1973 and the opportunity to start another year with a brand-new wardrobe. Tons of bargains could be found at Penny-Saver stores in the West Orange Center in Winter Garden and the Ocoee Shopping Center in Ocoee, which advertised in The Winter Garden Times. Both Master Charge and BankAmeriCard were accepted at the clothing shops.
Fashion-conscious women from sizes 3 to 50 could shop the selection of dresses: casual to dressy, mini to maxi, in all styles, colors and patterns. Pantyhose were a low 66 cents, and a sale on Playtex bras offered the unmentionables for $4.49 to $8.94.
Men could select from the short-sleeve shirts priced at $3 and the Famous Maker polyester ties marked down to $2.98.
If you needed shoes for the whole family, the spring line included name brands such as Fantasy, Mona Lisa, Debs, Keds and Grasshopper.
FROM THE WINTER GARDEN HERITAGE FOUNDATION ARCHIVES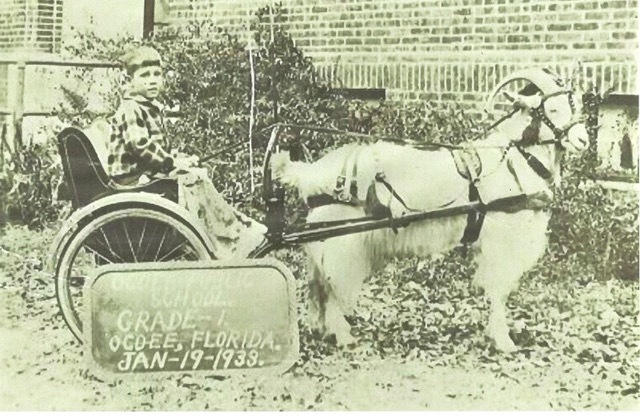 Ninety years ago, this first-grader posed in a goat-drawn buggy in front of Ocoee High School. The two-story, red brick building was constructed in 1922. The cornerstone contained a copper box that held a Bible, newspapers, coins and a handwritten list of teachers and their students. Larger and fitted with amenities, the school served the upper grades and graduated its first class in 1926.