OLD TIMES
90 years ago
"When a bugler blows the rally call at 8 o'clock tomorrow evening, white robed Klansmen will loom out of the dusk in all sections of Winter Garden. They will walk slowly toward the diamond ball park and gather around a platform, where a Ku Klux Klan speaker from national headquarters will be ready to address the crowd."
85 years ago
Two or more robbers broke into the J.M. Russ service station east of Winter Garden and stole a cigarette machine and a few pennies from the cash register and escaped.
A group of Winter Garden people enjoyed a fox hunt near Avalon groves Wednesday night.
A total of 152 residents in 66 trailers made Winter Garden's Trailer City a real "small city."
60 years ago
The Drive-In Church, sponsored by the First United Methodist Church of Winter Garden, celebrated its 11th anniversary with the Rev. O. Victor Hitchcock, minister of the First Methodist church of Melbourne, presenting the main address.
Local boys interested in Cub Scouts were requested to pick up an application at Tom Cox Men's Wear.
50 years ago
Archie Campbell made a critical analysis of George Bailey's haircut. The publisher of "The Winter Garden Times" met the barber of TV's "Hee Haw" at a press luncheon connected with the Rec Vee Show at Outdoor Resorts Campground.
A major fund drive launched this week to provide furnishings and equipment for the new wing of the West Orange Memorial Hospital. The campaign chairman seeks to raise $150,000 in the next 60 days. In 1945, a group of citizens formed the West Orange Memorial Association. The group ran out of money before the hospital could be completed, but with community support and help from the former Hill-Burton Act, the hospital opened in 1952. Because of the area's growing medical needs, a new wing was added in 1957, enlarging the hospital from 40 beds to 78.
Only 200 turkeys remained at Avalon Turkey Farm. The favorite Thanksgiving school field trip destination was closing after 26 years of operation.
A new State Farm Insurance Agency opened its doors next to Jean's Florist on Dillard Street in Winter Garden. Manager is Joe McClellan. He and his wife, Dorene, have two sons, Randy, 7, and Steve, 5.
20 years ago
The city of Winter Garden wrapped up its Centennial Celebration with an all-day party. The festivities began with an elaborate parade that included giant helium balloons handled by local residents
THROWBACK THURSDAY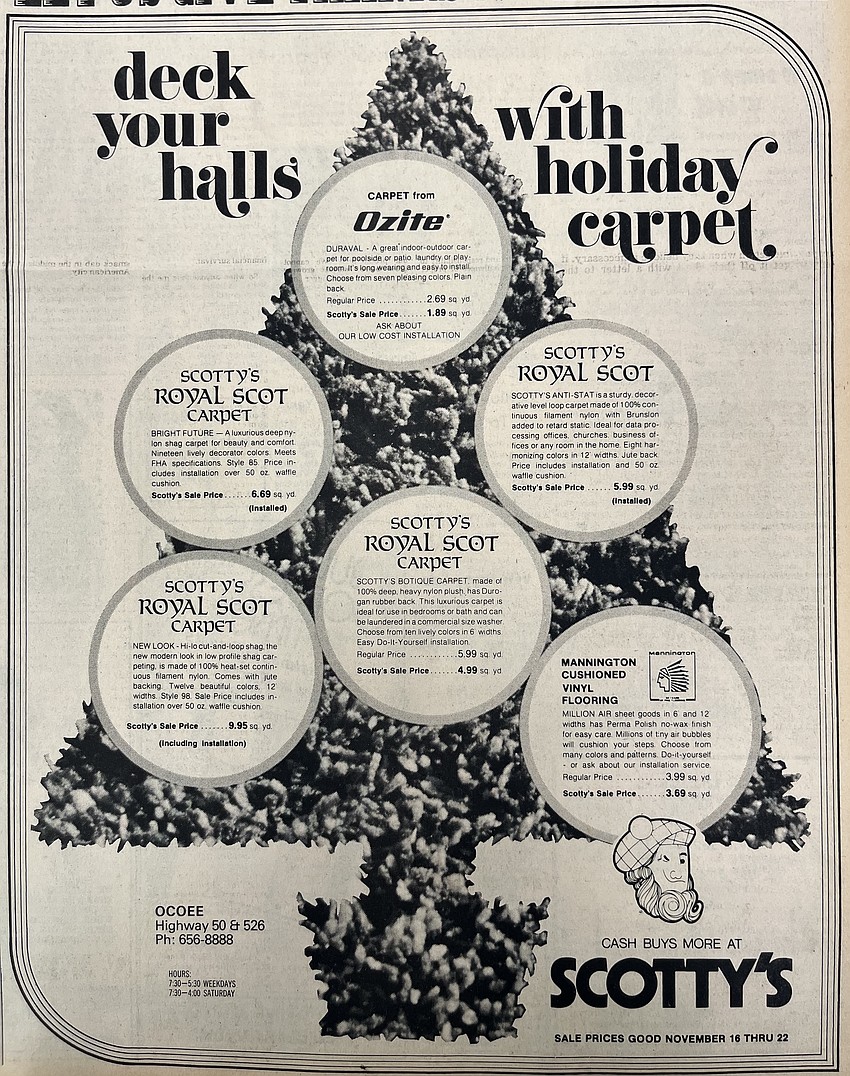 NOV. 15, 1973
The Scotty's home improvement store in Ocoee rolled out the red carpet, so to speak, with its advertisement on carpeting.
The Scotty's Royal Scot unveiled a new modern look in low-profile shag carpeting with the hi-lo cut-and-loop shag, which came in "12 beautiful colors." Other choices were the "luxurious deep nylon shag carpet for beauty and comfort" in 19 "lively decorator colors."
For folks with a pool area or playroom, the Ozite indoor-outdoor carpeting came in seven pleasing colors.
Another option was the Royal Scot Anti-Stat, a sturdy loop carpet ideal for "data processing offices, churches, business officers or any room in the home" available in eight harmonizing colors.
If carpeting wasn't your thing, you could opt for the Mannington cushioned vinyl flooring, which had a no-wax finish for easy care and millions of tiny air bubbles to cushion your steps.
FROM THE WINTER GARDEN HERITAGE FOUNDATION ARCHIVES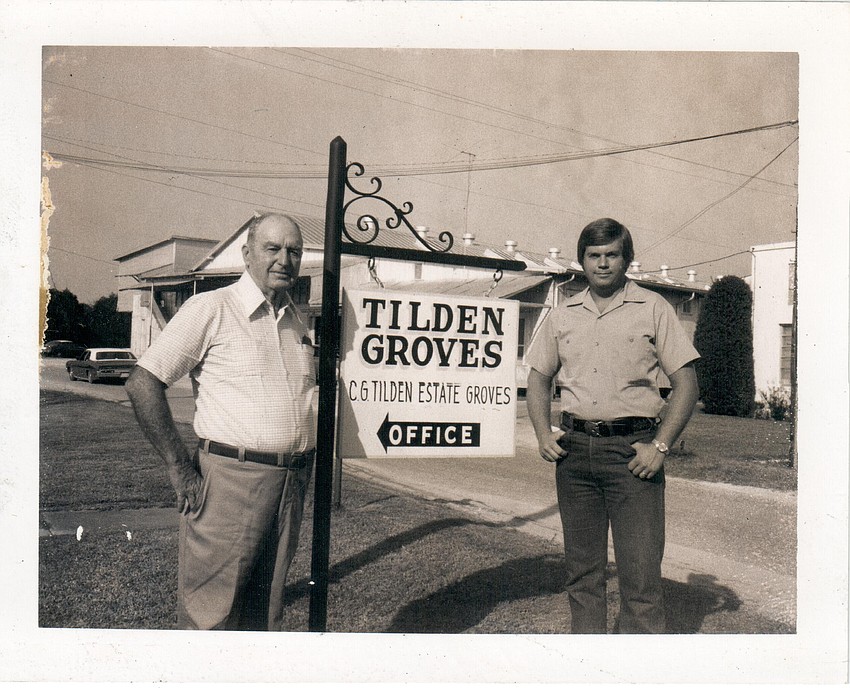 King Orange reigned in 1978 when this photograph ran in The Winter Garden Times' annual Citrus Edition 45 years ago. Tilden Groves' Production manager James Moran is seen at left, accompanied by Dave Mathews. The newspaper stated: "David recently began a career in the citrus industry, purposefully starting at the ground level to learn the industry. He plans to study agriculture at Florida Southern College, in Lakeland, Florida, after which he will continue his career."
The Tilden Groves office was located on Tildenville School Road; in the background is the South Lake Apopka Citrus Growers Association complex.
Newcomers are invited to explore the history of West Orange County by visiting the Winter Garden Heritage Museum — look for the yellow caboose. Want to research deeper? Call the office at (407) 656-3244.