OLD TIMES
90 years ago
Classes at Lakeview High School selected their new officers. Senior officers were Dan McKinnon, president; Mike Roper, vice president; Elizabeth Dieffenwierth, secretary; and Stanley Roper, treasurer. Mrs. D.D. Diefenwierth was room mother.
Work was nearing completion on the three shuffleboard courts being constructed on the site of the proposed city park near Legion Hall. In addition, two horseshoe courts and one croquet court were close to being finished.
55 years ago
Lillie Taylor's sophomore biology classes at Lakeview High School stalked the campus in the Great Biology Class Insect Hunt in the first six weeks of school. Each student was required to collect and identify 100 insects and build a display case to put them in.
50 years ago
"The First Thanksgiving," a one-act play to celebrate the holiday, was presented by Bill Boon's fifth-grade class at Dillard Street Elementary School. The leading parts were performed by Randy Craig (Squanto); Tim Sellati (Father); Tammy Guthrie (Mother); Vickie Dasher (Betty); Brian Huttle (Edward); Mike Stokes (Richard); Judy Powell (Aunt Ruth); Craig Crawford (Miles Standish); Mary Hood (Priscilla); Ron Waters (John Alden); Mary Lowry (Mary); Mark Adams (Robert); and Victor Gordon, Tony Johnson, David Blanchard, Johnny Johnson, Tim Faircloth, Randy Blackstone and Jeff Whitman (Indians).
45 years ago
The 1978 West Orange Debutantes to be presented at the Bay Hill Club were Amy Castleberry, Megan Cloughley, Jane DeWeese, Alison Guernsey, Patricia Horne, Nancy Hunter, Kimberly Jones, Nancy Lummus, Jacquelyn Miller, LeAnn McWhorter, Mary Roberson, Sandra Roper, Michele Sawyer, Susan Shelton, Martha Teal, Elizabeth Walker and Cindy Wheatley.
The 9th Annual Holiday Bazaar had a two-day stand for the first time and had a record number of 14 participating organizations. Crowds were bigger than ever at Tanner Auditorium.
40 years ago
The Hilton at Walt Disney World Village celebrated its grand opening. Located on 23 beautifully landscaped acres adjacent to the Disney Village, the luxurious new property offered 814 guest rooms, including 29 elegantly appointed suites. A unique feature was the Youth Hotel, which offered accommodations for children ages 3 to 12 when parents were away from the hotel.
35 years ago
Charles Campbell of Winter Garden won an $8.5 million Lotto jackpot. He purchased the ticket at Reddi Market on Dillard Street.
The syndicated television show "Superboy" was filmed on location at Windermere Town Hall.
Gus and Marlene Staumatin, owners of the Villa Rosa Restaurant on Old Winter Garden Road, were holding a special eighth anniversary celebration with 50 percent off all dinners.
THROWBACK THURSDAY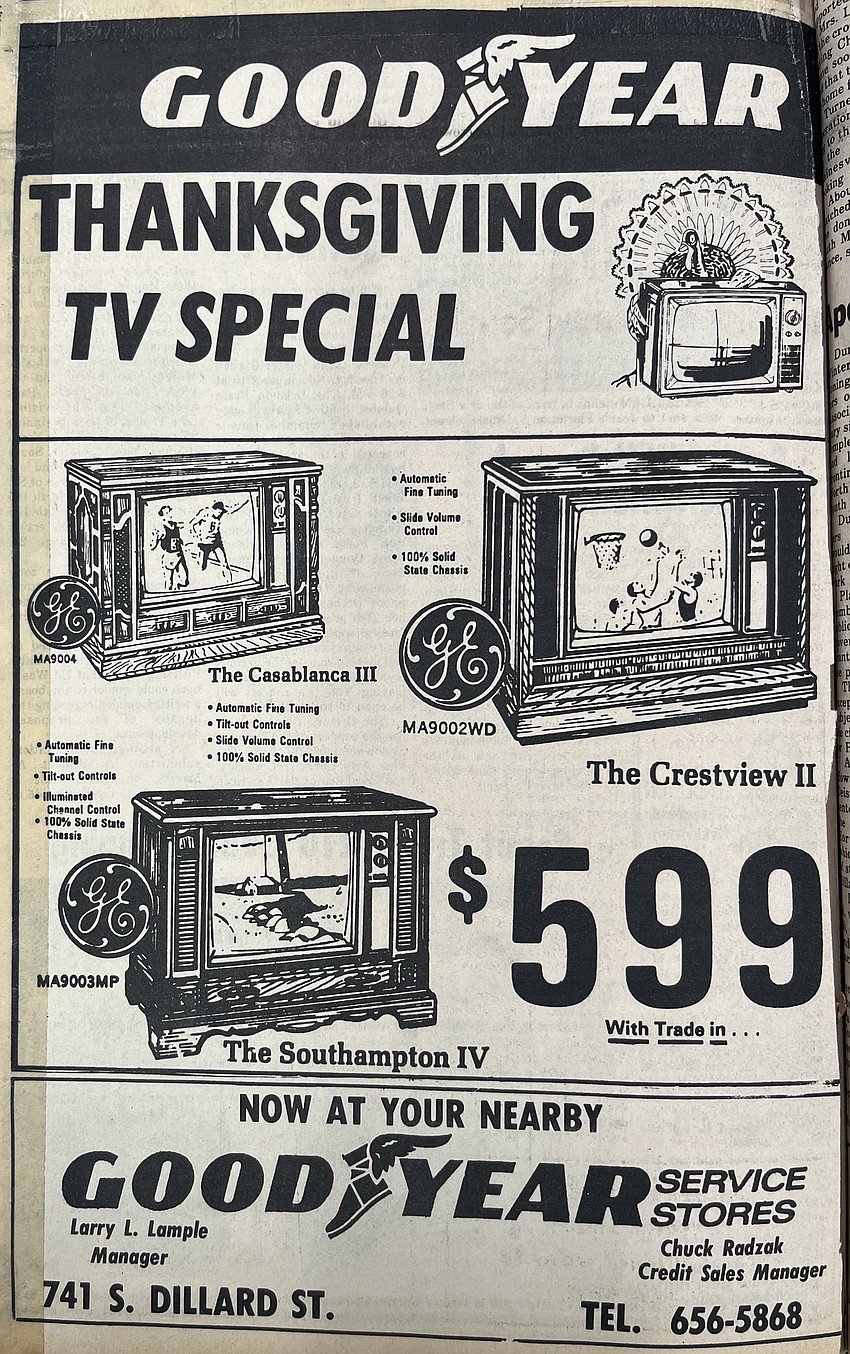 NOV. 22, 1973
Remember when television sets were an actual piece of furniture and weighed as much as a small car?
If you visited the Goodyear Service Store at 741 S. Dillard St., in Winter Garden (which now is the location of Mili's Gym), you could pick up one of these beauties for $599 with a trade-in.
The General Electric TV sets — The Casablanca III, The Crestview II and The Southampton IV — featured side volume control, automatic fine tuning, tilt-out controls, an illuminated channel control and 100% solid state chassis.
What about the remote control? That feature was years away, but you had your children to get up and change the channel for you in the meantime.
FROM THE WINTER GARDEN HERITAGE FOUNDATION ARCHIVES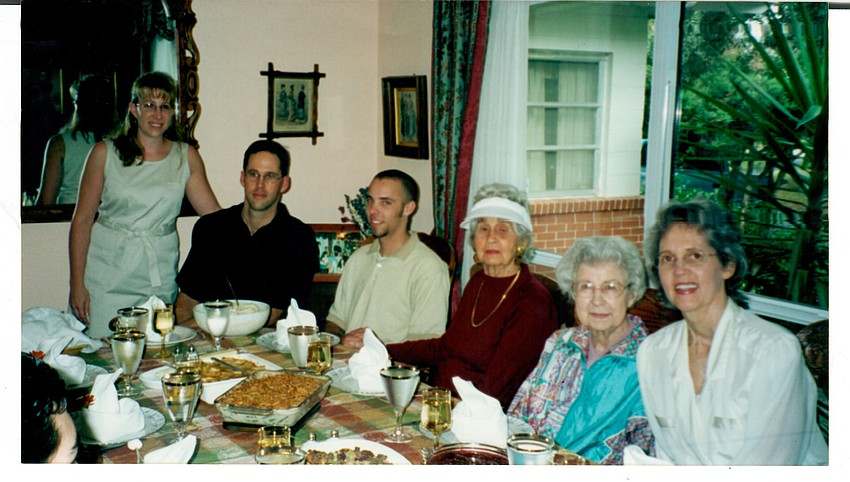 A happy and grateful Thanksgiving to all our West Orange County families!
Pictured here are members of the Acton family enjoying the day's feast and festivities in 2000, l-r: Nancy Cox Acton (Mrs. Daniel); Daniel Acton; Billy Garrison (son of Sally Acton); Beulah Chandler Reeves (Mrs. Ed O.); Mae Jones Reeves (Mrs. Dock); and Glenda Reeves Acton (Mrs. Lawrence).