Baldwin Park's Michael and Arissa Coyle are using their passion project to help bring families and their furry friends closer together.
What began as a hobby for the Coyles when they first started training their puppy, Cooper, has turned into much more. 
The pair has operated a private, local dog training business in the area for about a year and is looking to expand to help improve the lives of even more members in the community. 
"What I have heard is that some of the training Michael has done has changed the family dynamic in the household," Arissa Coyle says. "That safety concern of if the dog were to run off or disobey isn't there, so the owners aren't worried and nervous to bring their dog out with other dogs or walk the dog off-leash. It's a huge wave of relief when you feel like your dog is responsible and can be an active member of the little dog community. We felt that with our own pup, and in talking to our neighbors, we knew it was a skill we could help supply to others, as well."
PASSION PROJECT
Michael Coyle's love for dogs started at a young age.
"I've had dogs around me my whole life," he says. "I trained dogs when I was a kid. I mean, I started learning how to do this when I was 10. I trained my own dog and dogs in our neighborhood. The dogs that I trained when I was younger eventually passed away, and that was obviously really hard on me, so I stepped away from dogs for a little bit."
Arissa Coyle also found it difficult to recover after experiencing the loss of her childhood dog. 
A 3-month-old, toy-sized Australian shepherd and Alaskan klee kai mix changed their minds.
Cooper is the perfect fit for the Coyle family.
"We had family dogs growing up, and with that bond came fond memories, so owning a dog as an adult was something we desired," Arissa Coyle says. "Living in Baldwin Park only sparked more interest in owning a dog, because the neighborhood is filled with pets."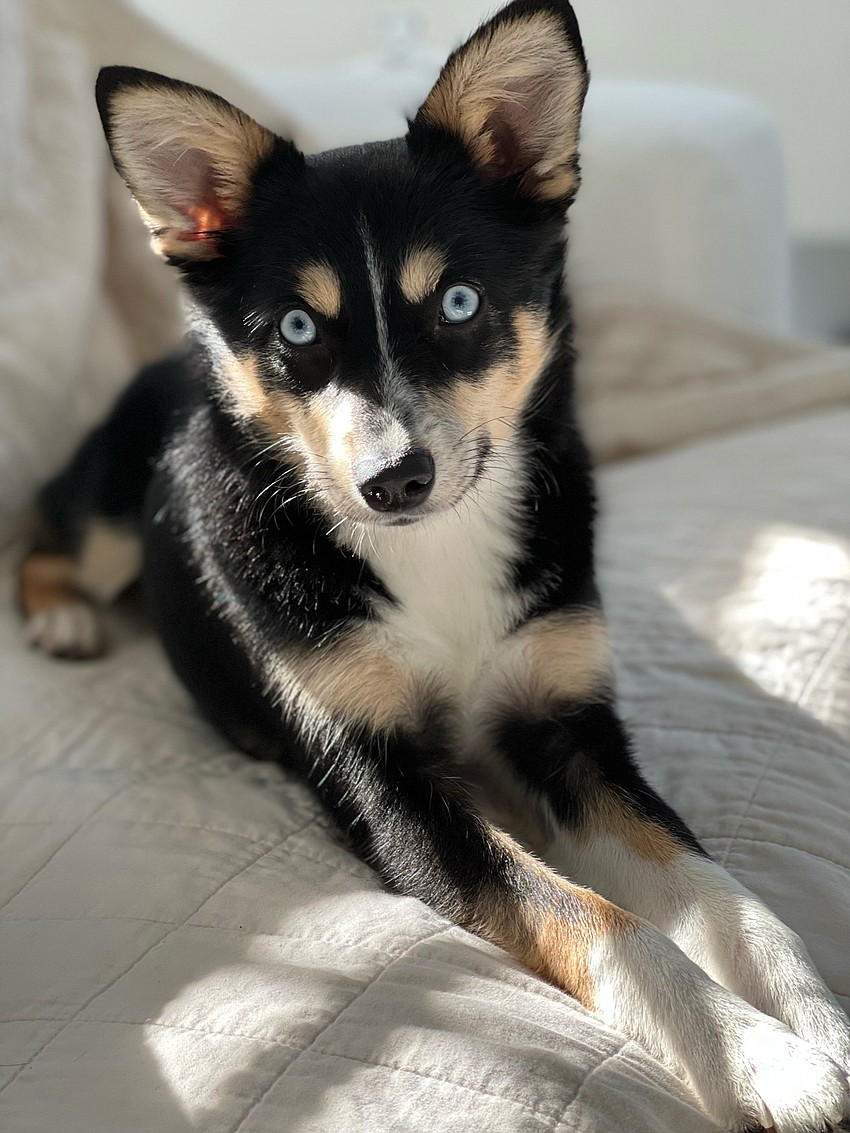 After adding Cooper to the family about 18 months ago, the Coyles met other dog owners, and shared pet advice and stories. Those relationships sparked the idea for the private dog training business. 
"We would consistently hear that training is expensive, and they felt they didn't always get what they wanted out of the training," Arissa Coyle says. "Along with that fact that training wasn't personable enough. We then researched trainers and actually took part in some, but it was an exhausting search and thousands of dollars, so we decided it may be best that we devote the time to it ourselves."
For the next six months, the Coyles dedicated themselves to training their 4-month-old pup. 
"We learned to allow her to be a dog — but with the restraints that we want for her safety out in the world," Arissa Coyle says. 
Michael Coyle typically does not train dogs until they are at least 6 months old, because they are receiving a lot of shots that can make them more susceptible to diseases from other dogs in interaction.
However, Cooper is a trainable breed and was responding well. 
"I have to get a feel for the dog first to see if it's willing to listen, because I can always charge someone for the session, but it doesn't give me any joy if I'm not able to actually make any progress," Michael Coyle says. "There's no point in me doing that to somebody when the dog is too young to even understand the skills."
Cooper is now completely off-leash trained and listens to all commands.
Her training has decreased to about two to three times a week, and she recently mastered knowing to stop and sit down when she approaches a roadway. 
TECHNICAL TRAINING
By walking around the neighborhood, the Coyles have built a rapport with the community, and Cooper always receives compliments. 
"Because she represented what we taught her, we had neighbors reach out asking to train their pups," Arissa Coyle says. "So far, we have been working diligently with some local dogs and have seen great improvement over the past year and a half. We want to continue building rapport in the community and help strengthen dog and owner relationships."
The Coyles are open to any breed, size and age of dog — as long as the owner is fully committed to the dog training, which Michael Coyle refers to as "family training."
Building connection between the pup and the owner is one of the most important parts of the personalized training. Michael Coyle can tell whether the dog has been working on a skill or not.
"The nice thing about private dog training is it can be flexible," he says. "You like to build a semi-cadence to the schedule, so the dog can get used to me. But most of it is working with the owner and the dog together. What I've learned in training so many dogs is I can do some of it and the dog will eventually learn to listen to me, but I'm not at home, so I'm not there to enforce it. That's why it's so important to have that connection to family training of dogs, not just me training the dogs."
Training schedules depend on individual needs for both dog and owner. 
"Throughout this process, we realized there is a gap in training options that can be personalized to the owner and the dog's needs," Arissa Coyle says. "Also, not every dog can learn the same way and not every owner can develop the same relationship. There has to be options and flexibility in the training."
Michael Coyle suggests twice a week training for the first week. 
The training can progress to as much as three times a week and as little as once a week — or even once every two weeks if the owner is busy but is practicing at home.
The training benefits the dogs just as much as the owners.
"They get so much more joy on their walks when they can kind of just mosey around, sniff everything they want to and there's no stress with the owner because the dog isn't ferociously pulling down the sidewalk on the leash," Michael Coyle says.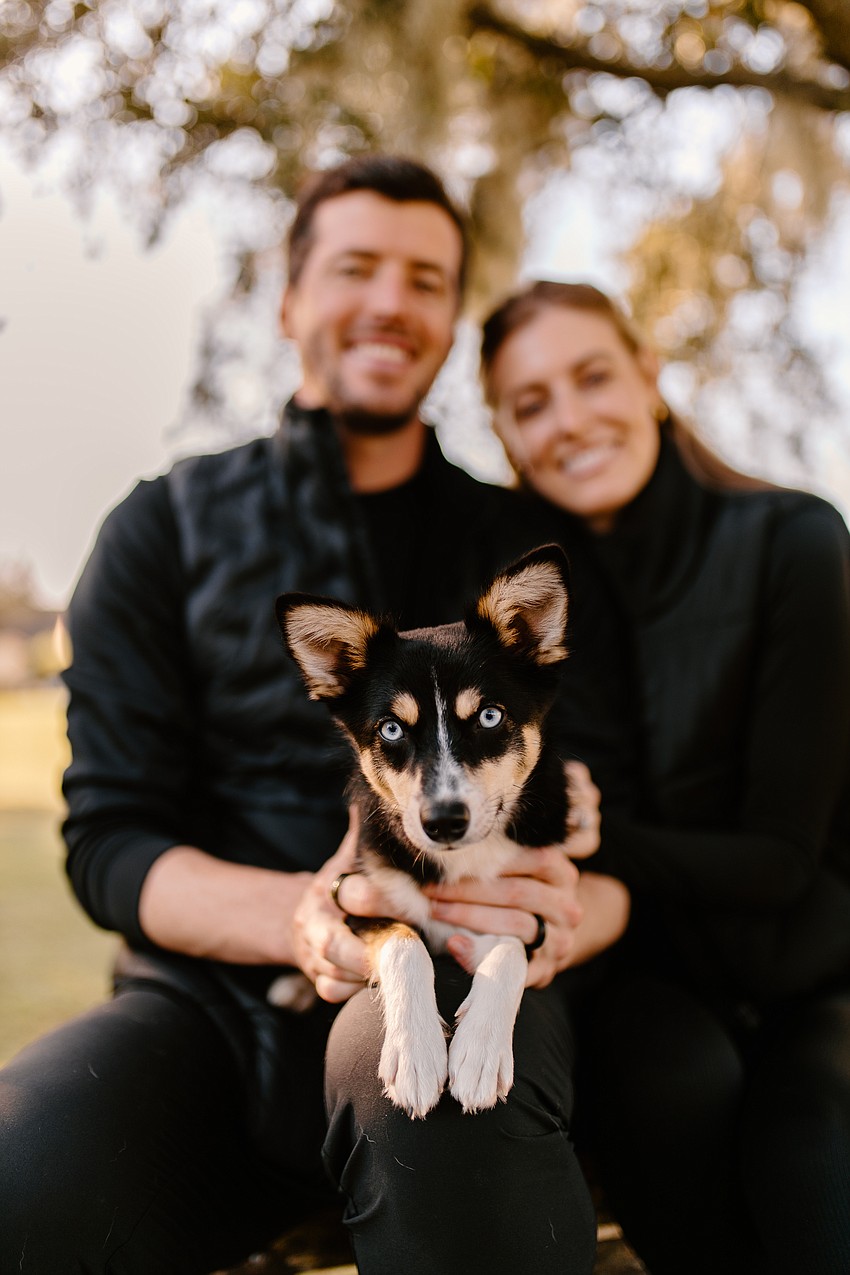 PUPPY LOVE
Arissa Coyle, 30, is originally from Ocala, while Michael, 32, hails from Jacksonville.
The couple was set up on a blind date by mutual friends. 
About two years after meeting on Dec. 23, 2016, they were married. 
The private dog-training business is another passion they now share together. 
The progress they have seen in Cooper has been the most rewarding part of the journey.
"I get such peace with having her as part of our family," Michael Coyle says. "I also enjoy seeing how happy the dogs and the owners that I've worked with are and the progress they make.
"It eventually turns into something that you just naturally incorporate into your everyday life," he says. "That's how spending time with pets should be. Not a chore but something you love and enjoy."
Arissa Coyle works in financial operations for a technology company, while Michael Coyle is a physician's assistant at an intensive care unit.
The couple would love for the business to grow into a full-time gig, but it isn't the goal. It's simply just something they enjoy doing.