OLD TIMES
90 years ago
Albert C. Valdes of Tampa was appointed as instructor of Spanish at Lakeview High School. He was a graduate of Rollins College in Winter Park and was assistant instructor during his student days.
Winter Garden merchants meeting at the Edgewater Hotel agreed to close their stores at 10 o'clock on Saturday nights.
80 years ago
City officials announced the Ocoee recreation center, park and beautification program under the Works Progress Administration with an allotment of $23,403. The city contributed $6,704.
Dorothy Spencer announced her new gift establishment, The Dorothy Shop, was planning to open Oct. 8 across the street from Mary Lou's Beauty Parlor.
Lost: "Last Wednesday evening, a brownish cream-colored bull calf. See Owner, Martha Buford, or call newspaper office."
Franklin Cappleman sent two letters to his parents from way down in the South Pacific saying he had shaved off that foreign mustache and, as far as he is concerned, would never grow a stubble like that again. It was too much trouble to care for. He said there wasn't much to write about — only that they were having lovely weather and the work was pleasant. He also told them they need not expect him home any time soon.
60 years ago
Mrs. James McKey was scheduled to be in the Winter Garden Library from 4 to 5 p.m. to receive overdue books.
50 years ago
Cheering on the Ocoee High Cardinals were Jean Randolph, Tami Whitlow, captain Theresa Crawford, Debbie Williams, Marie Shepard, Judy Birdyshaw and Cathy Wilson.
Oakland had a new tractor, and no one was happier than Grover Cleveland Tubb, superintendent of streets and parks.
30 years ago
A number of historic buildings were for sale in downtown Winter Garden. The city was part of the Florida Main Street Community, a nationwide network of communities involved in revitalizing their small, historic downtowns. The five-block area in which the properties were located dates back to the early 1920s and '30s. All but one building were considered historic, including a two-story hotel dating from 1926.
The Main Street Farmers Market debuted in downtown Winter Garden to crowds ready to buy fresh fruit and vegetables, plants, baked goods, and herbs. Glenn Bookman, market manager, said he was pleased with the turnout and was hoping to sign up more vendors. A mural depicting garden produce and farmers was created by local artists and painted by First Baptist School students.
THROWBACK THURSDAY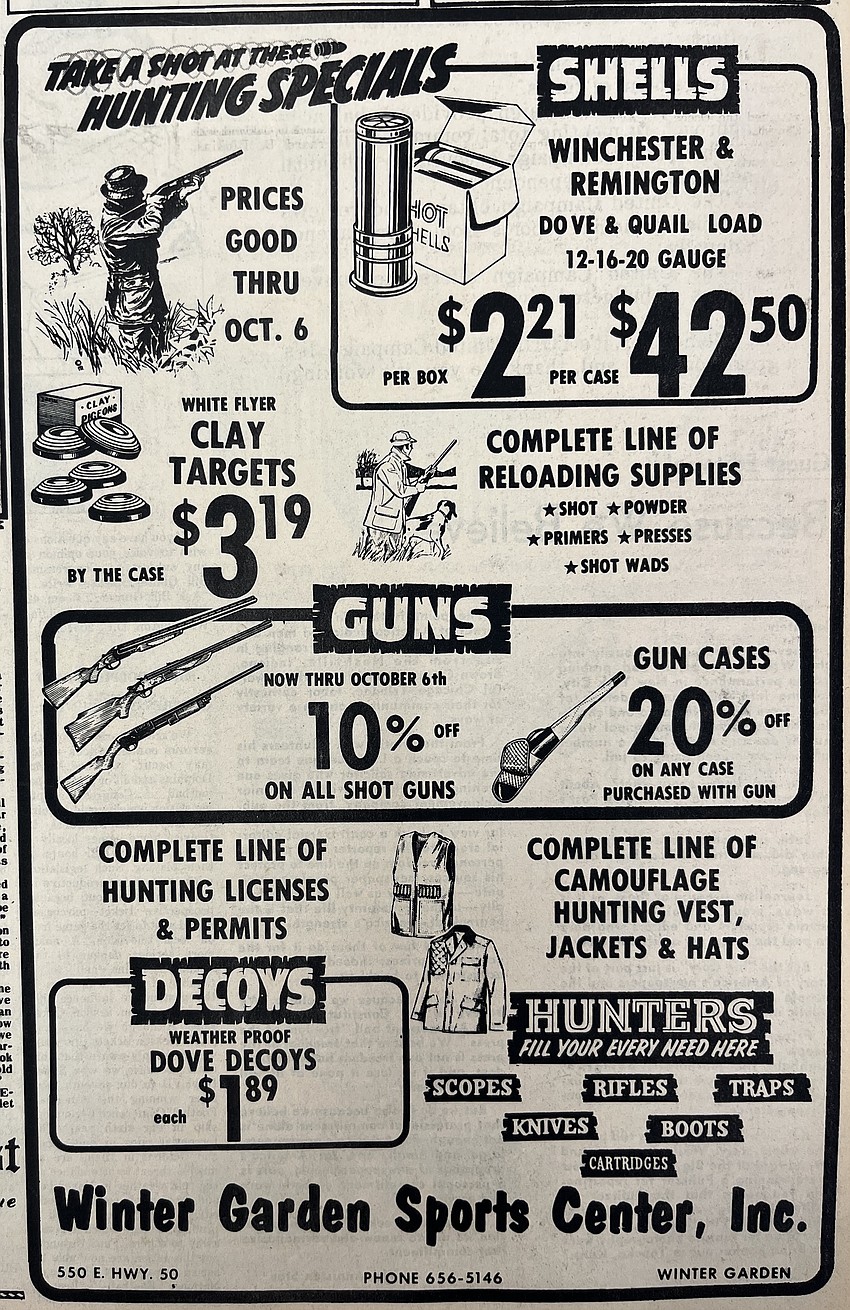 OCT. 4, 1973
Winter Garden Sports Center was located on West Colonial Drive in Winter Garden, and it offered all kinds of gear for the avid hunter, as well as hunting licenses and permits.
An advertisement in The Winter Garden Times announced deals on a complete line of camouflage hunting vests, jackets and hats. Shotguns were 10% off, and gun cases were 20% off with the purchase of a gun. A full line of reloading supplies was available, including shot, powder, primers, presses and shot wads.
White Flyer clay targets were priced at $3.19 for a case, weatherproof dove decoys were listed at $1.89 each, and Winchester and Remington dove and quail shotgun shells in 12, 16 and 20 gauge could be purchased for $2.21 per box or $42.50 per case.
FROM THE WINTER GARDEN HERITAGE FOUNDATION ARCHIVES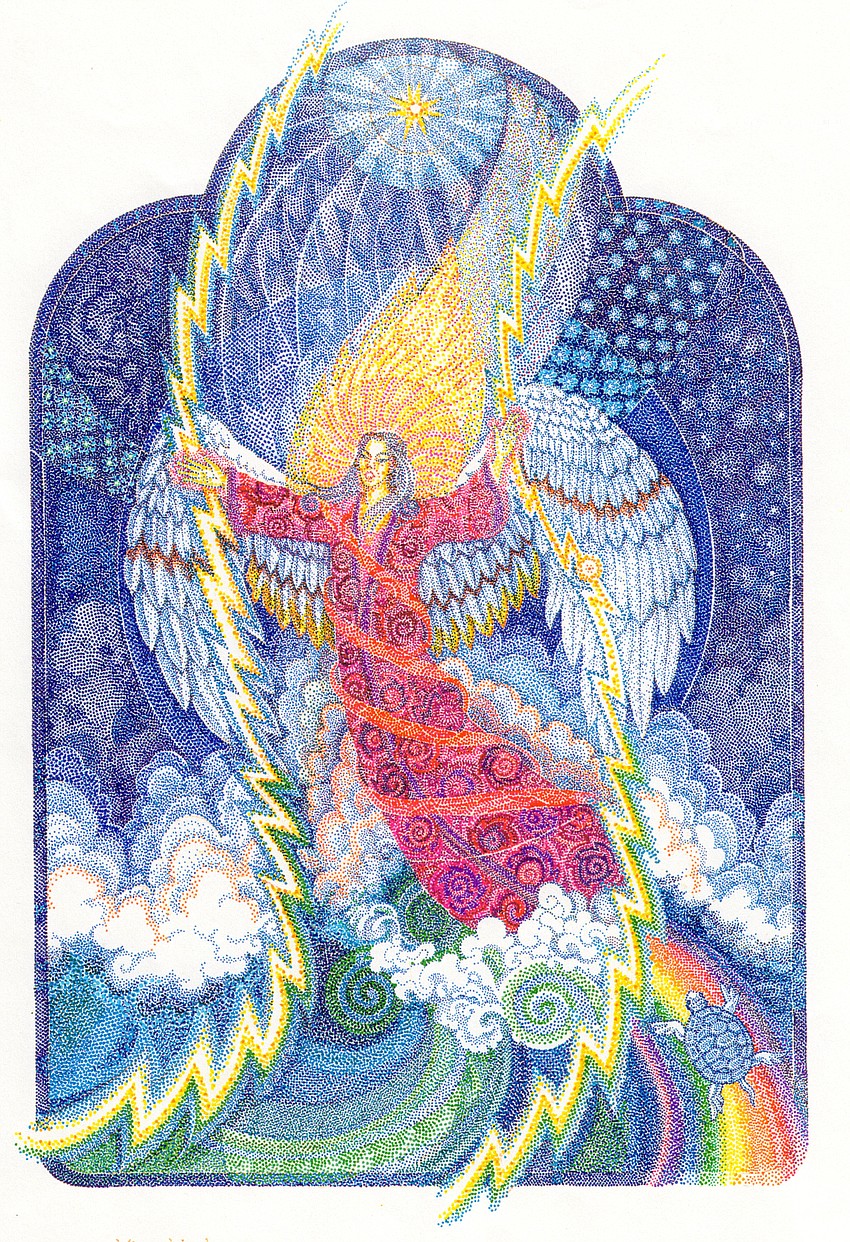 Artist Dorothy Kannon (1931-2008) created this original fine-point felt pen portrait of an angel, No. 22 of more than 100 similar renderings in her "Exultation of Angels" series. Dated Oct. 5, 1995, Kannon's text notes that "a graceful arc of Angel synchronizes with curves of lightning … swinging down through the starry galaxy to energize the earth in the ever-constant changes of creation."
The Winter Garden Heritage Foundation preserves a large collection of Kannon's work. Call (407) 656-3244 to schedule a research appointment.