OLD TIMES
90 years ago
Plans to create a landscaped park at City Dock with the possibility of building a swimming pool, were discussed by directors of the Chamber of Commerce at the Edgewater Hotel, and $14 was donated to the city of Winter Garden toward the building of three shuffleboard courts on the diamond ballpark on Plant Street.
Tired of twisting little cranks on Winter Garden telephones, scores of subscribers appealed to the Florida Telephone Corp. to install a central battery system.
85 years ago
Pine Tree Inn, the resort hotel in Windermere, was burned to the ground early Tuesday morning, fire of undetermined origin, having started about 1 a.m.
55 years ago
The annual sailing regatta sponsored by the Orlando Sailing Club was another successful venture staged on Lake Apopka. As many as 60 beautiful sailboats could be counted at one time on the lake preparing for the all-day race.
Janet Barnes was elected Homecoming queen at Lakeview High School. Members of her court were GiGi Phillips, Robin West, Terry Sutton and Jackie Wright.
50 years ago
Robert J. Thompson, Oakland's new chief of police, was settling into his role as the town's only law-enforcement officer and found the quiet community to his liking, but he was looking for help. Lack of funds was the drawback, but he was hoping for federal assistance to hire one full-time person.
Following an intensive search by city officials to find a law-enforcement officer with the right qualifications, the Winter Garden City Commission approved the appointment of Domer Orndorf as police chief.
Ocoee residents were excited to try out the new Italian restaurant Rasquales Too. Owned by Ron and Cheryl Cowens, the original Rasquales was in Apopka.
40 years ago
Ocoee Junior High principal Bob Williams, on behalf of the school and students, thanked the Ocoee Lions Club for generously donating free before-school breakfasts to the eighth-graders taking the important Statewide Student Assessment Tests.
Named to the West Orange High School Homecoming court were Susan Hayes, Karen Goodman, Carolyn Boltin, Nan Hughes, Robin Hammond, Tracy Ward, Kevin Dennis, Mike Guthrie, Doug Martin, Phil Lillo, David Whitaker and Charles Schley.
Students and faculty at Calvary Christian School, in Winter Garden, were given four choices for Homecoming queen: seniors Tracy Damron, Beth Davenport, Nancy Pruim and Paula Woodley. Class representatives were Bonnie Woodley, 11th grade; Terry Akers, 10th grade; and Wendy Thompson, ninth grade.
THROWBACK THURSDAY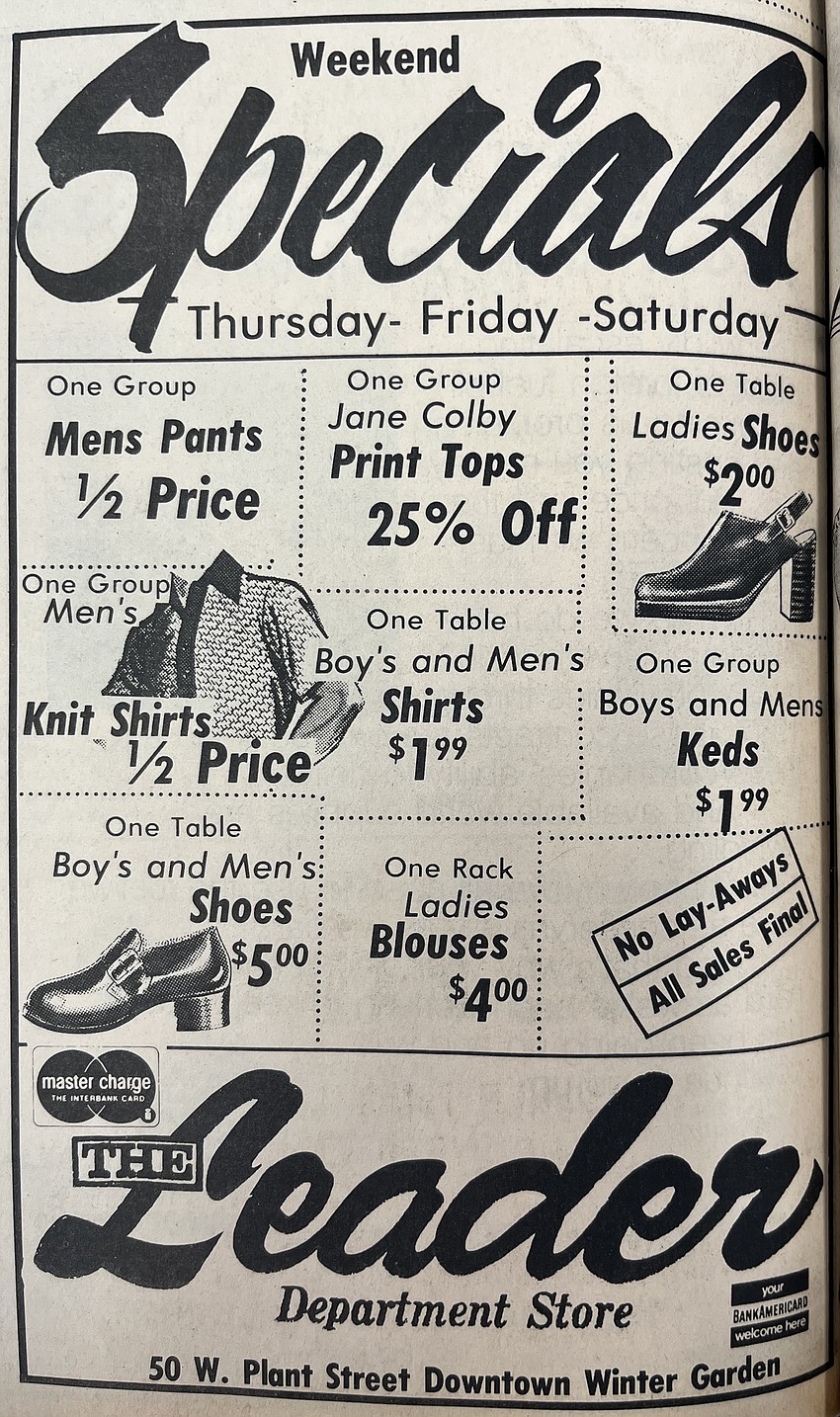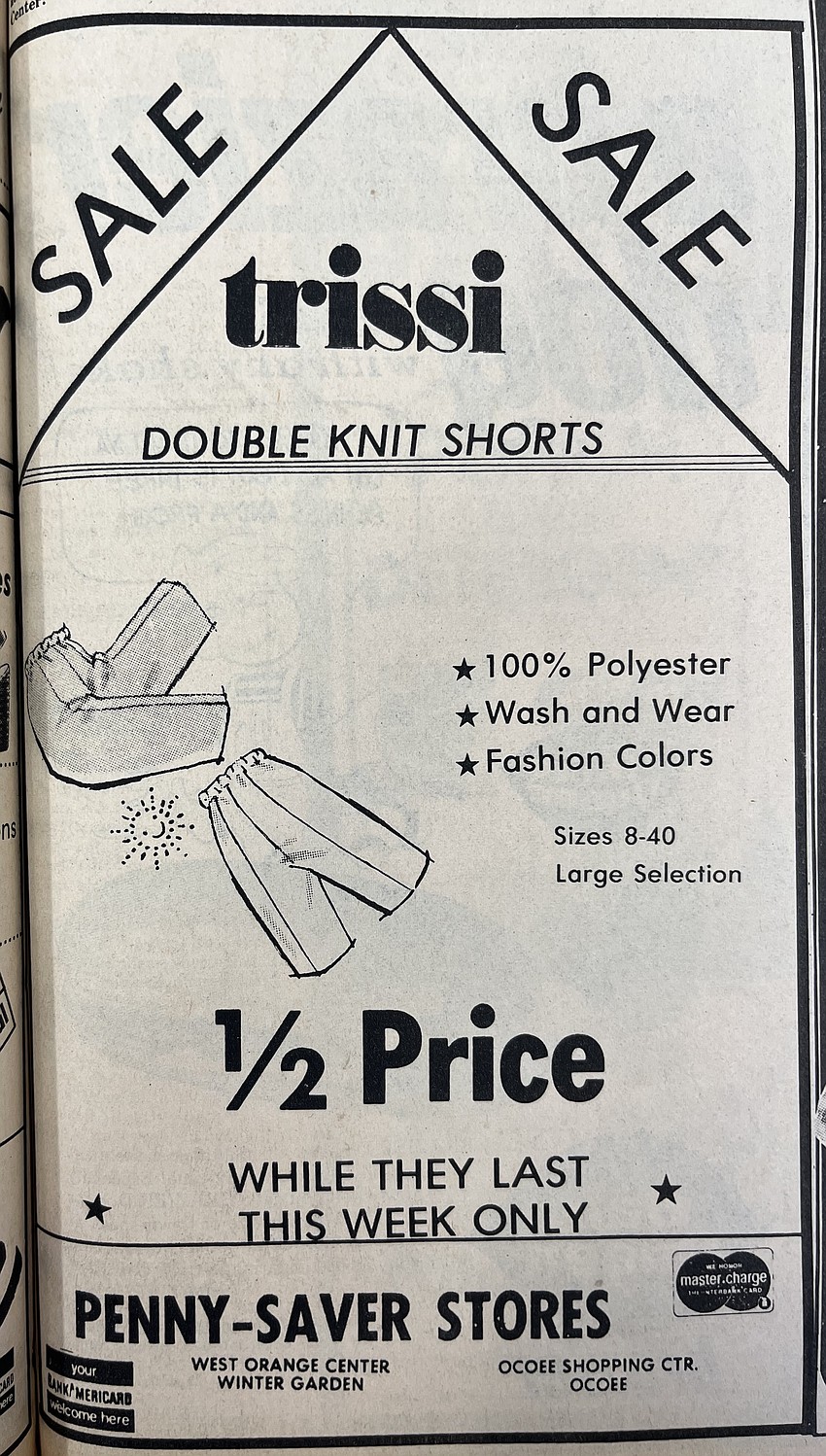 OCT. 18, 1973
Local clothing store owners offered frequent sales and discounts to draw customers into their West Orange County establishments, including Leader Department Store, located at 50 W. Plant St., in downtown Winter Garden; and Penny-Saver Stores, with locations in Winter Garden's West Orange Center and the Ocoee Shopping Center. Advertisements routinely were placed in The Winter Garden Times.
The deal of the week was Trissi double-knot shorts, which were going for half price, at Penny-Savers. At Leader, women's blouses were $4 and women's shoes were $2; men's shoes were $5; and boys' and men's shirts and Keds sneakers were $1.99.
FROM THE WINTER GARDEN HERITAGE FOUNDATION ARCHIVES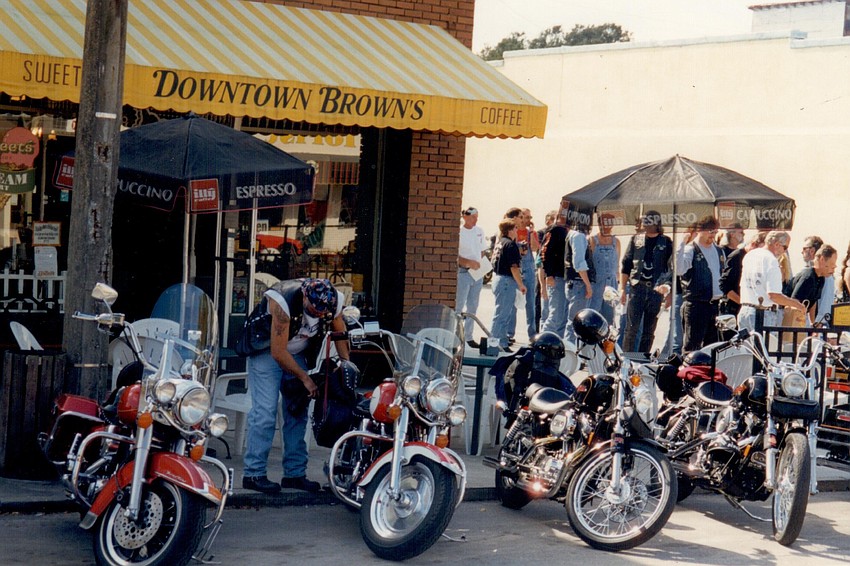 Downtown Brown's opened in August 1996 at 126 W. Plant St. in the former 1922 Bray Hardware space — "the longest store in Winter Garden." Owners Claire and Eric Brown, while no longer operating the restaurant, continue to engage in catering for special events. Several businesses have since occupied the space. The Downtown Brown's sign painted on the side of the building still exists; although the newer structure housing Urban on Plant was constructed just a few feet to the west, the sign can still be seen in the "alley" between the two buildings. Residents remember storing their bicycles in the bike rack standing in front.
The Winter Garden Heritage Foundation's archive preserves a vast amount of information on local businesses. If your business is about to celebrate an anniversary, or you are interested in research, call (407) 656-3244 to make an appointment.