OLD TIMES
90 years ago
"Unless the unusual heat destroys a goodly portion of the eggplants, Winter Garden farmers who pitched in directly after the storm and replanted their ruined pepper and tomato fields to cabbage, beans and other truck crops stand a good chance of earning money on their crops, farmers said.
85 years ago
Charles Bennett, son of Mr. and Mrs. C.R. Bennett of Winter Garden, was pledged by the Phi Kappa Tau fraternity at the University of Florida.
Mrs. S.M. Vandergriff and her daughter, Miss Mary, of Crescent City were guests of her son and wife, Mr. and Mrs. J.J. Vandergriff of Ocoee.
Mr. and Mrs. J.W. Reid, of Ocoee, entertained Mr. and Mrs. Baggett at dinner Monday evening.
60 years ago
The citizens of this area were witnessing the culmination of about five years of planning and developing natural gas service to the area. The member towns of the Lake Apopka Natural Gas District were Winter Garden, Apopka and Clermont.
Miss Bonnie Britt, daughter of Mr. and Mrs. Ward Britt and a sophomore at Lakeview High School, competed in a contest of Central Florida girls and was chosen the winner at Colonial Plaza.
55 years ago
Middle-aged spread, of a physical nature, is no longer an indication that you are middle-aged. According to the most recent valuation, if you are 27.7 years of age, you are now a middle-aged American.
50 years ago
Paul Dion was named manager of the Maryland Fried Chicken on West Highway 50 in Winter Garden.
40 years ago
An advertisement for Food World announced a 3-pound Armour boneless canned ham for $4.97, a 12-ounce bag of Doritos for $1.79, three loaves of Food World white bread for $1.19, half-gallon of Lady Borden's ice cream for $2.99, six-ounce cans of Minute Maid lemonade or limeade concentrate for 29 cents each, a one-pound bag of sausage for 67 cents and a large head of lettuce for 98 cents.
35 years ago
Citizens for Decency held a prayer and praise rally in front of Universal Studios of Florida to protest the opening in Orlando of "The Last Temptation of Christ."
30 years ago
West Orange Habitat for Humanity held the groundbreaking for its third house, located on Postell Avenue. Ira Williams, pastor of Windermere Union Church, officiated the ceremony. Future home recipient Mary Johnson spoke during the program before turning the dirt. Orange Crate Café donated pastries.
THROWBACK THURSDAY
SEPT. 26, 1974
Eckerd Drugs was known for its great prices, and its advertisements in The Winter Garden Times showcased many of its sales prices. Where else could you score such deals?
In 1974, you could get three bottles of Charm dish detergent for 84 cents, Aim toothpaste for 49 cents, a container Ponds Dreamflower dusting powder for 79 cents, Vaseline Intensive Care herbal lotion for 59 cents and a three-pack of Sylvania Magicubes camera flash bulbs for $1.19.
Folks who liked fishing could pick up a South Bend #630 spinning reel for $3.99 and South Bend reel oil or lube for 59 cents.
For 99 cents, shoppers could buy an ironing board cover, laundry bag or clothes pin bag; and for $1.66, they could purchase a sponge mop, dust mop or broom. Appliances, including a juicer, toaster, can opener or G.E. steam-dry iron, were for sale for $8.88.
The Eckerd's store was located in the Tri-City Shopping Center, at Dillard Street and West Colonial Drive in Winter Garden.
FROM THE WINTER GARDEN HERITAGE FOUNDATION ARCHIVES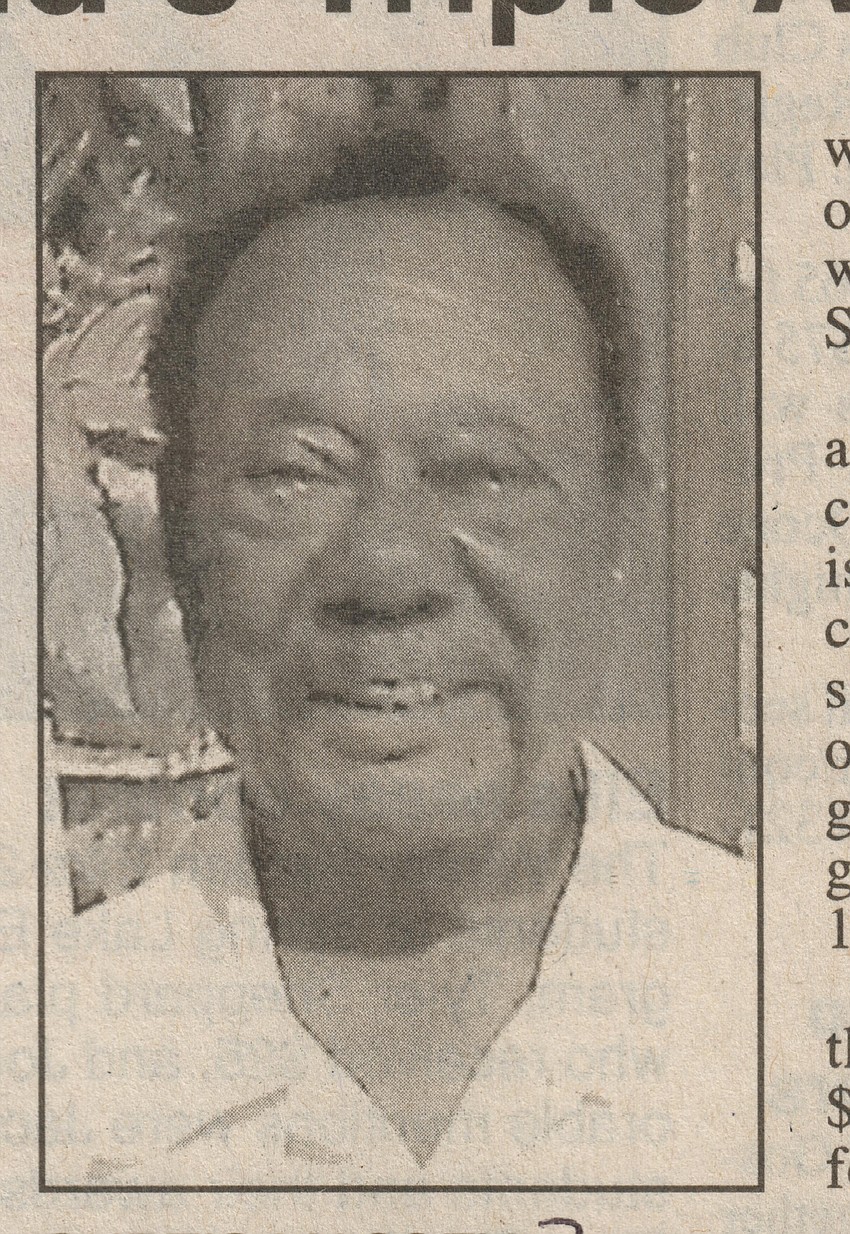 Curtis Massey was elected the first black mayor of Oakland in September 1975 when he was 49 years of age, and he served for three years. He began working locally as a citrus picker in the Tildenville community and, by the time he was elected mayor, ran a citrus contracting business with 150 employees. At a time in history when Oakland had fewer than 700 residents, Massey was content with the way residents viewed their town. "I don't think anybody in town really wants us to get any bigger," he said in an Orlando Sentinel article. "One of the reasons people like it here is because it is peaceful and quiet." At the time, the town had few paved roads, a two-man police department and no town taxes.