OCOEE — Senior guard Grant Riller scored a school-record 53 points and the Ocoee Knights (12-3) became Great 8 Holiday Tournament champions on Monday with a 88-80 win against the Leesburg Yellow Jackets (10-4).
It was a performance that had Knights coach Rob Gordon touting his rising star as one of Central Florida's best players.
"There's other guys that have signed better so-called higher-level scholarships, but he is far and away having the best season of any high school basketball player in Orlando," Gordon said.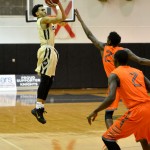 Riller, a College of Charleston signee, seemed satisfied afterward with his performance in leading his team to a holiday tournament championship.
"I feel I played pretty good," Riller said. "I came out and was aggressive and we got the win."
For Gordon, winning the championship may serve as a stepping stone of sorts for where his Knights, ranked No. 4 in the state in Class 8A, want to go for the rest of the season.
"Symbolically, to win a championship, it puts us in a position to move into January towards another goal of a championship in terms of districts," Gordon said. "It really puts our kids in the right mindset — that that's what we want as our destination."
Throughout the night the Knights kept the Yellow Jackets at bay and led 50-36 going into the half. Even though they had a 14 point lead, Coach Gordon was not going to allow them to relax.
"I told them to continue to be aggressive, but that our decision-making needed to be better," Gordon said. "And I felt like defensively we needed to continue to keep the pressure on certain guys. …
"I knew that they were going to come back as some point, so I just wanted our guys to continue to be aggressive."
As Gordon had predicted, the Yellow Jackets fought back during the last quarter, but it was not enough to match the resilience of the Knights.
Senior Vaughn McCall added 15 points throughout the game, and was added to the all-tournament team.
After the New Year, the Knights will play Freedom High School on Jan. 7. They will return to their home court on Jan. 13 to face Orlando Christian Prep.