With just six weeks remaining until the 2014 high school football regular season begins, we couldn't stand the wait any longer and felt the need to get the ball rolling on our gridiron coverage for the fall.
Starting with our June 26 edition, we have been taking a team-by-team look at the respective schedules for each team within our coverage area.
We have already taken a look at the schedules for Dr. Phillips (June 26 edition) and Ocoee (July 3 edition) and for this week's breakdown we will take a closer look at the 2014 schedule for the Olympia Titans.
Just fine with nine
You counted right — the Titans have just nine games on the slate for 2014.
Olympia will play nine games this season, as opposed to the 10-game schedule that most higher classification programs play. Though the Titans will play one less game, they still will play five home games and will get the benefit of two bye weeks.
The setup of the schedule figures nicely for Olympia, especially with regards to road games. The Titans will not have any back-to-back road games and one of the bye weeks comes ahead of a road game at Apopka — giving coach Tom Paolucci and his staff extra time before one of their toughest tasks of the year.
A month to remember
It's all about October for Olympia this fall.
The Titans will play all three of their Class 8A, District 4 contests in October — as well as a tough out-of-district game against Lake Mary, which went 11-1 in 2013.
In fact, the combined records of Olympia's four opponents in October from 2013 was 34-14 — and nine of those losses came by way of a rebuilding year for Evans. If you subtract the Trojans' 1-9 record from 2013, then the combined record for Lake Mary, West Orange and Apopka was 33-5.
The Titans went 3-7 in 2013.
Home sweet home
Olympia has the advantage of playing more games at home than on the road, with three of those games coming in-a-row.
Starting on September 19, the Titans will host Edgewater, Timber Creek and Evans in a pivotal home stretch to help build some momentum as they enter district play.
Olympia also ends the season on the road, hosting Jones on November 7 for its senior night.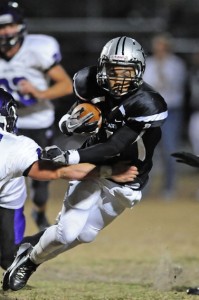 Olympia Football — 2014 Varsity Schedule
8/22 — @ Boone (preseason), 7:30 p.m.
8/29 — Bye
9/5 — vs. Dr. Phillips, 7:30 p.m.
9/12 — @ Freedom, 7:30 p.m.
9/19 — vs. Edgewater, 7:30 p.m.
9/26 — vs. Timber Creek, 7:30 p.m.
10/3 — vs. Evans (district), 7:30 p.m.
10/10 — @ Lake Mary, 7:30 p.m.
10/17 — vs. West Orange (district), 7:30 p.m.
10/24 — Bye
10/31 — @ Apopka (district), 7:30 p.m.
11/7 — vs. Jones, 7:30 p.m.
Next week's schedule breakdown: West Orange