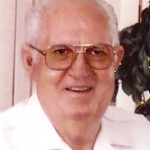 Leon Bryant, 76, of Winter Garden, passed away peacefully, Monday, Sept. 15, 2014.
Born May 12, 1938 in Elba, Ala., the son of the late Lee and Effie (Henley) Bryant. He was the husband of the late Arline (Harrell) Bryant.
Leon worked as a taxi driver for many years and also in the citrus industry until his retirement at the age of 62.
Leon is survived by his daughters, Rebecca Ann Bryant, Norma Jean Harmon (Charzell) and Melinda Richards (David). He leaves his seven grandchildren, Christopher Harmon, Jermey Harmon, Joey Scheutzow, Robert Scheutzow, Arline Richards, Heather Richards, and Samuel Monroe; two great-grandchildren, Amiyah Harmon and Mason Harmon; and one brother, James Bryant.
He is preceded in death by his son, Christopher Bryant; and daughter, Patricia Scheutzow (Mark).
He will always be remembered and missed by all who loved him.
A visitation will be held from 6 to 8 p.m. Friday, Sept. 26, at D.J. Enea Family Funeral and Cremation Care, 1132 E. Plant St., Winter Garden, FL 34787. A funeral service will be held at 11 a.m. Saturday, Sept. 27, at the funeral home. Burial will follow at Chuluota Cemetery.