Here are the scores and highlights from Week One action:
GAME OF THE WEEK
Legacy 20, CFCA 0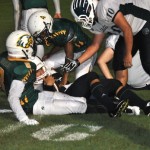 Ocoee's battle of the Eagles at Central Florida Christian Academy resulted in a shutout for visiting Legacy High Charter. After both teams struggled to move the ball in the rain, dry air allowed Legacy to open its passing attack with a pair of long touchdown catches.
Walker Phillips started the scoring late in the second quarter with a 92-yard touchdown catch, and Brian Carmean finished it with a long scoring reception in the third quarter.
—
West Orange 45, Foundation Academy 0
The Warriors' offense struck early and often, leaping out to a 30-0 edge by halftime. This was the first meeting between the two Winter Garden-based programs.
—
Dr. Phillips 27, Wekiva 0
Two touchdowns from Jaquarius Bargnare and two interceptions by Tanner Ingle helped power Dr. Phillips past Wekiva, 27-0, on the road.
—
Seminole 32, Olympia 14
Titans hung tough, trailing just 11-6 at halftime, but a momentum shift that started with a pass interference call going against Olympia helped this one slip away.
—
Apopka 40, Ocoee 6
Apopka went up by two scores quickly and never looked back. Ocoee trailed 33-0 at the half. Knights had a few bright spots but could not sustain drives.
—
Editor's note: Windermere Prep's game against St. Stephen's Episcopal was suspended (lightning) and will resume tomorrow at 11 a.m. with the Lakers trailing 7-0 in the first quarter.