OCOEE — Moments after her team had overcome a slow start on the road against the Ocoee Knights, a district opponent, Olympia softball head coach Stephanie Manny is pretty aware of just where her girls stand.
Even though the Titans (9-3) rattled off 13 runs in two innings to take what had been a 2-0 deficit and turn it into a 13-3 win in five innings on March 13, Manny said there are certain areas in which Olympia will have to improve as they prepare to try and avenge district losses to powerhouses Apopka (a 6-0 defeat) and West Orange (a 11-0 defeat on March 11) in early April.
"We're not there yet; there's no question," Manny said. "I'm hoping as the weeks go, we continue to peak because I really don't want them to peak until districts, anyway."
Friday's game against the Knights (7-7) was emblematic in a lot of ways of where the Titans can thrive and where they struggle. Over the first three innings, Olympia was held scoreless and couldn't find gaps hitting the ball.
Once the Titans can find a way on the base paths, though, they become a headache for opposing defenses. Elizabeth Drivas doubled in Olympia's first two runs to spark the rally and Gabby Orland got the win on the mound for the Titans, who also improved to 3-2 in district competition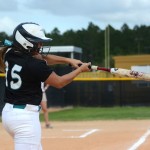 "It really comes down to hitting," Manny said. "We're just hitting (the ball right at) people, we're not finding the gaps. I think when we come up against a very good pitcher like (West Orange's) Kelsey Morrison, we kind of get back on heels a little bit."
The Titans played three non-district games earlier this week before facing Evans March 19. Olympia will play a spring break event March 13 and 14 in Daytona before taking some time off for the break.
Once the Titans return, though, they will have big games ahead of them against Apopka (at home on April 1) and West Orange (on the road on April 3) — chances for Manny's club to make a statement that the district is not a two-horse race.
"There's no question (we can compete)," Manny said. "I think if we hit the ball, we can make things happen. We have speedy kids. It really comes down to just hitting the ball into the gaps and making things happen."
Contact Steven Ryzewski at [email protected].