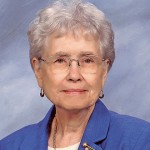 Funeral services for Mrs. Eloise W. McLeod, age 89, of Apopka, Florida, who passed away on Friday, May 1, 2015, were held Tuesday, May 5, at Loomis Funeral Home, in Apopka, with the Rev. Allen Higginbotham officiating. Visitation for family and friends was held prior to the service at Loomis chapel.
Mrs. McLeod was born Feb. 11, 1926, in Winter Garden, Florida, to Perry and Mattie Wheeler. She graduated from Orlando High School and earned her registered nurse degree at Charity Hospital in New Orleans. 
She was married to Johnie A. McLeod from June 6, 1948, until he passed away Nov. 16, 2003. She was a member of First Baptist Church of Apopka. She is greatly missed. 
She is survived by her four children, son, Raymond Allen McLeod (Sharon), daughter, Anne Lorraine Nelson (Charles), son, William John (Bill) McLeod (Barbara), and daughter, Sarah Margaret McLeod (Nancy); nine grandchildren; and brother, Perry Wheeler Jr.
She is predeceased by her sister, Christine W. Whigham, of Auburndale, Florida. 
Memorial donations may be made to Vitas Hospice Services, 2201 Lucien Way, Suite 100, Maitland, Florida 32751.
Services entrusted to Loomis Family Funeral Home, (407) 880-1007 or loomisfuneralhomes.com.