GAME OF THE WEEK
Apopka (3-0) at Dr. Phillips (2-1), 7:30 p.m.
THE BUZZ: After its first regular-season loss in years — ending a 35-game regular-season winning streak — Dr. Phillips will begin the second half of its six-game gauntlet by welcoming the Blue Darters to Bill Spoone Stadium. The last time the two met was when Apopka topped the Panthers in the state semifinal in 2012.
SCOUTING REPORT: Dr. Phillips head coach Rodney Wells doesn't have a ton of losses during his tenure to recall, let alone one where the Panthers scored 34 points and did not come out on top. As such, the focus for his team will be on tackling better as they prepare for the dynamic Blue Darters offense. 
In two of three wins, against Ocoee (Week One) and DeLand (Week Three), Apopka has been its usual dominant self and outscored both opponents by a combined 89-6. The Blue Darters did not pull away from Edgewater in Week Two, though, until the fourth quarter.
—
Friday's other contests: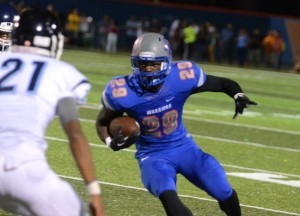 West Orange (3-0) at Trinity Christian (3-0), 7:30 p.m.
THE BUZZ: After three home games to open the season, the Warriors hit the road to take on the state champion from Class 3A last season in Jacksonville.
SCOUTING REPORT: Trinity Christian is averaging 39.3 points per game in its three wins so far this fall, meaning the Warriors' defense — a pleasant surprise so far this fall — will be tested for a second straight week. Though there is a notable difference in size between the two schools, West Orange scheduled the Conquerors with purpose — Trinity has won the state championship in 3A in consecutive years and figures to provide a raucous road atmosphere to help prepare the Warriors for their big road contest at Apopka in October.
Olympia (2-1) at Cypress Creek (1-2), 7:30 p.m.
THE BUZZ: The Titans look to make it three-consecutive wins — all on the road — with a non-district contest against the Bears.
SCOUTING REPORT: Defense has been the key in Olympia's wins, with interceptions playing a big role in a victory over Colonial last week — safety Jeff James had three alone. The Titans offense looked improved against the Grenadiers behind a strong rushing attack. Cypress Creek won in Week Two, eclipsing its win total from 2014 in the process, but Olympia still figures to be heavy favorites here.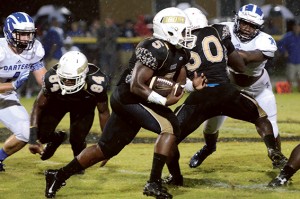 Ocoee (1-1) at Edgewater (1-2), 7:30 p.m.
THE BUZZ: After a win and week off, things get real for the Knights as they travel to College Park for their district opener.
SCOUTING REPORT: Don't let Edgewater's record fool you: They figure to be in the mix for a district championship in Class 7A, District 4 this fall. The Eagles held their own for most of a Week Two match against Apopka. Still, Edgewater's defense has been shaky, allowing 38 points per game — including 33 points in a win last week. If Ocoee's offense can sustain drives and its defense can contain QB Cortez Pembleton, who threw for four touchdowns last week, the Knights could find themselves at 1-0 in district play.
Legacy (3-0) at Orangewood Christian (1-2), 7 p.m.
THE BUZZ: The undefeated Eagles look to make it 4-0 in their third road game of the young season.
SCOUTING REPORT: Orangewood gave up a ton of rushing yards in a loss to CFCA in Week Three, meaning Legacy's Gehrig Chambless is a good candidate for a breakout game with his bullying running abilities. Orangewood coach Bill Gierke would set a Central Florida record for career wins with a victory.
Windermere Prep (2-1) at Santa Fe Catholic (3-0), 7 p.m. 
THE BUZZ: After rebounding from a Week One loss with two blowout wins, the Lakers are in for another test when they travel to take on the undefeated Hawks.
SCOUTING REPORT: Something has got to give here — Windermere Prep has won by a combined score of 97-15 in the past two weeks, while Santa Fe has won by a combined 96-3 in Week Two and Week Three over Bishop McLaughlin and Keswick Christian, respectively.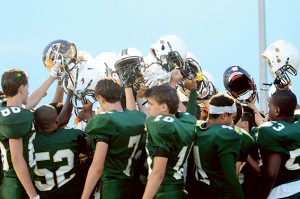 Mount Dora Christian Academy (0-3) at CFCA (2-1), 7 p.m.
THE BUZZ: The Eagles look to make it three wins in a row versus winless Bulldogs.
SCOUTING REPORT: Judah Stone's 197 yards on 19 carries last week against Orangewood bodes well for an offense set to take on a Mount Dora defense that has allowed an average of 49.7 points per game so far this fall.
Northside Christian (3-0) at Foundation Academy (0-3), 7 p.m.
THE BUZZ: Former Tampa Bay Buccaneer Mike Alstott comes to town with his undefeated Mustangs to continue a difficult early-season slate for the Lions.
SCOUTING REPORT: In three contests where they were underdogs, Foundation has not helped itself with the mistakes it has made — including several penalties in last week's loss to Carrollwood Day. Gabe Walker's rushing has been a bright spot, but the Lions have their work cut out for them against a Northside Christian team that just defeated last year's state champion in Class 2A, Victory Christian.