WINTER GARDEN  From a young age, it was clear that one of Winter Garden Fire Rescue Fire Lieutenant Ken Moisan's callings was to help people and save lives — particularly through firefighting.
"When he was 6 months old, those heavy metal cars with push pedals that you could sit in were really popular, and he got a fire truck, so I think that started (his fascination) with firefighting," his sister, Karen McManus, said.
Firefighting also ran in the family's blood. Moisan's father was a volunteer firefighter for 50 years. His oldest brother was also a career firefighter for 27 years; his other brother still serves as a volunteer firefighter. 
But Moisan is also a U.S. Air Force Reserve who was deployed to Kuwait Jan. 21. He serves as a fire protection specialist and first-responder on base, responding to fire and medical calls and dealing with hazardous materials and special-operations incidents.
Moisan grew up as the youngest of five siblings in Cold Spring Harbor, Long Island. In high school, although he had been interested in going to college, he instead followed his brothers' footsteps in joining the military. One was in the Air Force, while the other served in the Coast Guard.
"My parents didn't have any money," Moisan wrote in an email interview. "They struggled to assist my two sisters with college. … It (would have been) a strain on my parents, and I really wanted to travel and see the world." 
Although his joining the Air Force made her nervous, Karen knew it was something he wanted to do — he was always putting others first.
"I didn't like it because it was dangerous, but he wanted to go and protect and serve our country," she said.
Moisan had signed up for the delayed enlistment program in 1990 as a high-school senior. He graduated from high school in June 1991, and that July, he joined the Air Force.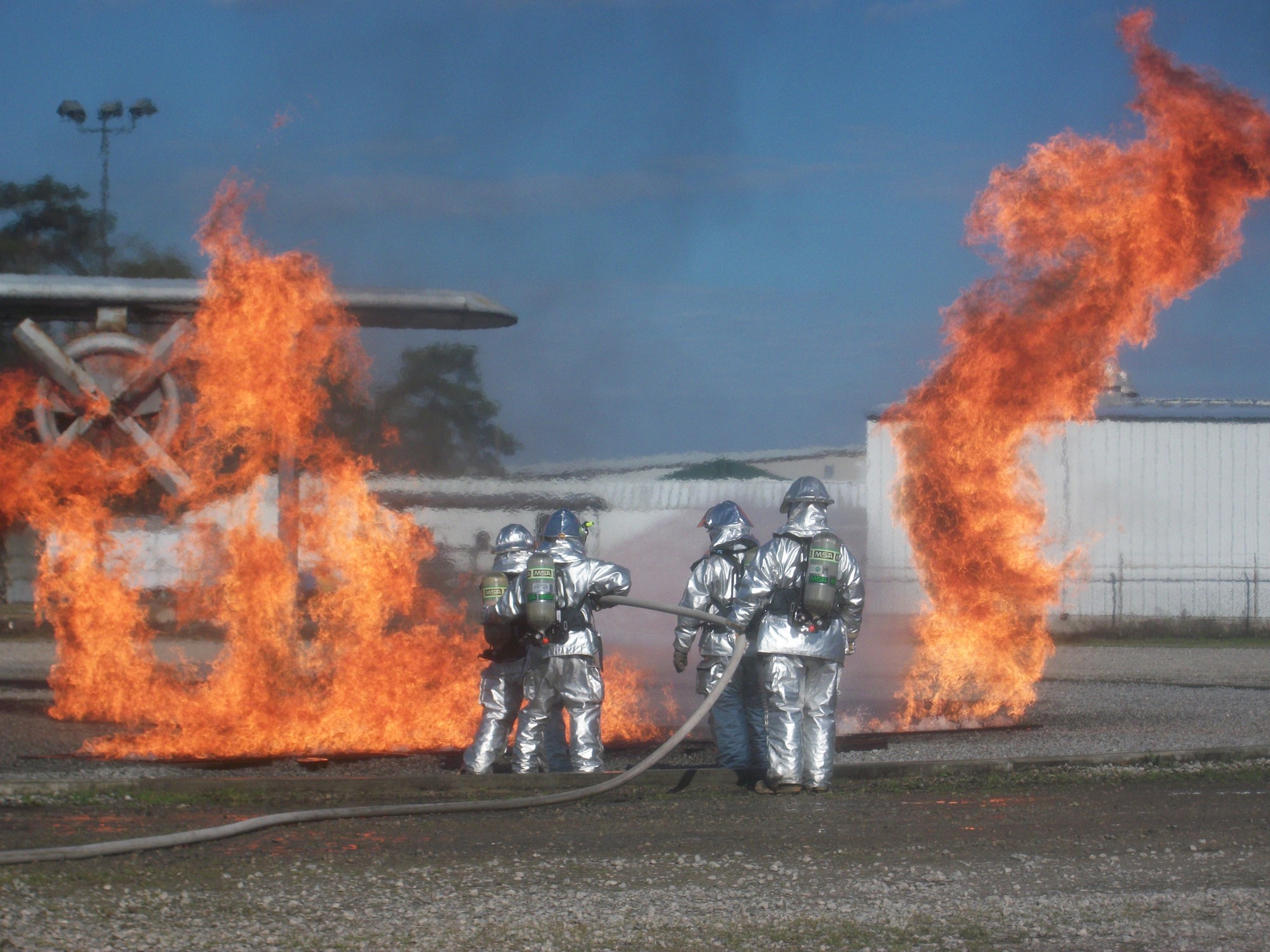 MILITARY LIFE
Right out of high school, the Air Force took Moisan to four years of active duty in Saudi Arabia as a light and heavy equipment operator in support of Operation Desert Storm, where he earned multiple accolades, honorable discharge in support of Desert Storm among them.
But upon his 1995 return to the U.S., he joined the New York Air National Guard and retrained as a firefighter, performing rescue operations, providing fire protection and doing standbys for emergency situations. With Reserve status, he is able to stay involved in the military, serving one weekend a month and two weeks per year.
"If he was in danger or if he was hurting or anything like that, he wouldn't say anything because he wouldn't want us to worry." — Karen McManus, Moisan's sister
"I had been a volunteer firefighter since 1989, so I wanted to get the best firefighter training and continue serving one weekend a month and two weeks a year," he said. "The ANG sent me to 13 weeks of training at Goodfellow AFB. So I've been involved for 24-plus years now."
Moisan was a deputy sheriff in New York on 9/11. It was then that he decided he wanted to be a firefighter rather than a police officer. But although he took his military training and volunteer firefighter experience, passed the Florida exams to become a firefighter and emergency medical technician and packed his bags for Winter Garden, he faced two future deployments — Operation Iraqi Freedom in 2006, and now Operation Inherent Resolve through summer 2016.
But he's not completely removed from his family while on deployment. Although his mission comes first and operations security is important, he is able to chat with his family using e-mail and Facebook. The day after he arrived in Kuwait, the McManuses were able to talk with him via Facebook Messenger's video chat option. It was 4 p.m. in Kuwait and 8 a.m. in Orlando.
"It was incredible because it was just like he was right there; the sound was good and the picture was good," Karen said. "But he had to go stand outside the church because they determined that was where the best connection was.
Despite all of his military experiences, Karen said, he doesn't tell his family much about his missions.
"If he was in danger or if he was hurting or anything like that, he wouldn't say anything because he wouldn't want us to worry," she said.
But some of his best memories center on the traveling and training that comes with the territory. He's been to England twice, along with Germany, Spain, Japan, Canada and more than eight states.
"As part of the Air National Guard, we have also deployed for training and backfilling in a lot of cool places," Moisan said. "So the vivid memories are the fun and excitement of being in different countries, experiencing the life, seeing the sites and trying the food and activities."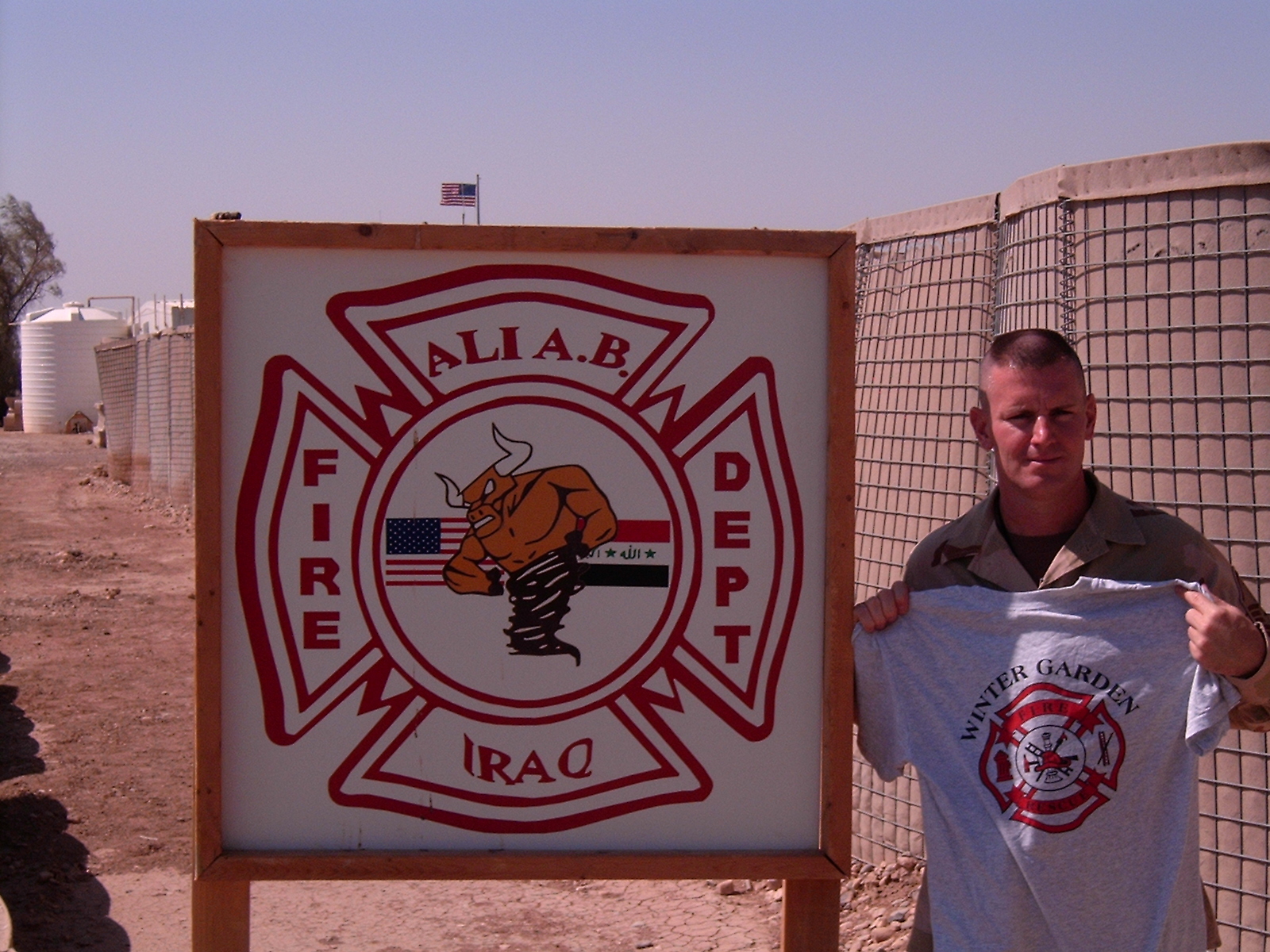 CIVILIAN LIFE
Settling in Winter Garden in 2003 gave Moisan the chance to do what he loved — be a full-time career firefighter. When Winter Garden Fire Rescue hired him, the agency was growing and expanding services, transitioning from a basic life-support department with just EMTs to an organization with an advanced life-support license from the state in 2007.
"I loved the agency from the day I joined," he said. "The people were awesome; fellowship was fantastic; the equipment was great; we ran a variety of alarms and did good things for the community."
WGFR Chief Matt McGrew said Moisan, a fire lieutenant who works the department's B shift, was a great addition to the department and is one of the most confident lieutenants.
"His military background gives him a great foundation for fire service," McGrew said. 
To his niece and nephew, Michael and Katherine McManus, Moisan always has been the fun uncle, refereeing Pee Wee football games, watching them play sports and always being involved in their lives. 
"I look forward to my return and getting back to working for WGFRD. It's my home. I love it there." - Ken Moisan 
And even as busy as Moisan is, he always puts his family first. Their parents live in a nursing home in downtown Orlando now, and their mother suffers from Alzheimer's disease. He and Karen split the care-taking about 50/50 before his deployment.
"He takes his parents to the doctor, looks out for them and stops in to see them on his days off," his brother-in-law, Don McManus, said. "He's the guy you call because you need help."
BACK HOME
Wherever life takes him, Moisan's love for firefighting and helping others has never been extinguished. He won't return home until late this summer, but his family and coworkers don't let an ocean come between them. His particular shift often reaches out to let him know they're thinking of him, and he often receives emails and requests for a list of what to send in care packages. 
"My coworkers are very supportive," he said. "They know I love being a part of the Florida Air National Guard and being a military firefighter, as well as career firefighter, in Winter Garden. I look forward to my return and getting back to working for WGFRD. It's my home. I love it there."
Contact Danielle Hendrix at [email protected].