WEST ORANGE COUNTY  For District 12 State Sen. Geraldine Thompson, who represents much of West Orange County as part of her district, her decision to run for the seat of Florida's 10th District in the U.S. House of Representatives was based in large part on the shifting maps of Florida districts.

"I decided in July when I realized that the Senate maps were going to be redrawn," she said. "All 40 of the senators would have different districts, perhaps, than what we currently have, and this would be the third (cycle) in a row that I would have to run."
When Thompson saw her whole Florida Senate district was within the newly drawn U.S. House District 10, she thought one way or the other she would have to run and chose to run for Congress, she said.
Thompson's main challenge in the Democratic primary should be former Orlando Police Chief Val Demings, who ran against Republican incumbent Daniel Webster in 2012 and lost by just 3.58%. Although no primary challenger for Webster has emerged as of press time, political newcomers Angel Vega and Fatima Fahmy also have filed for the Democratic nomination.
But for Webster and Demings, perhaps the biggest issue of this race is the history of the 10th District's map and its present state, dictated in part by the 2010 Fair Districts Amendment to the Florida Constitution, which bans districts drawn to help incumbents or members of a political party.
On Oct. 9, Tallahassee circuit judge Terry Lewis ruled in favor of the first proposed map from a coalition of plaintiffs led by the League of Women Voters [featured image at top]. The Florida Supreme Court upheld Lewis's decision by a 5-2 ruling Dec. 2.
"It is my understanding that it would be in effect for the 2016 elections, pending any action by a federal court to state otherwise," Florida Senate spokeswoman Katie Betta said.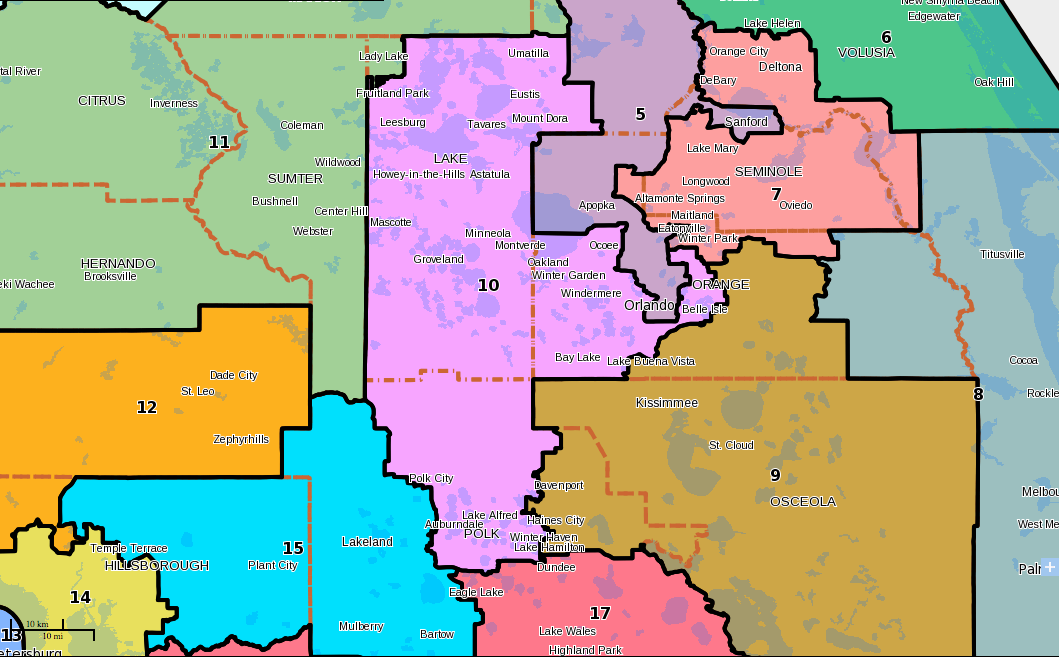 The area of the 10th District drastically changes from the previous election year, 2014, when its area [at right] consisted of a northern portion of Polk County; almost all of the western half of Lake County; West Orange County, from Ocoee in the north to the county borders with Lake and Osceola counties; and a curly branch encompassing areas such as Williamsburg, Sky Lake, Belle Isle and Edgewood up to Audubon Park, College Park and Lake Fairview.
Now the 10th District is just the westernmost 60.8% of Orange County's population, with boundaries along the southern border with Osceola County and the western and northern borders of Lake County. The eastern boundary mostly follows Interstate 4 south from the Seminole County line until the interstate juts southwest, at which point the boundary moves east to follow Semoran Boulevard through Orlando International Airport to the Osceola County line. This district holds 56.6% of Orlando's population.
In the 2012 elections, 35.7% of registered District 10 voters were Democrats; 39.8% were Republicans. In the redrawn district, according to Florida Senate statistics, those respective percentages were 45.9% and 27.9%. Among voters registered for that year's elections, 41.8% within the new district shape identified as black or hispanic.

"They took the biggest part of it — which is in Orange County — they coupled it with downtown Orlando, Pine Hills, so forth — totally Democrat … and turned my district into a majority minority district," Webster said. "The lower court had said that because my percentage of Republicans had increased by 6/10 of a percent, that was favoring me. In this particular case, the number of Democrats increased by (much more)."
Based on rulings against tiny favors to him, Webster believes this stark change against him also should be deemed unlawful. He said he would prefer the map to favor and disfavor nobody and be constitutional, including not splitting big cities such as Orlando, which the latest several maps have.
Demings said she was amazed by Webster's comments, because she had felt the same in 2012. Webster said his opponent in the prior election — 2010 — had gotten 38% of the vote, the same number he believes he is now limited to.

"I felt like I needed to give him my talking points from 2012, because that's exactly what I had the first time," Demings said. "If the lines don't change at all, we expect to contend better. Whatever lines are improved are … out of my control. Old (District) 10 or new (District) 10, I believe Daniel Webster is the wrong representative for District 10, because you have to represent everybody. You can't pick and choose who you want to represent."

 
Contact Zak Kerr at [email protected].