The Windermere Prep football team — and the campus community, at large — is in mourning at the news of the death of Brad Ramsey, an art teacher and football coach for the school, over the weekend.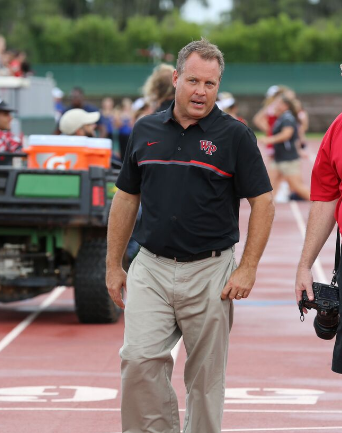 Messages of mourning began circulating through social media the evening of Oct. 9, and the school's official Twitter account confirmed the news with a tweet at 9:28 p.m. that evening, reading: "We are so saddened to say our colleague and friend, Brad Ramsey, passed away unexpectedly over the weekend. Please check Skyward for more."
Athletic director and football coach Jacob Doss, who said Ramsey was his very first hire when he started the football program at Windermere Prep, said that the team gathered together and decided as a group to go ahead with playing its scheduled game this Friday against CFCA at home as a tribute to their coach's memory.
"I wanted to talk to the boys and feel them out," explained Doss. "Overwhelmingly, unanimously, they wanted to play to kind of memorialize coach Ramsey. One of the kids said it best, he said 'Coach, I don't even think this is a question — this is, without a doubt, what coach Ramsey would want us to do.'"
Doss calls Ramsey, the Lakers' defensive coordinator in seven out of the past eight seasons, a "a true Renaissance man," citing his wide range of interests and the talents of his former colleague. Ramsey taught visual arts for the school's International Baccalaureate program and was an avid artist and photographer, in addition to his role as a passionate football coach.
A mentor for Doss as he navigated his own first job as a head coach, Ramsey played collegiately at Franklin & Marshall College, where he was inducted into the school's Hall of Fame in 2015. He played professionally overseas in England and Germany and often shared stories from his playing days with the boys on the team.
Details concerning the cause of Ramsey's death are not yet available, and the school has not yet announced formal plans for a vigil or service to honor his memory.
And, though the team intends to play on Friday to honor him, Doss is says he and his program are cognizant there will be a void on their sideline.
"I've never coached a game without him on the sideline, ever," Doss said. "The boys just absolutely loved coach Ramsey."
Contact Steven Ryzewski at [email protected].